Biden Says Space Command Will Stay in Colorado
President Joe Biden has selected Colorado as the permanent headquarters for U.S. Space Command, reversing a previous decision by his predecessor to move the combatant command to Alabama, the administration announced July 31.
"This decision is in the best interest of our national security and reflects the President's commitment to ensuring peak readiness in the space domain over the next decade," National Security Council spokesperson Adrienne Watson told Air & Space Forces Magazine.
Secretary of Defense Lloyd J. Austin III, Secretary of the Air Force Frank Kendall, and SPACECOM commander Army Gen. James Dickinson all supported Biden's decision, according to a statement by Pentagon Press Secretary Air Force Brig. Gen. Patrick S. Ryder.
The White House said the decision to keep SPACECOM at its provisional headquarters at Peterson Space Force Base in Colorado Springs rather than making a cross-country move to Alabama would safeguard the readiness of U.S. space operations and made the most practical sense.
"U.S. Space Command headquarters is expected to achieve full operational capability at Colorado Springs soon," Watson said. "Maintaining the headquarters at its current location ensures no risk of disruption to Space Command's mission and personnel, and avoids a transition that could impact readiness at a critical time given the challenges we continue to face."
The fight to host Space Command's headquarters has been politically charged from the start. In his final days in office, then-President Donald J. Trump announced SPACECOM would take up permanent residence at Redstone Arsenal, near Huntsville, Ala.
Critics cried foul and the Biden administration launched a review of the matter early in Biden's tenure. That left the question of where the command's permanent home would be in limbo. Colorado and Alabama congressional delegations postured for advantage, with Colorado lawmakers trying to connect the debate to issues like abortion access.
Rep. Mike Rogers (R-Ala.), Chairman of the House Armed Services Committee, accused the Biden administration in a statement of "political meddling in our national security." He promised to investigate whether the Biden administration "intentionally misled" Congress on its decision.
"This fight is far from over," Rogers said.
Colorado's Senate delegation, Democrats John Hickenlooper and Michael Bennet, praised the decision, saying it was grounded in the best interest of national security.
"Today's decision restores integrity to the Pentagon's basing process and sends a strong message that national security and the readiness of our Armed Forces drive our military decisions," Bennet said in a statement.
The Government Accountability Office faulted the Trump administration in a 2022 review, saying the decision to move USSPACECOM to Alabama had "significant shortfalls in its transparency and credibility." But GAO did not directly challenge the outcome.
In reversing that decision, Ryder said the Biden administration and the Pentagon "worked diligently to ensure the basing decision resulted from an objective and deliberate process informed by data and analysis, in compliance with federal law and DOD policy" in its final selection.
U.S. Space Command was established in the fall of 2019 as a geographic combatant command responsible for military operations 100 kilometers above sea level and beyond. In December of that year, the Space Force was established as an independent military branch.
The USSF's service component to SPACECOM, Space Operations Command, is also located at Peterson Space Force Base. The state is home to much of America's existing military space infrastructure.
Space Force Lt. Gen. Stephen N. Whiting, nominated to lead SPACECOM, is the current head of Space Operations Command.
Ryder said that keeping SPACECOM in Colorado will allow it "to most effectively plan, execute, and integrate military spacepower into multi-domain global operations in order to deter aggression and defend national interests."
Space Force Gets Its First Targeting Squadron. Here's What It Will Do
A new unit activated recently at Peterson Space Force Base, Colo., is the branch's first-ever targeting squadron, designed to scope out adversary space capabilities and present options to the joint force on how to neutralize them.
"Today is a monumental time in the history of our service," Lt. Col. Travis Anderson, commander of the 75th Intelligence, Surveillance, and Reconnaissance Squadron (ISRS), said in a press release about its Aug. 11 activation. "The idea of this unit began four years ago on paper and has probably been in the minds of several U.S. Air Force intelligence officers even longer."
Space systems are made up of three elements: the satellite, the ground station that commands and controls it, and the signal that connects the two, retired Space Force Col. Charles Galbreath, senior resident fellow for space studies at the Mitchell Institute, told Air & Space Forces Magazine.
"My interpretation of space targeting is understanding all of those elements for an adversary system and then being able to make recommendations on what would be the best way to counteract that threat system," he said. "In some cases, that may mean sending a jamming signal from our Counter Communications System, or it could mean putting a JDAM on a building somewhere to destroy the command and control or the end user."
The 75th ISRS is part of Space Delta 7, the operational intelligence, surveillance, and reconnaissance component of the Space Force. While its sister squadrons also perform ISR and likely have targeting elements, the 75th consolidates targeting expertise and acts as a focal point for stakeholders who need that information, Galbreath said.
Before the Space Force launched in December 2019, Air Force intelligence officers often served just a single assignment in space, which precluded a robust corps of experts in the field, he said. The 75th is likely one of several new stand-ups to occur in the near future as the Space Force develops ranks of specialized experts.
"Having a squadron like this creates an opportunity for true depths of understanding of the threat environment," he said.
Assessing space systems can be a difficult task. For example, dual-use satellites may present a challenge for intelligence officers trying to assess threats—China may claim that a robotic arm attached to a satellite is intended for space debris removal, but it could also be used to grab and disrupt other satellites.
Air Force space operators-turned commercial space executives expressed a similar concern during a panel discussion hosted by the Hudson Institute in July.
"Commercial operators become targets when they support the DOD," Even Rogers, former Air Force space operator and CEO of the space technology company True Anomaly, said at the discussion. "In fact, I suspect that there are some incentives that would cause commercial operators to be targeted first as a strategic off-ramp in a broader conflict, because it is a gray zone, there is uncertainty about whether the United States intends to defend and protect … commercial providers."
Other challenges include locating a satellite and its ground station and determining what information its crew needs to operate and where its orders come from. Working together, the 75th ISRS and other intelligence organizations can fuse "a consolidated picture of what makes an adversary threat system tick, and therefore determine how can we best defeat it?" Galbreath said.
As adversary space capabilities become more sophisticated, so too must U.S. counterspace capabilities. Future operators may need to use cyber or electromagnetic spectrum weapons to target enemy satellites, especially when ground stations are tucked away behind an anti-access/area-denial environment such as mainland China. The problem is that the U.S. does not have many counterspace weapons at its disposal, especially compared to its main rival.
"China has already fielded an alarming array of operational counterspace weaponry" including ground-launched kinetic weapons and lasers, cyber capabilities, and electronic warfare weapons, Galbreath wrote in a June paper on counterspace capabilities. The Chinese People's Liberation Army is also developing space weapons that could attack with robotic arms, electronic warfare, or lasers.
The U.S. defense against such weapons must include establishing international norms of behavior in space, resilient space system architecture that can withstand attack, and exceptional space domain awareness, Galbreath said. But it must also include strong counterspace capabilities.
"The United States has largely shunned the thought of fielding space weapons since the end of the Cold War," the retired colonel wrote. "However, recognizing space as a warfighting domain means any serious effort to achieve space security must include space weapons."
At least one such system is on the way. In April, Chief of Space Operations Gen. B. Chance Saltzman promised Congress a "substantial on-orbit capability … in full spectrum operations" by 2026, though he did not provide many details on what that capability might look like. Galbreath argued that the U.S. needs an architecture of multiple new counterspace systems to protect its space enterprise.
In the meantime, the 75th ISRS will analyze existing threats and how to counter them—the latest addition to the "mighty watchful eye" lauded in the Space Force official song.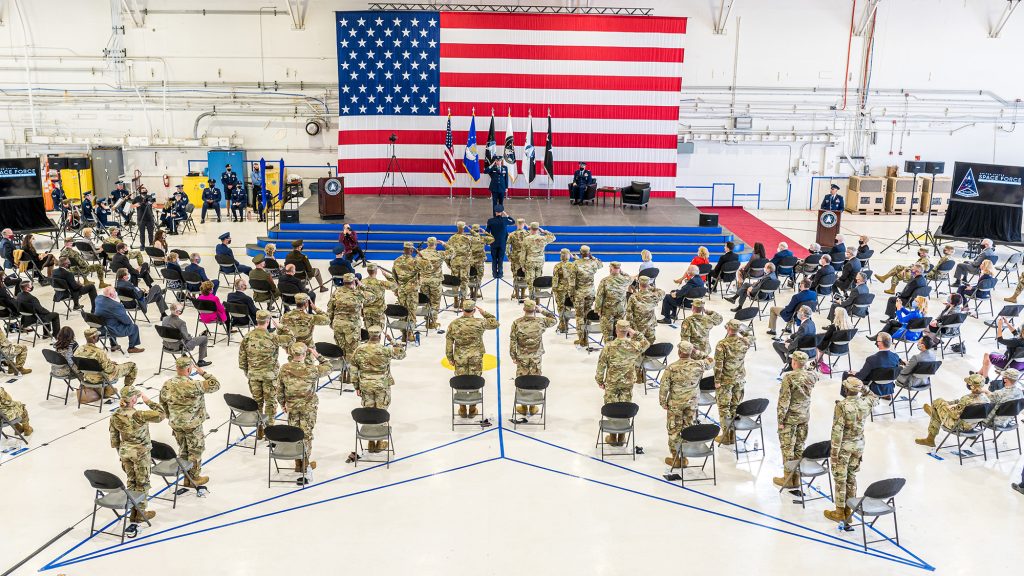 If You Did Space Ops, You Could Become a 'Legacy Guardian'
Before the Space Force was founded in December 2019, Airmen ruled the heavens, at least as far as most military space activities were concerned. For decades tens and perhaps hundreds of thousands of Airmen controlled and acquired satellites, managed communications and intelligence, and performed other space missions. Air Force Space Command claimed more than 26,000 personnel at one point.
A bipartisan group of lawmakers are close to giving some of those Airmen a chance to claim at least an honorary part of the newest military service.
The "Space Force Legacy Guardian Recognition Act" is included in the House version of the National Defense Authorization bill, but not the Senate version. The measure would allow the Secretary of the Air Force to establish a process for veteran space professionals to be designated as honorary members of the Space Force. They would be called "Legacy Guardians."
Legacy Guardians would be eligible for "a certificate, approved device, or other insignia of such designation," the bill states. They would not, however, be eligible for any additional benefits.
The the measure would apply to anyone "whom the Secretary of the Air Force determines served in support of space operations as a member of the Air Force." Space operators from the other services need not apply. Lawmakers have also introduced the matter as stand-alone legislation, but its best hope is that House and Senate conferees include it in the final compromise version of the NDAA now under construction.
A staffer for Rep. Don Bacon, the retired Air Force brigadier general who introduced the legislation, told Air & Space Forces Magazine that lawmakers won't distinguish among specialties, however. Space acquisition, intelligence, and other career fields could all qualify potentially—that decision would be left to the Department of the Air Force.
Bacon's bill is co-sponsored by four House members, all from the Space Force caucus, including Reps. Salud Carbajal (D-Calif.), Brian Babin (R-Texas), Doug Lamborn (R-Colo.), and Ted Lieu (D-Calif.).
Bacon was not a space operator, but he and the veterans on his staff felt strongly about recognizing the legacy of space operators who paved the way for the Space Force.
"Veterans of a service are important for a community as well," the staffer said. "They're representative of that service."
The staffer noted that as things currently stand, it will take years, if not decades, for the Space Force to develop a veteran community.
Since first introducing the legislation in the NDAA, Bacon's office has received positive feedback from veteran space operators and current Guardians alike, the staffer claimed.
"This designation would not only bring together our space operations veterans with those who currently serve in the Space Force," Lieu said in a statement. "It would appropriately honor the dedicated veterans and culture of service of the Air Force Space Command."
"I'm proud to stand alongside my colleagues in acknowledging the contributions of our nation's Air Force Space Operators who laid the foundation upon which our current Space Force is built," Babin said in a statement. "Their expertise and devotion to a country pushed us upward and outward, establishing and ensuring America's military dominance in space."
A Department of the Air Force spokeswoman told Air & Space Forces Magazine that department leadership was not involved in crafting the legislation and is not tracking if or how many retired space operators have requested honorary or retroactive status in the Space Force.
The Space Force Association endorsed the measure in an Aug. 9 release.