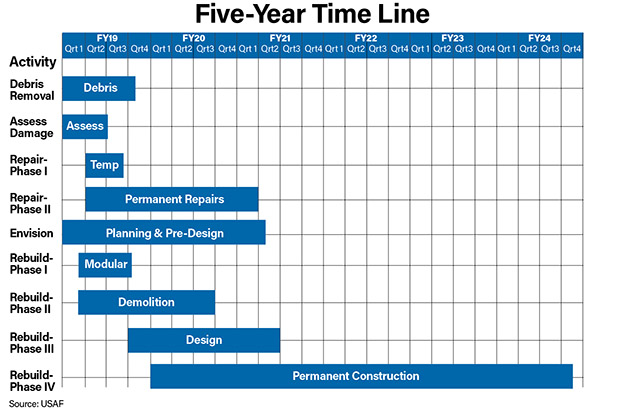 Five Year Time Line. Source: USAF
The base of the future is taking shape amid the wreckage left behind by Hurricane Michael.
Tyndall Air Force Base, Fla., presents a unique opportunity to reimagine the future of coastal Air Force bases and also a pressing imperative to sustain operations in the wake of devastating destruction that damaged every structure on the base.
As Air Force officials craft a new master plan to rebuild Tyndall, interested parties from around the base and across the country are keeping an eye on developing plans. Some 450 people representing nearly 200 companies converged Jan. 31 for their first major update. A second industry day is slated for May, and major construction projects could start as soon as this fall.
Fully restoring the base will take as long as a decade. The nearly 700 facilities and about 480 buildings spread across 4.2 million square feet all need work.
"We think it's in the neighborhood of $4.5 [billion] to $5 billion to fix it and get it where it needs to be," Air Force Vice Chief of Staff Stephen W. Wilson told Air Force Magazine in an interview. "And, as we have to rebuild most of that infrastructure, it'll give us an opportunity to start fresh."
Tyndall could be the first base to install 5G wireless networks and advanced power backup systems. "We just think there's an opportunity to start, really, from the ground up because there's about 40 percent of the infrastructure there that will have to be replaced."
Col. Scott Matthews, the Tyndall Program Management Office director, said clearing debris is still job one.
To date, the volume of fallen trees, trashed display aircraft, and other debris collected could fill the US Capitol rotunda 16 times over, according to the Air Force. While the main base is now cleared, more debris remains.
At least 44 percent of buildings require repairs, while 17 percent face immediate demolition, according to the Air Force's initial review of the base's condition. The master plan will determine how much of the remaining infrastructure could be repaired, demolished, or consolidated.
Among the facilities originally thought salvageable: the main civil engineering building, which will not be demolished. The F-22's munitions equipment storage building and the 83rd Fighter Weapons Squadron administration building, meanwhile, await a final disposition based on the master plan.
More than 200 buildings had received temporary roofs by the end of January.
Another 135 buildings were treated for mold growing in the aftermath of 8- to 12-foot storm surges. A tornado ripped through the base earlier this year, tearing off temporary roof coverings and breaking 23 windows.
"One step forward, two steps back," Matthews said.
BRIGHT FUTURE
As the Air Force's first true "21st century" installation, the future Tyndall aims to be a walkable facility built around a "community commons"—a one-stop shop for food, shopping, and other services—and the runway. Buildings will be designed to serve multiple purposes in case of emergencies, structures will be raised above ground level to guard against flooding, and walls and roofs will employ reinforced construction techniques to survive future storms.
Lessons from the recent storm will also inform future decisions. Wilson noted that flat-roofed sunshades for outdoor aircraft maintenance crumpled under Michael's 150-mph winds, while open-ended Quonset-style structures survived with less damage.
Lessons will also be drawn from Miami International Airport and other facilities built to withstand up to 200 mph winds.
"We can [adopt] something more stringent than the local building codes," Matthews said.
Because bases need to keep operating even under extreme conditions, Wilson said, "back-up power is a really big deal." Smart grid technology, advanced turbine power systems, and even compact nuclear systems could be options, he said. "We're not there yet. We're looking to see where this goes and where technology goes."
Lessons and solutions developed for Tyndall could be applied elsewhere, as well, Matthews said.
Matthews hopes to get started on three projects costing up to $40 million combined by the end of September. He declined to say what each project entails but said affected facilities would be away from the flight line.
MISSION FIRST
Amy Vandeveer, a senior planner in the Tyndall PMO, noted at the industry day that the majority of rebuilding will take place at and around the flight line. More missions could fit on the flight line by reorganizing the facilities that are housed there.
"In some cases, the ability to do single-point maintenance in a weather shelter that won't blow away in a storm may be the answer," Vandeveer said of more efficient, cheaper facilities. "In other scenarios, it may be combining ops and maintenance into a single facility."
Other organizations, such as the maintainers who restore low-observable aircraft coatings, could work out of temporary tents while new facilities are built.
"We're looking at what mission-related facilities we need for the F-35," Matthews said. "Where would they need to be on the flightline? What are some of the existing missions, like the Weapons Evaluation Group? Where are they today? Where could they go?"
Still, those decisions won't be entirely dependent on mission priorities. Matthews wonders whether—because the effort is such a huge, unique undertaking—stakeholders in Washington will need to weigh in as well.
Challenges include hesitancy among local contractors about the additional administrative burdens of working with the federal government, including the drawn-out background-check process and more stringent requirements for workers. Matthews said he is open to loosening base-access requirements to speed the rebuilding process, but said security restrictions surrounding the F-35 program can't be compromised.
The storm cost Tyndall most of its F-22 mission. Plans now call for making the base home to F-35s and potentially MQ-9s. The clean slate provided by the hurricane's destruction gives planners an opportunity to design a more efficient base that needs less space and costs less to build and maintain.
"When we put the master plan together we want to incorporate all future missions that we think may be here in the near or long term," Matthews said.
"Instead of building maybe a hangar that only services one type of aircraft, can we do a multiuse hangar, and what would that look like? How big would that need to be?"
Tyndall's possible loss of F-22s could be a boon for others. In February, Virginia's congressional delegation wrote to Air Force Secretary Heather Wilson asking her to permanently move F-22s to JB Langley-Eustis, Va., to take advantage of excess capacity there. F-22s are temporarily located at Eglin AFB, Fla., while the Air Force considers future basing options.
"While JB Langley-Eustis currently has two F-22 squadrons, as well as supporting maintenance units, it was built for the beddown of three squadrons," the bipartisan group of 13 lawmakers wrote. "It is thereby underutilizing the airspace and Air Force investment in ramp, hangar, and operations support facilities. … Additionally, the Virginia Air National Guard stands uniquely positioned to support the [formal training units] with experienced instructors and maintainers well-versed on the platform."
Air Combat Command chief Gen. James M. "Mike" Holmes told reporters in February the service isn't in a hurry to decide where to move the training unit and will take at least a couple of years to study its options.
PAYING THE BILL
Officials are still working the angles to come up with the money to save Tyndall. Wilson can tap only up to $15 million from operations and maintenance funds to recover from natural disasters and terrorist attacks.
Everything else will have to be either reprogrammed or direct appropriations.
Reprogramming is difficult because the military construction budget is so tight to begin with, Matthews said.
In late February, a bipartisan group of senators tucked $1.1 billion for Air Force operations, maintenance, and construction into a broader, $13.6 billion disaster-relief funding bill. Lawmakers would allow the service to stretch more than half those funds until the end of September 2023, but want an accounting of how the money would be used.
Matthews said Wilson has an overall supplemental figure for how much money the Air Force thinks it needs to recover from the most recent hurricane season. The service has not provided that figure.
John Conger, a former assistant defense secretary for energy, installations, and environment who now directs the Center for Climate and Security, said Congress is "generally responsive" to recovery funding requests. He indicated it's unlikely the government will try to change the way it budgets for relief and recovery as climate change intensifies, noting those funds aren't subject to budget caps.
To be able to award contracts for fiscal 2019 projects, Matthews said they have to start the contracting process by the end of April. The second industry day, in May, will focus on facility and infrastructure design, construction, community partnerships, and program management.
Matthews also expects to spend about $300 million on the first round of projects in fiscal 2020.
Looking ahead, the Air Force will need to consider the climate and how resilient a base is when deciding where to house its aircraft.
"It'll be important for other Air Force installations in the southeast and the broader region to review their ability to sustain a similar storm and how they might be able to protect important assets at the installation," Conger said.
"How would JB Langley-Eustis fare if a similar storm hit it? Do they have hangars that are constructed to protect any F-22s that are in maintenance and cannot evacuate? What steps are they taking to make their base more resilient?"
Does that mean Congress shouldn't approve the Air Force's plan to put F-35s at Tyndall or perhaps F-22s at JB Langley-Eustis? Not necessarily, Conger said.
But, he argued, the Air Force will need to consider hurricanes and flooding threats to its high-value assets, as well as the risk in other regions posed by wildfires, drought, desertification, and civilian encroachment.
Climate change poses real risks for the Air Force, Conger said. If "500-year storms" become more common, the Air Force must invest to reduce the risks posed by those events. Yet while that is an enterprise-level, Air Force-wide problem, it's also one that must be addressed directly at the local level.
"Ultimately," Conger said, "customized plans that incorporate the individualized features of an installation will be more valuable than enterprise overviews."