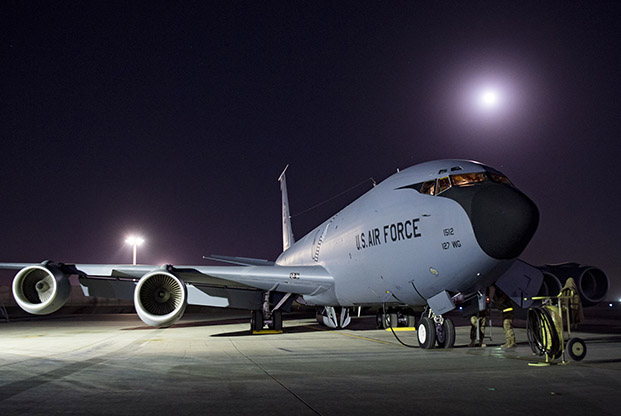 A KC-135 Stratotanker on the ramp Jan. 22, 2019, at Kandahar Air Field in Afghanistan. USAF is delaying retirement of the refueler because of the slow delivery rate of the KC-46. Photo: SSgt. Clayton Cupit
Future great power competition will step up demand for aerial refueling capacity and require air cargo crews to operate in contested airspace—potentially poisoned with chemical agents. As Air Mobility Command gears up for those demands, leaders are focused on fielding and developing new aircraft and making smarter use of the aircraft they have.
AMC's priorities over the coming years will be fielding the KC-46 Pegasus, developing requirements for the next tanker aircraft, dubbed the KC-Z, and developing better means of training and managing the force it has while building toward the force it needs. That includes more hands-on training to prepare for operations in hostile environments and employing new technologies to better understand demand for forces.
No sooner had AMC accepted delivery of its first brand-new KC-46 than new controversies erupted over tools and debris left behind in the new aircraft, prompting yet another pause in deliveries, while prime contractor Boeing promised new procedures to ensure there would be no more problems. Yet, even as the KC-46 works out its final kinks, and before it's deemed fully operationally capable, the next tanker is already taking shape on future drawing boards. That program will take precedence over developing new airlifters, said AMC Commander Gen. Maryanne Miller.
"The tanker's the one that's most in demand," Miller said. "The tanker connects to pretty much every mission set out there in the contested environment." Airlifters must wait, she added: "We are going to focus on that [tanker] before we focus on a C-X. Our priority right now is going to be the KC-Z."
Miller said it will take a year to nail down required capabilities for the KC-Z, based on the threats laid out in the National Defense Strategy and in USAF's Next Generation Air Dominance future fighter system.
"We'll have a tanker that supports" NGAD, she said, though it's still too early to say exactly what that means. For example, the future tanker could be autonomous, or it could include more than one aircraft.
AMC will then start an analysis of alternatives, a process expected to take three to five years.
The aim is to field a system in the mid-2030s, said Maj. Gen. Mark D. Camerer, the command's director of strategic plans, requirements, and programs.
"We're at the very, very beginning trying to describe what the requirements will be," Camerer said. The aircraft will be "a very large investment," developed from scratch, he added.
Some things are beginning to come clear, however. Miller said stealth is not likely to be a requirement for the KC-Z, because while the tanker may need to get closer to the fight than in the past, no one knows how to keep a tanker stealthy once it deploys its unwieldly refueling boom. AMC will consider all options, including a Navy concept for a "mother tanker" with smaller "children,"—a scenario in which the larger tanker lags back and refuels smaller aircraft, which then go forward to refuel other platforms. But Miller called that prospect unlikely.

A crowd welcomes a new KC-46A Pegasus during the aircraft's arrival ceremony at McConnell AFB, Kan., on Jan. 25, 2019. The new tanker type will serve alongside KC-135s, such as the one at left, for years to come. Photo: A1C Alexi Myrick
The need for additional tankers is critical, Miller said. The planned number of KC-46s is not enough. "We will have 300 KC-135s in the inventory by the time we field the KC-46," she said, and those aircraft will have to be replaced. "We have got to get on this."
Even now, the Air Force is delaying the retirement of 28 KC-135s because of the slow delivery rate of the KC-46s.
US Transportation Command boss US Army Gen. Stephen R. Lyons told the Senate Armed Services Committee in March those extensions were needed so "we don't have this exorbitant dip in capability over time."
Miller said "heavily used" KC-135s are suffering from corrosion and other age-related and wear issues, all of which are "being mitigated," while they await replacement.
Blame it on age, she said. "It's one of the issues that comes up with a 60-year-old airframe." Otherwise, the aircraft are "in great shape."
Keeping the KC-135s fresh means sending them for depot-level maintenance every three years to get a "really good look at the airplane," Camerer said, stripping them down to check for corrosion and overhauling hard-worked engines. So while "the aircraft is 50 years old, the components inside the airplane" are far newer, he said.
In addition to ensuring structural integrity, both active and Air National Guard units are upgrading their KC-135s to keep them relevant. The Guard jets and a small number in the active fleet are receiving the Real-Time Information in the Cockpit system to improve their situational awareness.
While the KC-46 comes with factory-installed systems, such as Link 16, to be better able to communicate, the older KC-135s require upgrades to be able to stay relevant in the long- term, Camerer said.
"We're still going to be flying KC-135s for a long time," he said.

A KC-135 is partially disassembled in a hangar for an inspection at Fairchild Air Force Base in Washington in 2018. KC-135s are more than 50 years old, but most interior components are newer. Photo: SrA. Ryan Lackey
ENHANCING TRAINING
AMC is changing how it is training its aircrews to focus on the threats that come with a fight against a stronger adversary, including in environments denied by cyberattacks or even chemical attacks.
For example, C-130 crews have changed how they train to better prepare to fly closer to a fight. Under a North Korea scenario, C-130s could face chemical weapons attacks, yet still need to fly close to the fight for resupply. Crews prepared for this in the past by doing one or two approaches in chemical suits, but now they will do so more frequently, Miller said.
Within the past year, C-130 crews have begun practicing more frequently in chemical suits, including wearing them throughout some local flights.
"They're going to be closest to the fight," Miller said. "They're going to be reachable by the threat, so we need to ensure that they are ready for that environment."
AMC is developing "different training regimes" for its different aircraft, because the threats C-130s face are different from those faced by C-17s and C-5s. The massive Mobility Guardian exercise, planned for September at Fairchild AFB, Wash., will include those elements. In the first Mobility Guardian, held in 2017, dozens of aircraft from more than 20 nations practiced the first days of a large conflict through joint forcible-entry exercises, airdrops, and setting up and sustaining austere airfields. This year, there will be greater focus on operating in a denied environment, Miller said.
"We're paying much more attention to: What do all crews need? And what specific, additive measures do some crews need because the threat is changing? We need to prepare them for that," Miller said. "We're trying to get much more targeted."
"Because we have a small force, the operational tempo is high every single day," she said. "So, when we get them home and say, 'Now, airmen, we need you train for this contested environment, and this other new thing that we need to do,' … It's a balance every day."
The evolution in training gives AMC a chance to review current and past practices, and provide more targeted flying, which could help avoid training for highly unlikely scenarios.
"We're just now beginning the effort to do that," she said.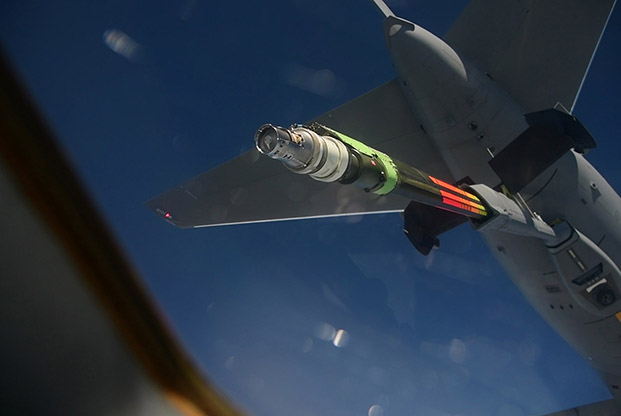 A C-17A Globemaster III positions for a refueling by a KC-46 during training in March. Photo: TSgt. Laura Beckley
Yet as AMC prepares for high-end conflict, demands continue across the Middle East. In Afghanistan, C-130 aircrews have returned to almost surge-level airdrop operations, and tankers are forward deployed to keep up with unrelenting air strikes. Demand also continues unabated for tankers in both the Pacific and European Theaters.
"That's the balance, … because our force is so small," Miller said. "We fulfill combatant command requirements, we fulfill training requirements, we fulfill service requirements. So, in the midst of all this, how do we carve out enough time so they can get the training? It's a discussion every day."
In early 2018, AMC began a unique effort to leverage technology to help address the problem. Using artificial-intelligence software to analyze deployment and operations tempo for tankers over the past several years, as well as maintenance and depot data, the command can now better predict when tankers will be most in demand. Those insights have helped commanders better align deployments with actual demand, reducing its number of deployed tankers from July to March, for example, by nine KC-135s with 17 crews and two KC-10s with six crews.
That's a major savings on both wear and tear on the aircraft and on the lives of those crews and their units back home.
"We have to meet the operational tempo out there because the war-fight demands it," Miller said. But that doesn't mean units need to deploy when they're not really needed. Wiser use of resources can make it easier—in the end—to do more with less.
"They're out there doing the mission every day," Miller said. "We've got them training for the high-end fight, depending on their weapons system. We've got them doing all different kinds of things to prepare for the next fight. We have to."