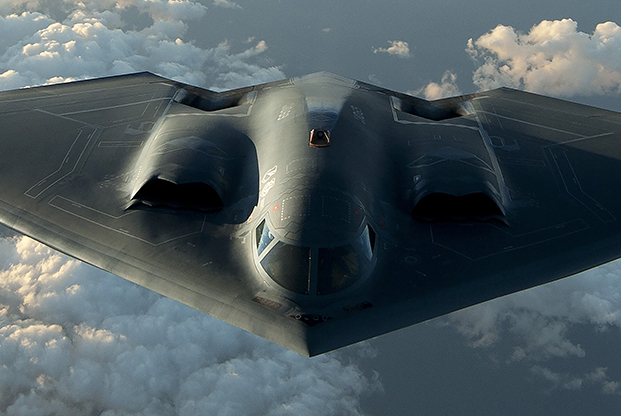 A B-2 Spirit flies into position during a refueling mission over the North Atlantic. Photo: USAF
This is America's best-known secret weapon. The B-2 Spirit is easily the most recognizable aircraft in the Air Force inventory, its sleek, black, improbable shape blending science fiction with reality even now, 30 years after its first flight.
When America goes to war, the B-2 is usually the opening act. Flying imperceptibly through enemy air defenses, its opening night missions destroy enemy air defenses so follow-on forces can destroy the enemy's ability and will to fight. The B-2 doesn't just kick open doors; it opens the skies.
Here's a portrait of the B-2 and its 30-year history in facts, figures, and images.

Only 21 B-2s were built, and just 20 remain. They comprise a tailor-made fleet of handcrafted aircraft, each ever-so-slightly different from the next, each able to carry a flexible arsenal of firepower in a two-man aircraft capable of flying unnoticed halfway around the world. One B-2 can strike 43 percent more long-range targets than an entire Arleigh Burke-class Navy destroyer.
Today's B-2s are not the same airplanes that first attracted attention in the 1990s. These jets feature enhanced targeting and threat-identification systems, precision weapons, improved stealth, and the capacity to deliver the biggest bombs in the US arsenal.
The Air Force's Bomber Vector calls for retiring the B-2 fleet by 2032, well before its successor, the B-21, is fully on line. The B-21, which is still in development, will be similar in shape and design to the B-2, but only about two-thirds the size. B-21 deliveries are targeted to start in the mid-2020s, and under current plans, B-2s would be retired as those new aircraft join the operational fleet.
But plans change. Within months after the Bomber Vector was released, the Air Force unveiled "The Air Force We Need," a plan to grow the force from 312 to 386 operational squadrons. Now, Chief of Staff Gen. David L. Goldfein is leaving the door open to extend the B-2's operational career.
"It's still in the works in terms of how we look at the force," Goldfein said June 26. The 386-squadron plan is built to deter and, if necessary, fight and win against a nuclear peer, he said. The B-2 delivers value to that equation.
"Whether we retire the B-2 in the time frame with the B-21, all of that has to be nested" in the build-out of that 386-squadron force, where the greatest growth is in long-range bombers and tankers. "That should not be surprising or lost on anyone," he said. "Because as we see the advancing threat, and the missions the Air Force provides, having that increased range to execute our missions becomes even more essential in the future."
—Tobias Naegele