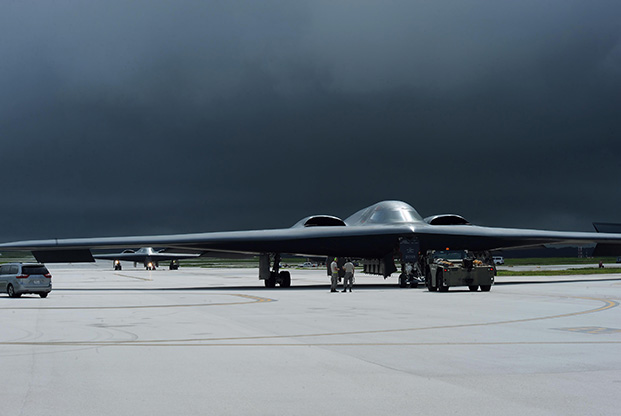 B-2 bombers at Andersen AFB, Guam. Photo: SrA. Jovan Banks
For nearly 70 years, strategic deterrence has meant threatening an adversary with the possibility of near-total destruction—likely with nuclear weapons—to dissuade him from aggression. That definition held during the Cold War between the US and Soviet Union, and served as a foundational element throughout US military strategy.
Now, however, strategic deterrence is becoming more complex and nuanced. Some world actors who threaten the US don't have a nation to threaten; some adversaries can't credibly be threatened with nuclear weapons; many state and nonstate actors can inflict strategic destruction through cyber attack rather than by nuclear, chemical, or biological weapons. How can they be deterred?
Homeland defense today "starts with the nuclear enterprise," Air Force Chief of Staff Gen. David L. Goldfein affirmed at AFA's Air, Space & Cyber Conference (ASC) last September. The service had announced technology maturation and risk reduction contracts for two legs of the nuclear triad, the Ground-Based Strategic Deterrent cruise missile and the Long-Range Standoff weapon ICBM.
While 21st century deterrence is multidomain, it has also become multipolar. Defense Secretary Jim Mattis drove this point home at ASC when he said, "I believe the problem we face today is how [to] maintain a nuclear deterrent and a decisive conventional force while maintaining irregular warfare as a core competency."
In other words, the US strategy of preparing for the four-plus-one threat landscape—where key US adversaries are Russia, China, Iran, North Korea, and militant extremism—should guide deterrence thinking as well.
_
You can read this story in our print issue:
Gen. John E. Hyten, head of US Strategic Command, agrees. While counterterrorism is not one of STRATCOM's direct mission sets, he includes the "violent extremism threat" in the US strategic portfolio. North Korea is moving fast in its nuclear weapons program, while Iran is "building ballistic missiles all over the place," he said at ASC.
Meanwhile, Hyten said, Russia is modernizing its strategic forces with alacrity, in a way not seen since the Cold War, and China is thinking about deterrence in sophisticated new ways. The strategic threat has proliferated, both in terms of capabilities and competitors.
In an interview with Air Force Magazine, Hyten said one of his top goals is to reorganize his command from top to bottom in search of a new 21st century approach to deterrence.
"Now I'm trying to focus on that integrated, multidomain, multipolar environment," he said. In one sense, the problem stems from an embarrassment of military riches. Because the US military has "the most dominant conventional force in the history of the planet," Hyten said, US adversaries have been forced to try to "counter it strategically."
In the fall of 2016, Russia held a "civil defense exercise involving 40 million Russian citizens," Hyten said last September. The war game marked "the largest strategic force deployment and exercise that they have done since the Cold War." Russia is also reorganizing its strategic forces.
"They integrate nukes, space, cyber, and conventional to achieve an overall strategic effect," he noted. In thinking through the new multidomain, multipolar strategic environment, "Who puts all of the pieces together and talks about what deterrence is in the 21st century?" Hyten asked. "The best stuff I've read is Chinese, not American," he said in the interview.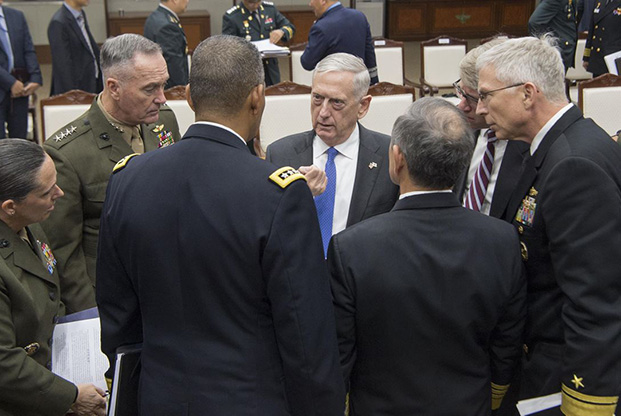 Defense Secretary Jim Mattis (right) and Marine Corps Ge. Joseph Dunford, Chairman of the Joint Chiefs of Staff, in Seoul, South Korea, in October 2017. Photo: PO1 Dominique Pineiro
PREPARE IN EVERY DIRECTION
Goldfein emphasized that the strategic threat is not just nuclear. Wars of the near future will be "wars of cognition," he said. They will be "multidomain" and will require a response structured by "simultaneous activity from multiple domains that act together." This means that—in addition to air, land, and sea—deterrence today must consider domains like cyberspace and space, and "while not a separate domain, you've almost got to start adding social media" to deterrence thinking, he observed.
Perhaps the most important emerging strategic domain is space, which Goldfein called "the ultimate high ground." The ability of US forces to respond to strategic threats in all domains relies on space capabilities, from "early warning to protected communications to the GPS signal."
US adversaries have been keenly aware of American dependence on space since at least the first Gulf War. China's successful test of an anti-satel­lite missile in 2007 (against one of its own satellites) "served as a wake-up call" to US military leaders, according to Escalation and Deterrence in the Second Space Age, a report by the Center for Strategic and International Studies, released in October 2017. The lesson of the Chinese ASAT test was clear, the report said: The US "could no longer continue acting as if space was the sanctuary it had been throughout much of the Cold War."
Air Force Secretary Heather Wilson, also speaking at ASC, drove home how crucial space is for deterrence today. "We must seek to deter attacks on our satellites," she asserted, "and if deterrence fails, our space systems must be resilient so we can take a punch and fight back." Goldfein further emphasized the point: "The business of warfighting in space," especially as it relates to nuclear detection and command and control, "has got to be central to our development in the learning curriculum going forward," he said.
Hyten has been assembling "an academic alliance in STRATCOM" to inspire a renaissance in deterrence thinking. This "alliance" involves 44 universities to date. While these participants sent representatives to a July 2017 STRATCOM symposium in Omaha, Neb., "we're going to go to them" as well, he said.
While he's encouraged by the "emerging discussion" among academ­ics, Hyten sees a lot of remaining work to translate that thinking into military strategy.
"What I don't see coming up in any large way yet," he said, "are the traditional think-tank publications" on 21st century strategic deterrence.
That means for STRATCOM itself, there is still work to do. "We have a good, clear problem statement. I think we have a definition of the framework," he allowed, but "we don't understand the details fully, and that's what we're looking for."
He's encouraged by a rising strategic awareness on the part of US personnel. "Ten years ago," Hyten said, knowledge of nuclear deterrence among US military forces in-theater was very low. But "I think we're climbing out of that trough," today. "We're in a much, much better place," he said.
An exchange between Mattis and a Navy petty officer at STRATCOM headquarters last September impressed Hyten. The Defense Secretary, fielding questions, took one from the petty officer, who said he'd just read a book "on Libya, Iraq, and the Ukraine and the role of nuclear weapons" in those parts of the world.
Mattis said he'd read the same book. "I was watching the Secretary of Defense talk with a petty officer in the Navy about the most strategic issues. And the petty officer is holding his own right [along] with the Secretary of all Defense. That's when you know that people are getting it," Hyten added.
Hyten is interested in more than thinking, however. He calls STRATCOM "the ultimate warfighting command." When he assumed leadership of STRATCOM in November 2016, he asked himself, "How come I don't have a warfighting structure?"

Secretary of the Air Force Heather Wilson (left) and USAF Chief of Staff Gen. David Goldfein answer questions at the Pentagon Nov. 9, 2017. Photo: SSgt. Rusty Frank
NEEDING STRUCTURE
STRATCOM's sprawling organizational chart features six nuclear task forces, three centers, three joint component commands, five service components, and a subunified command for cyber. In collaborating with STRATCOM, "one of the biggest challenges for other combatant commands … is who do you call?" Hyten said in the interview.
Hyten began a major reorganization of the command last June. The new structure will create just four major joint components for air, maritime, space, and missile defense. Cyber forces are likely to receive their own unified combatant command and no longer report to STRATCOM through US Cyber Command.
The changes make it "much easier" to connect STRATCOM with geographic combatant commanders, Hyten said. "It's a warfighting structure that everybody recognizes, which means they know exactly where to plug in."
When there were 18 elements, some with significant overlap in mission profile, combatant commands had difficulty working smoothly with such a behemoth organization. After the change, STRATCOM will look more familiar. "Every combatant command has a JFAC, every combatant command has a maritime component," Hyten said. "So now their J-3 can call my J-3. Their J-5 can talk to my J-5."
The changes will take time to implement; Hyten said. They will be complete later this year.
For all the talk of changes at STRATCOM and in 21st century deterrence theory, Hyten remains tightly focused on modernizing the US nuclear deterrent, which he sees as a very broad task.
"People, when they talk about nuclear modernization tend to go to the big four: submarine, bomber, and two missiles," the Long-Range Stand Off and Ground-Based Strategic Deterrent (GBSD), Hyten explained. "But it's actually six. It's those four, plus nuclear weapons (warheads), plus nuclear command and control." Those six nuclear elements are all reaching the end of their service lives all at once, presenting a formidable recapitalization task.
Hyten said his hope is that the Defense Department will find a way "to move all of those to the left so we don't have any just-in-time" deliveries of nuclear capabilities. A further challenge will be to refresh all these nuclear technologies "in an environment where we don't want to initiate testing anymore," he said.
The STRATCOM boss lamented that "our nation has lost the ability to go fast," when developing new weapons. Throughout US history, "we've always been able to leverage the industrial base and go faster than anyone else in the world." But today, "we have adversaries going faster than we are."
Richard Mullee, 90th Missile Wing Safety Office missile safety superintendent, checks the midsection of a Minuteman III booster at F.E. Warren AFB, Wyo. Photo: A1C Malcolm Mayfield
Hyten's favorite example is Minuteman I, which the Air Force developed in five years at a cost of $17 billion in today's dollars. By way of contrast, the Minuteman III replacement program, GBSD, is projected to cost $84 billion and is still 17 years away from full operating capability.
He believes GBSD could still turn a corner and not get bogged down with typical Pentagon procurement time lines. "It's not anywhere close to too late," Hyten said in the interview. He said he has confidence in Col. Heath Collins, GBSD program director, but says the service needs to give Collins "the authority and responsibility" to carry out the program as he sees fit.
"The metric for success will be when our program directors spend more time in the factories … than they do in the Pentagon," according to Hyten. Right now, "they have to spend more time in the Pentagon."
Learning to trust the people who work in the strategic force is perhaps the most important lesson for 21st century deterrence. Gen. Samuel C. Phillips, who led the Minuteman I program and later the Apollo lunar landing effort, was successful because "he knew how to take smart risks," Hyten told the audience at ASC. The red tape, not the people, are the problem. "It has been reported … that I have trashed the acquisition community," Hyten said, adding, "I'm criticizing the entire process."
In the interview he clarified that. "I think the major barrier is the nature of the bureaucracy." Programs don't receive regular funding from Congress, requirements grow overly complex in the Pentagon, and "we're having a tough time keeping colonels in the business because we don't give them the authority and responsibility" to execute their programs efficiently, Hyten said.
He's not so worried about 2018. "We are fully ready today to respond to any threat we have," Hyten asserted. His concern is that the successor to his own successor will not have the same capabilities. He wants to make sure that future STRATCOM commanders "can respond like I can to any threat that's out there."