Morris Air National Guard Base, Arizona
The only Air Force unit that trains foreign pilots how to fly F-16s is tucked away in a small section of this modest commercial airport here in Tucson.
The 162nd Wing has been training foreign pilots for decades, ever since the Netherlands agreed to send its Airmen here in 1989. By now, the wing has trained pilots from over two dozen countries to become expert operators on the Fighting Falcon. Next up, are the first Ukrainian pilots who quietly began training here this fall.
For a U.S. military that counts on its allies and partners to be an augmenting force across an array of threats in the Pacific, Europe, and the Middle East, this training mission is both vital and, increasingly, complex.
"Back when I started, it was very, very basic," said Col. Brant Putnam, the commander of the 162nd Wing. "Fast forward to where we are today, we're talking countries with precision-guided munitions and a variety of missiles and avionics in the airplane. The airplane is more capable, it's also more complicated."
How a small Air National Guard base in Arizona became the go-to hub for dozens of nations to train their F-16 pilots is one of the military's least-told stories.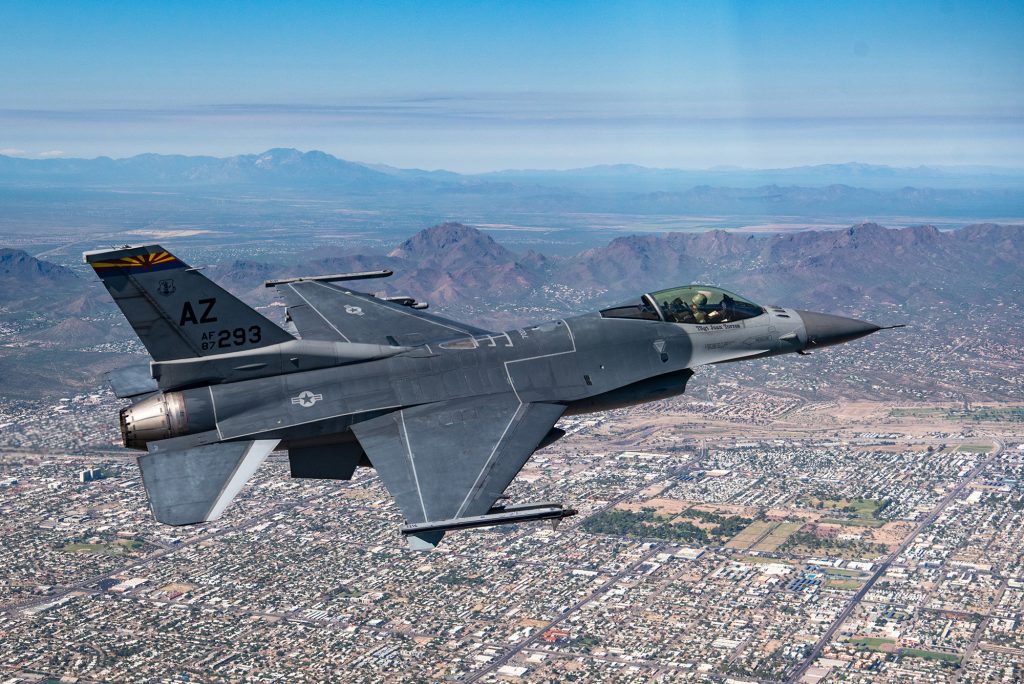 Luke Air Force Base, Ariz., was the original center for international F-16 training, but with the introduction of the F-35 Lightning II stealth fighter, Luke moved on to the newer jet and Morris ANGB became the gateway for international F-16 pilot training. Headquartered in a few modest office buildings outside of downtown Tucson, the unit's motto is "USAF's face to the world."
These days, the wing averages 18 sorties per day per squadron and trains a steady stream of foreign pilots. The roar of the F-16 flights rattles walls and regularly triggers the alarms of rental cars in nearby lots. A diorama of the base featuring an array of international flags is positioned next to the baggage terminal, a reminder that the small airport has an international role.
By all accounts, it is an ambitious undertaking. The wing trains 54 pilots annually—30 foreigners and 24 Americans—but managed to produce 57 new F-16 pilots last year. Air & Space Forces Magazine got an up-close look at the 162nd Wing's mission and flew in one of Morris' F-16s piloted by the Air National Guard Air Force Reserve Command Test Center (AATC).
In an era of fifth-generation fighters, the workhorse F-16 does not always get the attention it deserves. Over 4,500 F-16s have been produced for the U.S. and allied air forces since the single-seat jet first entered service in the 1970s. Some 3,000 remain in service with 25 countries, according to Lockheed Martin, which continues to produce F-16s in Greenville, S.C. Lockheed has a backlog of more than 120 F-16s on order.
USAF continues to fly more than 800 Active, Guard, and Reserve F-16s today. When tensions soared in the Middle East following Hamas' attack on Israel, F-16s were among the U.S. combat aircraft rushed to the region to deter the war from spreading, supplementing Vipers that were already hard at work in the region. European allies have pledged to provide Ukraine with F-16s to help it secure its skies against Russia, and Romania plans to buy F-16s second-hand from Norway.
"It's still an incredibly complex airplane that has great capabilities," said retired Air Force Gen. Phillip M. Breedlove, the former NATO Supreme Allied Commander and a former F-16 pilot. "Learning to fly the airplane is not that hard. If you truly have to learn all of the multirole capabilities of the aircraft, that is the hard part."
That is where the 162nd Wing and the Air National Guard's unique capabilities come in. Pilots here complete the six-month "B Course"—or Basic Course—designed to instruct foreign and American pilots familiar with other combat jets in the fundamentals necessary to transition to the F-16.
"It's an easy airplane to fly from point A to point B, it's very responsive, it's easy to control," said Lt. Col. Chris "Charger" Morton, a senior instructor pilot. But that masks the challenges of so capable a jet: "I've always thought that the F-16 is one of the most difficult airplanes to employ as a weapon system."
As a Guard unit, the 162nd Wing has roots at the base and in the community. Its pilots and maintainers stay put more than is possible for Active-Duty forces, so the unit is better equipped than most to retain experienced personnel and field a stable team of pilots and maintainers.
"There's a lot of things that we can do because of the fact that we are Guardsmen," Putnam said. "The maintainers pick, basically, to come work here and they stay here. They don't rotate out like the Active-Duty does every three years. So what happens is we have maintainers that have an average of 12 years on the airplane."
"Same with pilots," Putnam added. "I've been doing the foreign training mission myself since 1997—right here. You get a level of experience and maintenance that is just unsurpassed."
As Air National Guard wings go, the 162nd is unusual. About 75 percent of its Airmen are full-time Guardsmen, with only 25 percent part time, roughly the reverse of most units, Putnam notes. "That allows us to train so many different countries—and just keep going," Putnam added.
With access to vast training ranges in the southwestern U.S., the base offers plenty of room to fly unfettered by commercial traffic throughout the 1.9 million acres of the Barry M. Goldwater Complex, a training range roughly the size of Connecticut.
"It's a very unique training mission that we do here," said Morton.
Students at Morris start off with roughly the first month in classrooms and simulators, which are run by contractors, many of whom are or were F-16 pilots who served in the 162nd. Putnam's predecessor as commander of the 162nd, Brig. Gen. Jeffrey Butler, retired in September, for example, but will stay on as a civilian flight simulator instructor.
F-16s are single-seat, single-engine airplanes, and the complexities of employing the F-16s, with its hands-on throttle-and-stick (HOTAS) system, are immediately clear upon strapping into the jet. To a layman, the toggle switches and buttons on the flight control can conduct the full range of F-16 functions—something known as the piccolo drill among pilots—but learning the drill is harder than it looks. Extensive simulator time gives new pilots more time to learn the basics so the precious hours in actual aircraft are most productive.
"In the simulator, you perform an event, critique it, and then repeat it," said Breedlove, who commanded Luke's 56th Fighter Wing in the early 2000s. "And then, if they don't get it right again, add a little more instruction. With the repetition and the immediate feedback, you can do the things that you have to learn to do to get good at the piccolo drill. The simulator is amazing at that."
Even before the simulator drills, international pilots' first step en route to becoming qualified on an F-16 is ensuring proficiency in English. That's an essential skill to facilitate training, enable improved interactions with the U.S. military in future operations, and to understand and use the F-16's switches and multifunction displays—which are in English. Some of the classroom training uses pictures to help break down language barriers.
"Even small things that don't seem to matter much when you're talking to a U.S. student—the way that you phrase your words, using expressions, or slang or that kind of stuff—it can sail right over the head of a student whose English is a second language," Morton said. "We have to be very careful in the way that we instruct and very diligent with the words that we use because it is a very technical skill set that we're trying to teach these pilots."
Eventually, of course, there comes a time for the pilot to step into the jet.
Pilots go through each of the multirole fighter systems, from air-to-air, air-to-ground, to close-air support.
"There is a big difference between learning how to safely take off and land and fly the airplane and then fully employ all of its combat capabilities," said retired Lt. Gen. David A. Deptula, the dean of the Mitchell Institute for Aerospace Studies and a former F-15 pilot.
To achieve proficiency, a pilot must spend around 90 hours flying to learn and demonstrate all the necessary skills. Roughly three-fourths of those flights are solo, using flights with an instructor heavily weighted toward the beginning of the syllabus.
The course takes around six months of training—typically with the first month spent in the classroom and simulators—before leading up to different phases of flying. Pilots start off with a transition phase, in which they first fly four to five flights with an instructor before piloting the aircraft on their own, typically qualifying to fly an F-16 after about nine sorties. Basic fighter maneuvers take about 12 sorties more, then air combat maneuvering—or dogfighting—is added in. Pilots then progress to working as a team against other aircraft, as the U.S. typically flies in groups of two or four against other aircraft. Halfway through the course, students start to learn surface attack, starting with 26-pound dummy bombs, before adding more complex tactics and larger mock weapons.
The student pilots begin in two-seat F-16D trainers before going solo insingle-seat F-16Cs, but whether with an instructor in the back seat or by themselves, students are largely on their own to make it through each sortie.
"The student needs to understand that this is a single-seat mentality," Morton said. "Yes, you have an instructor back there and a safety observer. But the intent is, 'Don't rely on the person in the back seat to spoon-feed you anything.'"
Eventually, after ticking off all the boxes, the pilots build up to a large-force capstone exercise that simulates a combat mission. In some cases, the 162nd leverages Marine F-35s stationed in Yuma, Ariz., or Arizona Air National Guard KC-135 Stratotankers from Phoenix, to take part in these efforts.
"We try to make it as complex as possible to really just give the student a capstone experience: 'OK, this is, in theory, almost everything the F-16 can do all packed into one mission planning cycle," Morton said.
Doctrinal differences are also a challenge. Each nation brings its own culture and its own air force doctrine and the individual pilots' own experience to the training. Pilots from Eastern Europe typically have little experience with a hands-on throttle-and-stick system, in which the pilot can push a myriad of buttons to employ different weapons. Nor are they accustomed to USAF-style decentralized execution.
"With Poland, when we started training them, they were right out of MiGs," Putnam said. "Their pilots had come right out of a Russian model in 2007. And so we train them and basically had to get them to focus on how we do it in the West, which is making more decisions on their own versus being told what to do. And that took a little while."
Eventually, however, the training stuck. "Gradually, they got away from kind of the MiG, Russian mentality into operating a lot like we do," Putnam said.
For each student, the first F-16 sortie is a pivotal test—the early model F-16s of the 162nd, dating from the 1980s, are light and maneuverable, able to pull intense 9G turns with relative ease.
"There's no substitute for pouring your heart and soul into preparing a student for their very first F-16 ride. And they have so many questions, and they're maybe going to absorb 20 percent of what you're telling them today. But they take off and they land," said Morton. "I remember my first sortie in the F-16, and I'll never forget it. I've flown thousands of sorties between then and now, but that one stands out."
As this writer experienced at Morris, one's first flight in an F-16D that conducts steep vertical climbs, pulls 9Gs and then barrel rolls over the desert floor is a heart-thumping experience.
Instructor pilots begin with a mission brief for students, who are by then somewhat familiar, having already played out a similar mission scenario in a simulator. Instructors emphasize the one lesson they want no one to have to learn is what happens if they lose consciousness and tumble toward the Earth or have a near miss in the air.
"One of the biggest threats in the F-16 is just the Gs that it can pull," said Morton. "Some of the students who don't have that level of experience just go and pull and try to roll their socks down, and they're not ready for it.
"Once we get up in the air, I make no assumptions about whether or not the student is going to execute exactly what I briefed, and I'll keep a very close eye on them," he added.
But a lot of the training occurs on the ground. The pilots' head-up display, the aircraft's two multifunction displays, and flight data are all recorded, enabling pilots and instructors to deconstruct the sortie during the debrief.
The mission can essentially be relived in full, examining errors and learning opportunities in depth.
"We can hit pause," Morton said. Questions can be asked: "'What do you see in your head-up display that you maybe didn't pay attention to about 10 seconds ago that was really important?' And so you can kind of have that back and forth and get that feedback."
In addition, there are other options that offer alternative perspectives. "You can pull up a different debrief program that will show you exactly where your airplane was in relation to all the other airplanes and how everybody was maneuvering," Morton added. "We like to say that things are easier to learn at zero knots and 1G than at 400 knots and 9Gs in the airplane."
Finally, after six months of training, pilots are considered qualified. But that doesn't mean they're ready for any mission that might come along. As a multimission aircraft, the F-16 can fly air-to-air, air-to-ground, close-air support, and other mission profiles.
"What we do really well is that is the basic course," Putnam said. "Everybody wants someone to leave here and to be able to do everything, all the missions, but it just doesn't happen that way."
Seasoned pilots who convert to the F-16, such as the Ukrainian pilots who previously flew Russian-built MiGs and Sukhois, will be in a stronger position to be effective after they graduate. Other Ukrainian pilots will be trained in Europe. The Pentagon estimates training in the U.S. will take roughly five to nine months.
Combat proficiency in the F-16, however, can come only with experience and time. Given Ukraine's long-standing appeals for F-16s and the priority it attaches to airpower, the pilots can expect to gain experience quickly. The pace at which the pilots will gain the expertise they need to take on the Russians will depend on skill, training, and even luck. 
"For Ukraine, it is going to be tailored for exactly what they need to do, which is multirole, both air-to-air and air-to-ground," Lt. Gen. Michael A. Loh, the director of the Air National Guard, said in September. "Can [the F-16] bring air superiority to that fight? Absolutely. That's what our U.S. fighter pilots train to.
"They'll go anywhere in the world to go do that stuff—low altitude, medium altitude, high altitude, whatever it takes," Loh added. "That's the versatility of the F-16."