The Senate Armed Services Committee held a Sept. 12 confirmation hearing for Barbara Barrett, President Donald J. Trump's nominee to be the next Air Force Secretary, and she is expected to be confirmed by press time. Barrett is a former Federal Aviation Administration deputy administrator and former chairman of the board of trustees for the nonprofit Aerospace Corp., and a past member of the Defense Advisory Committee on Women in the Services (DACOWITS) during George H.W. Bush's presidency.
How the Air Force came to be the likeliest spot for female senior civilian leaders in the Department of Defense may be because it places a greater emphasis on technology, and that women are more likely to have relevant backgrounds applicable to air and space than in the ground or maritime domains, some experts say. Others argue it's simply a case of good timing.
Sheila E. Widnall, a Clinton-era nominee from the Massachusetts Institute of Technology, was the Pentagon's first Senate-confirmed female service Secretary, becoming Air Force Secretary in 1993 and serving until 1997. Sixteen years later, President Barack Obama plucked Deborah Lee James from the private sector to serve as Secretary from 2013 to 2017. Heather Wilson, a university president and former Republican congresswoman from New Mexico, followed James from 2017 to May 2019. All three spoke by email or phone to Air Force Magazine for this story.
"The Air Force is providing a model to the other services that says, hey, there's an entire half of the population, and some women have a really extensive background in management and leadership and the technical aspects of the field," said Kate Kuzminski, an associate political scientist at RAND Corp. who studies military personnel. The women set an example for political leaders to "expand the scope of who they're looking at when they're filling these Secretary positions," she added.
The civilian women who have led the Air Force reflect the more technocratic nature of the Air Force as compared to the other services: Wilson ran the South Dakota School of Mines and Technology before becoming Secretary; James came from various leadership positions at government contractor SAIC in McLean, Va.; and Widnall was associate provost at MIT with a background in aerodynamics before taking on the role.
While there is no legal requirement for a service Secretary to have spent time in the military or to meet uniformed physical standards, the perception persists that civilian leaders overseeing the other services would need to have greater experience, understanding, and capability regarding the physical demands of combat.
Women were considered for the SECAF job before the other services, Kuzminski argues, because a broader range of people can compete in fields based on technical merit.
"The physical differences of upper body strength really just aren't an issue in the Air Force," Wilson added.
Others dispute the notion that a Secretary's experience must reflect the physical demands of military service, saying that while a secretary must understand the institution in as many ways as possible, their knowledge must reflect not only combat but education, health care, finance, and more.
"Physical strength is nowhere on the list of qualifications for a service Secretary," Thomas W. Spoehr, a retired Army lieutenant general who now runs the Heritage Foundation's Center for National Defense, told Air Force Magazine. "Doubt Dwayne 'The Rock' Johnson would be a good Army Secretary."
Instead, Spoehr said, a successful service secretary should be an experienced leader and manager, someone who communicates well and gets along with Congress. He believes the Army and Navy's first female civilian bosses may not be far away.
"There is now a good number of qualified female officials who could easily serve in those roles," Spoehr said. "We will see more female service secretaries and a female Secretary of Defense in the not-too-distant future."
Eric K. Fanning, who served as deputy undersecretary of the Navy, undersecretary and acting Secretary of the Air Force, and Secretary of the Army between 2009 and 2017, noted there are women in both political parties that an administration could call on to run the land and sea services. Female members of Congress, governors, academics, industry leaders, and others have the skills to run a military department, Fanning said, adding the Army and Navy could see that day within the next several years.
Mackenzie Eaglen, an American Enterprise Institute defense fellow, said change will come from the top down. The DOD has already seen women like Michèle Flournoy, undersecretary of defense for policy from 2009 to 2012, and Ellen Lord, the Pentagon's current acquisition chief.
"A woman SECDEF would presumably be more likely to overtly target and recruit other women to lead at the Defense Department," Eaglen said. "I don't think the services that much care about what the others are doing in this regard."
Female Air Force Secretaries are the new normal. Acting SECAF Matt Donovan, speaking at a recent conference hosted by Defense News, noted that—as the first male civilian in charge since Fanning in 2013—he's now the odd man out.
While it's been more than a decade since the Senate last confirmed a man as SECAF, the defense community should not come to think of it as a woman's job, according to Loren DeJonge Schulman, deputy director of studies at the Center for a New American Security. That label is "fundamentally unproductive," she said.
"Cogent and thoughtful discussion on how women are equally as capable as men in these roles while still bringing some unique perspectives remains challenging for the national security community," Schulman said. "There are some issues that women are simply more likely to raise or be familiar with—but are less likely to do so if they are painted as focused exclusively on women's issues."
Fanning, who now heads the Aerospace Industries Association, argues the country has moved past the idea that women run the Air Force due to tokenism. The Air Force was born to handle air warfare with new technologies and ideas outside its former home in the Army, he said, and the people chosen to lead the service are among DOD's most qualified, forward-thinking officials.
"The Air Force lends itself to thinking more broadly about its leadership than maybe the other services, the other military departments do," Fanning told Air Force Magazine. "This, in my mind, greatly advantages the Air Force for the future. As they can become known as the service that is more inclusive, they're going to be able to access more of the capability of this country."
Each Secretary's tenure is defined by a different focus. For example, James prioritized personnel issues, while Wilson pushed science and technology. No matter their hallmarks, James said, all have been role models.
"When you're at the top of an organization and you're different from everybody else, then those who are also different from the majority look up to you as a role model," James said. "I'd like to think that that is a good thing."
The USAF Secretaries have helped each other in ways tangible and intangible, drawing upon the experience of male and female predecessors alike. Widnall broke the so-called glass ceiling for her female successors, paving the way for their further acceptance in service leadership. Yet, despite some effort, Widnall and James never connected when the latter took office.
After Wilson succeeded her in 2017, James wrote to Wilson urging her to keep an eye on the nuclear enterprise and on combating sexual assault.
"Even though [those issues] might be seemingly going well at any given time, be careful, because they have a way of coming back again and backtracking and getting somewhat out of hand," James recalled of her advice.
Wilson said she also relied heavily on Lisa S. Disbrow, James's undersecretary who filled in as acting Secretary until Wilson was confirmed, and continued serving as the No. 2 civilian until August 2017.
"She had been an Air Force officer, really cared about the airmen, and has a black belt in Pentagon," Wilson said of Disbrow. "She taught me a lot about budget process, and how the [Office of the Secretary of Defense] staff, the Joint Staff, and the services work together."
Wilson was the senior woman—civilian or military—in the Pentagon during her tenure. The relationship between civilian and military leadership can be tricky. Secretaries have the overarching authority to set and approve policy. Service chiefs, on the other hand, are responsible to the Secretary or implementing policy, and as operational experts, provide plans and recommendations to the Secretary for approval.
Uniformed leadership is still overwhelmingly male; only a few women have led major commands and no women have led a service or served on the Joint Chiefs of Staff. Wilson believes her background as a US Air Force Academy graduate helped her standing with Air Force members.
"Two of my male predecessors told me that I should fire at least one general officer early on 'so they take you seriously,'" Wilson said. "I never felt a need to do that. I was confident in myself and what I knew and didn't know. I felt respected from Day One."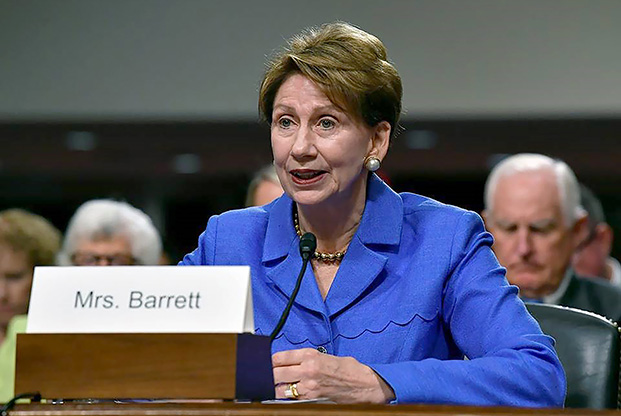 Widnall said she faced no gender-related hurdles as Secretary. James agreed, saying she felt greater pressure in majority-male environments as a younger woman than she did as a senior Air Force official. James echoed Wilson's confidence but said she went through a time when she second-guessed herself and shied away from contributing to discussions because she wasn't completely sure of all the facts.
"Is all of this because I'm a woman? Is it because I was young? Is it just simply because the confidence level wasn't yet there? I'm not sure," she said. "I never have been myself the victim of any sort of terrible environment due to being in a heavily male environment. I've certainly been in environments where there's been improper jokes but never anything that I felt that I couldn't handle and stop."
While women have reached the highest positions in civilian Air Force leadership, uniformed jobs are still dominated by men. In the era of Brie Larson's "Captain Marvel" blockbuster—featuring a female fighter pilot-turned-superhero—the service is still spreading the message that women are warfighters, too.
"Think about the most protective person you know in your life, someone who would do anything to keep you safe—half the people in this room are thinking about their moms," Wilson said to House lawmakers in 2018. "We [the military] serve to protect the rest of you, and that's a very natural place for a woman to be."
Women account for about half the US population and 20 percent of the Active Duty Air Force; about 30 percent of USAF's civilian workforce are women.
"Historically, the Air Force has had the highest percentage of enlisted and officer women," the Council on Foreign Relations wrote in April 2018. "However, by 2016, the Navy had nearly caught up. In both services, approximately one in five enlisted members and officers are women."
At press time, three of 21 Air Staff members, and three of 18 members of the secretariat, were women. Air Mobility Command boss Gen. Maryanne Miller is the only woman currently leading a USAF major command.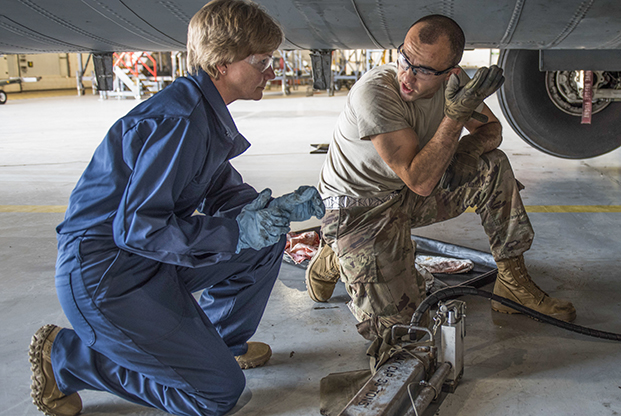 In 2016, the Defense Department opened all combat positions to women, including several special operations specialties in the Air Force. Kuzminski argues having a female SECAF likely helped bring new Pentagon diversity policies to fruition during James's tenure.
Regardless of gender, James added, whomever is running the service has to continue to push forward diversity and furthering initiatives started in earlier administrations.
"The first couple of women that actually, eventually make it in there are going to have a tough time of it because the rest of those unit members are not going to be used to it at all—they're quite likely to be resistant and questioning—and it might feel like a very harassing environment," James said of the newly opened special operations fields.
Wilson pointed out that while the special operator and pararescue fields are unusual, they often work alongside coed teams of "remarkable special operators."
During James's tenure, the Defense Department also doubled maternity leave for women and increased paternity leave. James built on that change with others, including relaxing the height requirements that an airman needs to hit to qualify as a pilot—a shift that largely affected women. She also changed the rules so that women could wait to take the physical training test and become available for deployments one year after giving birth, rather than six months.
"The more I traveled, the more I talked to women that [it] was impacting, they were doing unhealthy things to be able to pass that PT test within six months of birth," James said. "They didn't want to leave a newborn child just six months into life."
Changing policies to better serve women and families affects military readiness. Women leave military service mid-career at about twice the rate of men, James said. That shrinks the pool of qualified women who reach senior leadership, and further stresses the all-volunteer service, which is struggling to keep pilots and other service members who want the private sector's flexibility and higher pay.
"The hardest thing is retention at the 10- to 12-year point of highly skilled people who have options," Wilson said. "The Air Force is too small for what the nation is asking of it. Reducing overseas deployments, getting more 'white space' on the calendar, and making it easier to balance service and family life is important to women and men in the service."
Finding solutions to bring women back in after an extended leave—say, to start a family—can ensure the Air Force continues benefiting from someone it has already trained. Some changes are being worked through legislation.
"If you decide you want to have two years at home with a child, whether you do the career intermission program or you leave Active Duty altogether and then you go to the Reserve, it's difficult to get the on-ramp back onto Active Duty. In fact, it's nearly impossible," Kuzminski said.
A female perspective in leadership is also crucial as the military continues to combat sexual assault in its ranks, although much of the process to address it is handled through the uniformed chain of command. Very little long-term research shows that any of the Defense Department's education, training, and prevention efforts have successfully reduced harassment and assault rates, Wilson said: "That is frustrating."
While sexual assault reports in the military are climbing overall, the Air Force reported the lowest incidence of assault in any service—4.3 percent among women and 0.5 percent among men—in the Pentagon's fiscal 2018 analysis. That rose from 2.8 percent and 0.3 percent among women and men, respectively, since the 2016 report.
A recent DOD report on sexual assault at the service academies during the 2017-2018 school year also found that about 221 USAFA cadets had experienced unwanted sexual contact, up from around 150 cadets estimated two years before. Twenty-one cadets reported an assault during their military service. The publication notes that USAFA's reporting rate has dropped since the 2011-2012 school year.
"It's got to be this leadership mantra in my opinion, to keep measuring, keep talking about it constantly, make sure the commanders at all levels know that you're watching and that you expect behaviors and you expect to keep on top of this situation," James said. "I'm not 100 percent sure that's still happening."
Despite efforts to address gender imbalance, Wilson still worries that there aren't enough women in national security positions.
"While I have a Ph.D. in international relations with a specialty in national security and international law, and women were probably as prevalent in my Ph.D. area as men, I don't see women in the Pentagon as much as they should [be] by now," she said.
The service is working to boost the numbers of women at USAFA, which can bolster female leadership down the road. Thirty percent of the academy's latest round of applicants were female, up from around 25 percent in recent years, according to the Air Force.
Wilson, who graduated in the third academy class that admitted women, was the first cadet to go on to become SECAF.
"It's a small subset of the future Air Force leaders and you have them all captive at one place at one time, and so [it is] a good time to introduce the business case for why diversity and inclusion matter. It is the right thing, but also making the case for how it makes the Air Force itself more combat-effective," Kuzminski said.
Widnall, who praised USAFA as a proving ground for diversity, told Air Force Magazine the visibility of women in leadership roles offers confidence to younger generations, both enlisted and officers, that they can advance based on their skills. Seeing women run a service can also inspire girls interested in science, technology, engineering, and math (STEM) career fields to aim for military leadership as well, she said.
James believes it will be 25 to 30 years before uniformed Air Force leadership is more evenly split between men and women—if the service continues its traditional methods of growing senior officers. But it doesn't require a 50-50 split for women's input to start turning the cultural tide.
"Thirty percent tends to be considered a tipping point," James said. "Once an organization is 30 percent women, that has been deemed to be the point whereby culture changes. That's enough women that people are used to having them around, people are used to not being shocked that they perform and perform well, and they become much more part of the team and accepted, and you almost become gender-blind."
That process has been in the works for decades. Wilson recalled the first time she saw a woman with pilot's wings while walking around USAFA.
"I saluted a young woman officer who wore wings," she said. "I actually turned around and said, 'Ma'am, excuse me, but could you tell me where you got those' She was kind enough to stop and tell me her story. We are our stories."
Later, while serving in Congress from 1998 to 2009, Wilson met a female Air Force major general. During her time as Secretary, the service had three female four-star generals and multiple female lieutenant generals.
"It has started to not become a big deal—which is a big deal," she said.
In addition to female Army and Navy Secretaries, Wilson and James believe a female Defense Secretary is on the horizon as well. James said it could happen in the next 10 years; Wilson said it will occur during her lifetime.
What's more, Wilson bets, she'll live to see America's first female Commander in Chief.