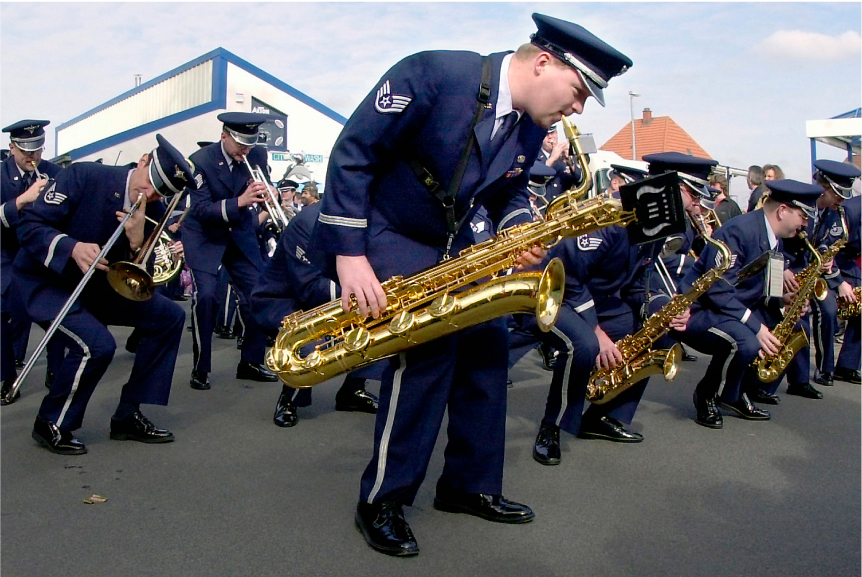 SSgt. Chris Campbell (foreground) and the USAFE Band perform during a carnival parade in Ramstein, Germany, in 2003. The US Air Forces in Europe Band is one of 10 regional bands. USAF photo by A1C Desiree N. Palacios via National Archives
Have you seen the Air Force Marching Band at major ceremonies? Perhaps you attended a concert performance by the Airmen of Note, caught a live rock show at a deployed location, or were serenaded by the Air Force Strings. Air Force bands are everywhere.
"Whether it's a two-and-a-half-minute song or a two-hour concert, we're here to show the uniform to people who might not see it every day," said Lt. Col. R. Michael Mench, chief, Bands Division, Office of the Secretary of the Air Force, Public Affairs.
There is just one main US Air Force Band, but the service has 10 regional bands—seven Stateside and the others in Germany, Japan, and Hawaii.
"Until you see what we do, it's hard to really understand" the effect the music has, SMSgt. Ryan Carson told The New York Times in a late 2016 interview.
The US Air Force Band traces its lineage back to the US Army Air Forces bands formed in October 1941. Today the Air Force Band, based at JB Anacostia-Bolling, D.C., has 179 members who form six ensembles: the Concert Band, Singing Sergeants, Airmen of Note, Air Force Strings, Ceremonial Brass, and Max Impact. Add to that an expeditionary US Air Forces Central Command (AFCENT) Band, in operation for more than a decade.
USAF band members are already accomplished musicians when they apply to join the service. For each opening, the Air Force Band may receive 50 applications. Most applicants have a four-year college diploma and many have master's degrees.
The band looks for the best technicians first. Then comes the intangible element: Can the trumpet player mesh with the band or orchestra? Can the vocalist interact with and command an audience
The band wants to know, "Can they take on that journey?" explained CMSgt. Craig LeDoux, who now serves as career field manager for Air Force bands.
All incoming recruits must go through basic training. "We try to prepare them for the experience," said LeDoux. "It's the first injection of blue."
After that "the Air Force sends you straight to your job," said SrA. Justis McKenzie, a tuba player with the Band of Flight at Wright-Patterson AFB, Ohio. McKenzie earned a master's degree from Rice University, then toured with Broadway shows, including "The Lion King" and "Shrek the Musical," before joining the Air Force in 2015. Musicians don't get much practice time while training to become airmen. "When you get out of basic training you have a lot of rebuilding to do," McKenzie said.
All musicians "have a different story that brings them in," Mench said.
Performing at a reunion at an Austin, Texas, hotel set the tone for him.
"Our intent was to play two marches, the national anthem, and come home," Mench said. The musicians arrived at the hotel and walked past displays for the reunion. Mench soon realized the gathering was for survivors of the Bataan Death March, the 66-mile walk through hell by captured American and Filipino defenders of the Bataan Peninsula after Japan invaded the Philippines in World War II.
"That immediately shifted my focus," said Mench, who realized "I'm here to honor the people whose footsteps I walk in today." It was a moment he never forgot. The band added a few more pieces for the reunion crowd, but the mood changed "from just playing great music to performing to honor, inspire, and connect."
That change also happened for LeDoux, a trombone player who began his USAF career 27 years ago.
"Once you get in, you sense that what we do is bigger than yourself," he said. The terror attacks of Sept. 11, 2001, affected him deeply. After that, "the American public needed to rally and gather in a community space to bring people together."
SMSgt. Richard Baisden, a 19-year veteran guitarist, agreed. He earned a degree from the prestigious Berklee College of Music before joining up. His standout moment came while performing at Bagram AB, Afghanistan, hospital during the early stages of Operation Enduring Freedom. The music gave patients and staff "a taste of home," he said.
Because the Air Force Band is headquartered in the Washington, D.C., area, it plays venues such as the Smithsonian museums and the White House. Duties include funerals at Arlington National Cemetery.
Band members are pros at just about any type of music. The selection varies according to the occasion, the audience, and the location. A typical US performance includes the national anthem, the Air Force song, and rock favorites that pull from radio Top 40 styles. "Our jazz bands can open that up with rock covers, Broadway tunes, and of course the Glenn Miller heritage. It's never about performing the most technically difficult pieces. It's about being in uniform, with the flags around us," Mench said.
The music mission is a global one. One of the more unusual deployments came in 2010 when Air Force Band members embarked on the Navy amphibious assault ship Iwo Jima. The ship was on a four-month humanitarian and civic assistance mission to the Caribbean and Central and South America. The band entertained thousands as they lined up for free medical care clinics.
Touring comes with the job. "Twenty years in the Air Force, and I spend most of my life on a bus," quipped Mench.
The musicians "go out to FOBs [forward operating bases] where the USO can't really go," explained Baisden. "It gives people out there a chance to relax." Musicians among the airmen, soldiers, or coalition partners in the audience are invited to come "up on stage and … sit in" with the band, he said.
The AFCENT Band at al Udeid, Qatar, has a permanent facility, manned continuously, but it performs around the area of responsibility. Musicians rotate in from Stateside units to meet this expeditionary requirement, just as any other airmen.
The mission broadens from that in the States. "We have different priorities. First is troop morale; we take care of those taking care of the fight, and our priorities are geared more individualistically," Capt. Jason Plosch said in a 2015 AFCENT news release. He was AFCENT Band's officer in charge. "We go out to where the workers are in their offices and the flight line to bring a slice of home to our deployed troops."
The AFCENT Band is almost constantly on tour. One day it's a consulate in Dubai, another it's a karaoke contest in Kabul, Afghanistan. An audience of 30,000 saw the Systems Go rock band in Doha during the Qatar International Food Festival in April.
"We send a unique product to al Udeid," said Mench. It's "light and lean," able to "hop on any aircraft." The goal is to connect with audiences via American pop culture. The AFCENT Band is configured around rock music, with the addition of brass.
"It's mostly Top 40," said McKenzie.
Recently Lewis brought an electric cello for his time with the AFCENT Band. "He sits in with the rock band and brings that nice cello line," said Mench.
The instrument proved a great ambassador on a tour of Afghanistan. During a stop in Kabul in March, the US Embassy invited Afghan students from the National Institute of Music to join in for a concert. The musicians played a mix of traditional and modern songs. Later, strings students met with Lewis for an impromptu class. Among the Afghan students were two female cellists. "Afghan students and American airmen don't always speak the same language, but these three could play Bach minuets together in perfect harmony," posted the AFCENT Band on Facebook.
The bands must be flexible because they never know the kind of stage they'll have or even if power will be available, said Baisden. They have to be ready to do a pure acoustic set and, in place of an electric beat box, use a cajon drum box where the percussionist sits on the box and taps out the rhythm by hand.
Ban the Bands
Despite the bonds they forge with the public and the morale boost they offer to the troops, military bands come in for regular scrutiny, especially when budgets are tightly squeezed.
Instrument purchases often attract publicity. In June 2016, Time magazine frothed over a solicitation for an 18th century cello valued at $75,000. But the equipment is important: USAF bands play professional-grade instruments that don't compare to mass-produced pieces.
"We do put limits" on instrument purchases, said LeDoux, and USAF bands are nowhere near buying high-end. Top-of-the-line orchestra cellos can command more than $500,000 per instrument, while multimillion dollar Stradivarii instruments are so rare that many are owned by foundations that lend them to elite musicians.
Musicians have to get the right feel with an instrument to achieve top performance, and a USAF band member may keep an instrument for an entire 20-year military career. Craftsmen using quality materials produce instruments with superior mechanisms that are also easier to maintain. Instruments have to hold up through as many as 250 performances a year. "It has to last, and it can't fail," explained LeDoux.
On Capitol Hill, military band funding is a favorite punching bag during lean budget cycles. In 2011, Rep. Betty McCollum (D-Minn.) sponsored a measure to reduce funding, saying, "The Pentagon doesn't need any more band aid."
Last year the House Armed Services Committee requested a detailed accounting of funding for military bands. The New York Times, rarely a supporter of military spending, responded that cutting band funding was a drop in the bucket when weighed against Congress' refusal to consider base realignment and closures that could save $2 billion per year. The newspaper reported in 2016 that the Air Force had cut three Active Duty bands and had downsized others.
In the Pentagon, the bands have solid support.
"Military bands are a critical part of operations," Mark Wright, a Defense Department spokesman, said, according to the Times article. "They inspire, they build a rapport with our citizens and foreign nations. The types of operations we do may be hard to understand, but everyone understands music."
Last year the USAF band operation and maintenance funding totaled about $9.7 million, not counting the musicians themselves. USAF bands performed 4,600 events in 48 states and 43 countries and were seen by an estimated 10 million live viewers.
The most famous military bandsman in American history, John Philip Sousa, offered perspective on the martial music tradition. He told Congress in 1927, "I do not believe that any nation that would go to war without a band would stand a chance of winning."
Rebecca Grant is president of IRIS Independent Research. Her most recent article for Air Force Magazine was "The Autonomy Question" in the April issue.