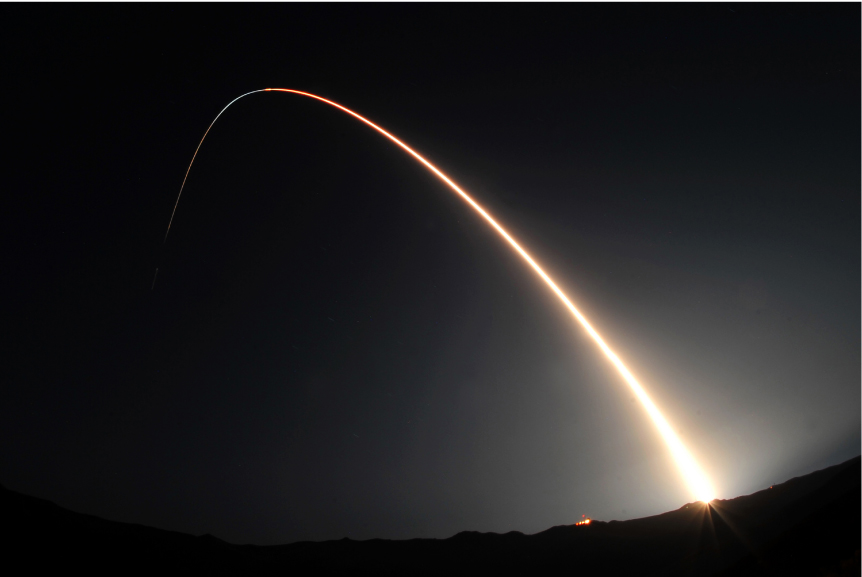 A Minotaur IV rocket launches from Vandenberg AFB, Calif., on Sept. 25, 2010. The rocket boosted the first Space Based Space Surveillance (SBSS) satellite into orbit. Photos: TSgt. David Salanitri; SrA. Andrew Lee; USAF
Gen. John W. "Jay" Raymond, the Air Force Space Command (AFSPC) chief, wants to bring space into the mainstream of combat domains—alongside air, surface, subsurface, and cyber. To do that, USAF must first refine its ability to spot and assess threats, achieving true situational awareness in space.
AFSPC has argued loudly about the need to speed up the acquisition process, in large part because of its needs in the arena of Space Situational Awareness. Mastery of SSA is "one of our top priorities," Raymond said at an April Space Symposium press briefing.
At the same event, Lt. Gen. David J. Buck, who leads 14th Air Force and US Strategic Command's Joint Functional Component Command for Space, added, "Our space intel expertise has not kept pace with emerging threats, so we're revamping our intelligence approach. We're finding that Russia and China particularly have the ability to perform complex on-orbit maneuvers," and the Air Force needs to be able to accurately characterize what those craft are doing.
The problem is the US has been operating with an idea of SSA developed for an earlier era, where the worst that could happen was an accident producing a lot of orbiting debris.
"If you are operating in a benign domain, knowing where something is in space is important, and that's probably all you need" to avoid collisions, Raymond said, noting, "our SSA capabilities have really grown up around the space catalog."
Expanding Debris Field
Things changed forever in 2007, when China demonstrated an anti-satellite weapon against one of its defunct satellites. The resulting debris field of more than 3,000 pieces of space junk has created a lot of concern in the years since. The existence of the weapon caught AFSPC's attention, though.
"They actually tested firing a kinetic weapon at one of their own spacecraft," Peter Bernstein, AFSPC's SSA chief architect, told Air Force Magazine. "That's probably the most drastic end" of the threat spectrum SSA must defend against today, he said.
If an enemy "wanted to take a spacecraft and actually use that as an anti-satellite weapon," Bernstein said, SSA needs to be good enough to anticipate such an event.
That's why space cataloging is "probably not good enough," Raymond contended. Buck insisted that, in contrast to "space traffic management," SSA "gives me attribution, … intent, [and] … knowledge of who's operating. It gives me knowledge of capabilities."
SSA, then, is no longer just about tracking objects to avoid collisions in space. In fact, the Air Force is discussing with the FAA how it might hand over to a civil authority some of its space traffic management duties. USAF is beginning a pilot program this summer that will bring some FAA personnel to Vandenberg AFB, Calif., to "get a feel for what the mission is about," Buck said. The change is a matter of prioritizing military space activities.
"I don't think [Buck] has to be the person who pulls out the Rolodex and calls company X [and] says, 'Hey, you might hit a piece of debris,'?" Bernstein said. "Somebody else could do that and we could focus our military manpower on other things."
New Space Fence in the Pacific
One of them is characterizing threats. Characterization doesn't disregard the tracking of space objects—in fact, it uses better tracking data to build a more granular level of knowledge about on-orbit assets.
The Space Fence is a wide area search and surveillance sensor the Air Force is building on the Kwajalein Atoll in the Pacific Ocean. The second such sensor built (the previous version was spread out at locations in the US), it is expected to reach initial operational capability sometime in 2018 and will be a significant part of achieving better vision of objects in space.
Bernstein said the Space Fence will allow the Air Force "to track smaller and smaller objects" to "filter out the clutter" and clarify the background picture in space. This is crucial work because, as more players get involved in space, the task of identifying lots of small objects becomes more urgent and more difficult. Bernstein mentioned "a recent Indian launch where there were over 100 payloads," including very small satellites. "Space Fence's ability to characterize the debris allows you to separate those small payloads from the background debris, … so that you can focus in on the threats," he pointed out.
The goal is to use the refined sensor information—provided by systems like Space Fence—as a window into intent, strategy, and tactics in an increasingly uncertain space domain full of potential threats. The SSA of the future "would be able to tell you … predictively that maybe [an adversarial] threat was going to maneuver and was going to engage with a [friendly] spacecraft," Bernstein said.
Value of Prediction
Prediction is the gold standard USAF is aiming for in SSA. It opens the door to understanding how adversaries' space assets are behaving on orbit. To get that predictability, Bernstein said, "you want to know more about what an object's capabilities are, what its potential uses could be, what's [the] normal pattern of behavior versus [a] different pattern of behavior."
Raymond told reporters that in this sense, "we do not have the level of SSA that we need today."
The Air Force can make use of a broad spectrum of ground- and space-based sensors for the SSA mission. These range from radars and advanced telescopes to the Space Fence. Most are collateral sensors—having another primary mission but sharing information for the SSA mission—or contributing sensors, such as "labs or other folks that have a sensor or a telescope that for a small amount of time can augment SSA," Bernstein said.
A key for the evolving SSA role is the Space Based Space Surveillance (SBSS) system. It's one of the few sensors dedicated to the SSA mission.
The current Block 10 SBSS will exceed its operational service life by the end of Fiscal 2020, but the follow-on won't be ready until 2022. In the meantime, the fifth satellite in the Air Force's experimental Operationally Responsive Space series may help. It was scheduled to launch in July.
"ORS-5 is going to be a partial gap-filler in the event that the SBSS Block 10 reaches its end of life before we get the follow-on online," Maj. Brianna Keen, SBSS and Space Fence requirements lead, told Air Force Magazine. Keen said it's still "to be determined" whether USAF will experience any lost capability during the transition.
Either way, Buck said ORS-5 will provide "another tool in our toolkit" to address the need for better SSA, but Air Force Space Command is developing other capabilities as well. "We are domain awareness vacuum cleaners right now," Buck said. As a combat leader, "I can't do what I want to do without domain awareness," he said.
At the Space Symposium, Raymond told reporters he wants to establish ties with "organizations that
may have the ability to go faster" in acquiring new capabilities, including SSA assets, and that he's leveraging
a number of existing strategies to achieve that goal.
The Air Force's Space and Missile Systems Center already has rapid acquisition authority through the office that manages the ORS series, Raymond said, and he has directed Lt. Gen. Samuel A. Greaves, SMC commander, to "use those authorities more broadly than we have in the past." Raymond said he is looking for more ways
to work with the Air Force's Rapid Capabilities Office (RCO), too.
Fostering Partnerships
Bernstein said that SSA is "all about partnerships." To achieve better awareness in space, "you want to be able to collaborate with those that operate in that environment." Raymond pointed to AFSPC's ongoing cooperation with the National Reconnaissance Office as an example of how processes can be sped up. He noticed the NRO was already doing a space situational awareness program better than AFSPC, so instead of creating his own new program from the ground up, Raymond decided, "we'll just buy more of those capabilities" from the NRO. Fostering partnerships is a long-term approach, said Bernstein. "What we're trying to do is make sure, especially in a … wartime environment, that we can achieve the necessary unity of effort."
Gen. Ellen M. Pawlikowski, head of Air Force Materiel Command and a former commander of SMC, told reporters at the symposium that today's space challenges are exactly the sort of problem rapid acquisition authorities were designed to solve. "The sweet spot" for those authorities, she said, comes "when you're trying to build that pathfinder, that first-of-a-kind that's trying to leverage innovative and creative approaches."
She said she was speaking not only of "new technologies" but of "new concepts of operation" for space. Pawlikowski added that using "other transaction authority" to "rapidly do contracts" for SSA as for other space mission sets would be crucial for making space acquisition happen faster.
A large part of the speed advantage is achieved through shortening the chain of command, she said. "Under the RCO authorities," the SMC commander can make an acquisition decision, "instead of going all the way up."
space enterprise vision
To collect as much data as possible for the SSA mission, the Air Force is looking to involve other nations. During the Space Symposium, US Strategic Command (STRATCOM)announced it's forming a new Multinational Space Collaboration (MSC) at Vandenberg. The effort will provide a framework for combined operations in space among the US, UK, Australia, New Zealand, Canada, and other nations, according to a STRATCOM press release.
As a first step in assembling an international partnership, STRATCOM expects "to have a German [liaison officer] in place at Vandenberg" sometime during this summer, Buck told reporters. He said a central focus of MSC will be improving situational awareness. "As space is a global commons, the MSC provides a vehicle to enhance sharing and collaboration with other like-minded nations," Buck said.
In April 2016, Gen. John E. Hyten, then chief of AFSPC and now head of US Strategic Command, announced a Space Enterprise Vision that sought a unified whole, "as opposed to a set of independent platforms." Maturing space situational awareness from largely monitoring space junk to characterizing the size, capability, and purpose of adversary spacecraft is the critical first step in realizing that vision.