SrA. Johnny Hillary takes aim through a holographic scope on a drone defender rifle at Moody AFB, Ga. Photo: Amn. Eugene Oliver
The Air Force's deployed security forces will soon be able to knock down small drones at the click of a button using lasers and microwave weapons, marking the service's first test of directed-energy weapons in theater.
Two Raytheon systems—a laser and a high-power microwave—will deploy to an undisclosed overseas base this spring to defend them from prying eyes and potential mischief posed by commercial drones outfitted with cameras and even weapons, according to Michael Jirjis, who oversees directed-energy initiatives in the Air Force's Strategic Development, Planning, and Experimentation Office (SDPE).
The threat is so pressing, Jirjis said, that Air Force Vice Chief of Staff Gen. Stephen W. Wilson wants to shift funds from other directed-energy programs to solve the base-defense problem faster.
"Right now, we need to put capability in the field and see what's being offered," Jirjis said. "Eventually we'd like to move these systems to a low-rate initial production, but there's a lot of learning that still needs to be done before we get there."
The new weapons destroy or disorient unmanned aircraft. Lasers focus an invisible heat ray on the aircraft to melt its body. Microwaves, on the other hand, can combat multiple drones at once, and either reroute or disable them so they drop out of the sky. Eventually, both could be incorporated into a single system that could use microwaves to deter aircraft or swarms of UAVs and lasers to destroy individual, persistent threats.
Operationally testing the weapons in a combat zone will help researchers gather data on performance and maintenance requirements before the Air Force commits to an acquisition program. Jirjis said the assessment will last nine months to a year.
While it's unclear where the next round of experimentation will take place, Air Force officials at home and abroad have voiced concerns about the threat.
Then-SDPE Director Thomas Lockhart recalled in a recent Defense Department video how small drones were constantly surveilling a base he visited in Afghanistan in 2017. "We had a lot of unmanned systems sitting over and watching everything we do," he said. "Our airmen would like to not be monitored 24/7, and this will push this back so they won't have that monitoring capability."
US Central Command did not respond to questions on how often drones threaten area bases.

Michael Jirjis, chief of directed-energy experimentation at the Strategic Development, Planning, and Experimentation Office, said the Air Force is developing operating concepts and techniques that could invoke using both lasers and microwave weapons to complement unmanned aircraft. Screenshot from White Sands Missile Range video
TEST DRIVE
Raytheon's systems were the only two that qualified for an initial Air Force experiment at the Army's White Sands Missile Range in New Mexico last fall.
The test sought to explore the policy, tactics, training, and more of what's needed to make them part of everyday operations.
Young airmen from three bases got a crash course on directed energy, then headed to hands-on training with the systems, which use an Xbox-style controller to direct the laser and a joystick to operate the microwave weapon.
Qualified systems were asked to identify, target, and track drones weighing 55 pounds or less and flying 500 meters away and be able to engage aircraft from 300 meters away and destroy them within 100 meters. Each system had to counter five to 10 unmanned aerial systems within a minute.
"These were unscripted tests," Jirjis said. "[Operators] didn't really know what threats were coming at them or the number, when, or the direction. We wanted them to be able to work through the entire process of detecting, ID'ing, tracking, and trying to mitigate Group 1 UASs (unmanned aircraft systems)."
A Pentagon video published in December 2018 shows a quadcopter, aloft in the cloudless, blue New Mexico sky, start to glow white-hot as a laser focuses its energy on the craft. After a pause, it tumbles to the ground in a cascade of sparks.
Another drone, confused by a microwave, momentarily wobbles before plummeting.
"At first, you'd have one drone or two drones flying at different angles," said Evan Hunt, Raytheon's high-energy laser business development director, in an interview. "Eventually they ramped that up to be maybe two or three drones at a time. So it wasn't a full, deep swarm yet, although certainly I think we'll graduate to more intense swarming simulations."
Hunt said the tests proved a single airman could see and attack a drone with the laser within 30 seconds. In the future, he expects it may take as little as 10 seconds to wield such power.
One goal of the testing was to "oversaturate" the operators and find their limits, Jirjis said. While participants were flexible, and both weapons effectively shot down drones, individuals and systems could only handle so many threats at once. He declined to describe those limits.
"It highlights the need for machine learning or artificial intelligence to be able to help that detect-ID-track portion of it," he said. "When you start to look at one-on-one scenarios with a UAS versus swarming scenarios, it becomes a very challenging environment."
While systems that can handle a few drones at a time may work in the short term, how the Air Force would ramp up or link its weapons together to fight larger swarms remains to be seen.
Jirjis said the Air Force still hopes to learn more about how high-power microwaves affect a drone's electronics. He also wants to see improvements in the weapons' command and control functions that would combine weapons into a true kill chain.
The process of detecting a UAS on radar, assessing it with an electro-optical/infrared sensor, asking for permission to fire, targeting, and attacking should move faster, Jirjis noted. Using artificial intelligence could help at each step, particularly by identifying whether a looming object is a friend or foe.
During the tests, security forces were not allowed to fire at approaching aircraft when satellites were passing overhead, forcing the researchers to schedule times when operators could actually engage targets without threatening satellites orbiting above. When satellites were present, participants were limited to practicing detecting, identifying and tracking targets, but could not attack.
That wouldn't necessarily be a problem when the systems are deployed overseas, Jirjis said.
"In a real-life scenario, the operator or the commander that's in charge will have to take on that risk if they want to assume it," he said. "The risk [of] actually damaging something that's flying behind it, [such as] a satellite, is very, very low."
The experiment featured one of DOD's earliest—if not first—attempts to combine lasers and microwaves into a single weapon.
"It provided some unique effects, and there's definitely some exploration that needs to occur on joint effects for when you're trying to take [drones] down," according to Jirjis. "If one aspect of a high-power microwave system is to stop the movement of a UAS, it may provide the laser system a better shot, for example."
Hunt believes security forces personnel are probably the right candidates to take on the counter-UAS job, requiring only about two weeks of additional training.
"It fits nicely in their wheelhouse because they need to maintain situational awareness of the entire airfield, and they are charged with protecting the ramp and the assets on the ramp," Hunt said.
Don Sullivan, a chief technologist who works with high-power microwaves at Raytheon, added that if airmen already know one directed-energy system, they could likely learn how to use the other within a day.
Raytheon wants to build a simulator so airmen can train without the restrictions of a military test range, according to Hunt.
"There's no reason that … we couldn't do 99 percent of our training via simulator and then maybe just check an airman out for his final qualification run at the range," Hunt said. "If this idea matures, we'll probably offer that to the Air Force as part of our training package."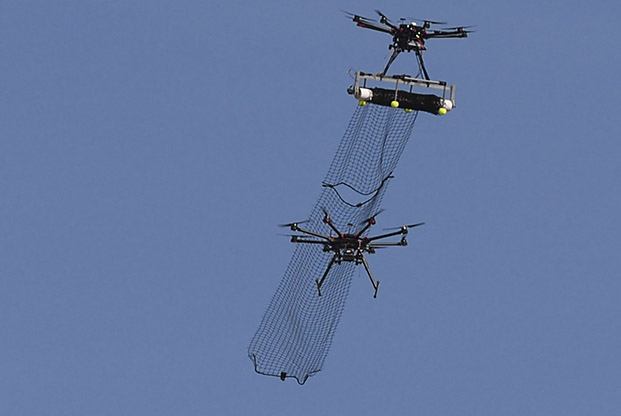 An attack drone unfurls a net to intercept a DJI S1000 drone during the 2016 AFRL Commander's Challenge. Photo: Wesley Farnsworth/USAF
NEXT STEPS
Directed-energy weapons are part of an overall counter-UAS plan the Air Force wants to institute at all overseas bases. A "large number" of facilities outside the continental US need a fix as soon as possible, and a "handful" are candidates for lasers or microwaves, Jirjis said.
The weapons would be used in much the same way overseas as they were in testing, although the Air Force will create rules of engagement for each base.
While overseas facilities need more immediate protection, the Air Force is also weighing options for domestic UAS defenses. US Strategic Command chief Gen. John E. Hyten told Congress as far back as 2017 that he had issued classified guidance on how forces should respond if a drone approaches a military site. But the prospect of handing them directed energy is more complicated.
"The [directed-energy] community is still working through how that works for supporting systems [at US bases]," Jirjis said. "There is a difference between a forward-operating base where a commander has purview on protecting his base and his forces, whereas CONUS, there's a lot more that needs to be taken into consideration."
In October, the Air Force plans to latch onto the Army's annual Maneuver Fires Integrated Experiment, known as MFIX, to consider more kinetic, sensor, and radar options. Security forces will again push those technologies' limits, as in the White Sands tests last fall.
MFIX "is going to focus on the systems that show up and their connectivity into a command and control [system] that we would use," Jirjis said. "Once we have those data points … we'll have a good amount of information that could feed into a low-rate initial production."
Based on the results of all three experiments, the Air Force Life Cycle Management Center (AFLCMC) will then decide which company's weapons best meet the service's needs. The Air Force hopes to begin buying directed-energy systems in the next two years.
Raytheon officials declined to say how much each weapon system costs.
To date, the Air Force has taken a largely piecemeal approach to UAS defense, relying on nets, a variety of guns, electronic jamming, and improvisation while waiting for a long-term program. AFLCMC Digital Program Executive Officer Steven D. Wert advocates for a counter-UAS strategy comprised of multiple new technologies as they become available, rather than waiting for a single, fully mature solution.
A newly formed, congressionally funded office meant to bridge the gap between directed-energy research and acquisition aims to bring disparate programs under one umbrella, Jirjis stated. That group will partner with others to develop directed-energy weapons for a range of missions, both offensive and defensive.
Whatever the Air Force buys will need to connect to the other services' counter-UAS systems and may land in joint operating locations. Jirjis noted the Air Force is coordinating with the Office of the Secretary of Defense on prototyping programs that gradually add in new capabilities.
"Interoperability is a very important aspect to the systems we are considering," Jirjis said. "We can provide capability now that addresses immediate need and work with our service partners for the best-of-breed option in the long-term acquisition process."

A Raytheon laser weapon (5) identifies (1), engages (2), and destroys (3), a small UAV during a fall 2018 test at White Sands Missile Range in New Mexico. The laser heats the fuselage and burns up the UAV's electronics. Airmen trained at White Sands with Xbox-style controllers (4) to direct a laser weapon. Photo: White Sands Missile Range (4-5); screenshots (1-3) from White Sands Missile Range video
THE PATH FORWARD
It's been a busy few years in directed-energy research.
The Air Force's flagship directed-energy program, the Self-Protect High-Energy Laser Demonstrator (SHiELD) pod slated to fly on Boeing's F-15 in the 2020s, began ground tests last year. Air Force Special Operations Command is prototyping a laser weapon for its AC-130J gunship. Officials from across the service have chatted with the Air Force Research Laboratory about how they could tap into the evolving technology, too.
The Air Force put the final touches on a directed-energy flight plan in 2017, spurring new investments in base defense, precision strike, and aircraft protection. In addition to the higher-profile efforts, the service will experiment with directed energy to shoot down cruise missiles and to fire microwaves from a launched weapon. It has considered installing lasers and microwave weapons on tankers, cargo planes, and bombers.
It also canceled an accelerated, flexible weapon prototype designed to defend bases and aircraft, on land or in flight. Some funds from that program will instead boost the base-defense initiative, which is seen as the lowest-hanging fruit, Jirjis said.
"When I look at the overall picture and what was approved just recently, it's not that we are scrapping our airborne prototype portions," Jirjis said. Rather, it's about focusing attention "toward prototypes and transitions that are for immediate need right now and … [skipping] over intermediate phases and look[ing] at prototypes that will be ready."

An artist's concept of Raytheon's vehicle-mounted, high-energy laser repelling a drone swarm attack. Illustration: Raytheon
Inside Defense reported in March 2018 the Air Force wanted to spend nearly $1.3 billion on directed-energy research, development, and prototyping from fiscal 2019 to fiscal 2024. Richard J. Joseph, the service's chief scientist, told the publication last summer the military should try not to stretch those resources too thin. Doing so risks derailing programs, he said.
Jirjis told Air Force Magazine those same concerns are in play with base defense. The Air Force is still spending a "fair amount" to see how high-demand intelligence, surveillance, reconnaissance, electronic warfare, and tanker aircraft could carry lasers and microwaves, he said.
Senior leaders plan to gather in the spring to further hash out their next steps, according to Jirjis.
Lessons learned from the base-defense experiment will ripple through other weapons programs similar to the SHiELD as they come to fruition. By getting a better idea of the policies and procedures this future tech requires, the Air Force could hand them off to warfighters faster.
"Operators will have to sit in that seat [and] understand how to use these systems in the right environment," Jirjis said. The Air Force must also further define requirements and develop doctrine and policy for the use of directed- energy weapons. Both will take time. But as with any emerging technology, the opportunities and possibilities aren't always clear until operators get to try it out.