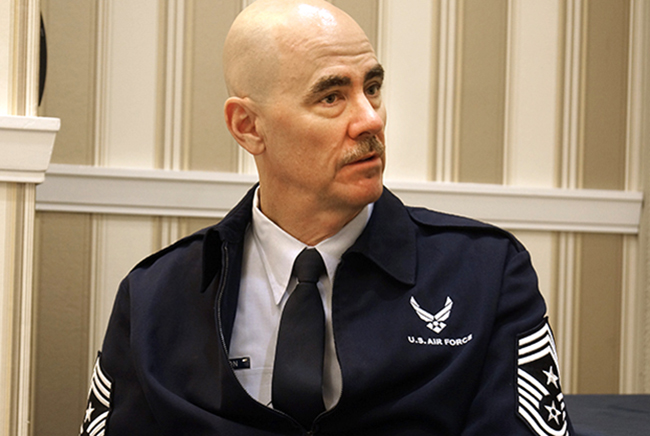 CMSgt. Ronald Anderson, command chief master sergeant of the Air National Guard, sits down for an interview with Air Force Magazine during AFA's 2019 Air, Space & Cyber Conference in September. Staff photo by Mike Tsukamoto.
The Command Chief Master Sergeant of the Air National Guard says he's "cautiously optimistic" about the effect recent suicide prevention discussions are having across the Guard force, as the component continues to hold those talks over the next few months.
Air Force leaders earlier this year ordered wings to stop most operations for a day to talk about mental health and personal resilience, facing a suicide epidemic that, as of mid-September, had taken the lives of 100 airmen in 2019. Though the Active Duty Air Force wrapped up its daylong stand-downs last month, ANG has until December to hold its "Resilience Tactical Pause" days.
"I think it's going to be one of those things where it's going to take time before we find out, did it really, truly change the conversation or not," CMSgt. Ronald Anderson told Air Force Magazine at AFA's 2019 Air, Space & Cyber Conference in September. "Do airmen feel empowered to seek mental health differently? Do they feel empowered to talk about their challenges at home or wherever differently? I don't think we're going to see immediately the results, nor should we expect that, so I'm cautiously optimistic."
Anderson said that while ANG is only beginning to get a glimpse of how each wing fared during its own pauses, he's received positive feedback so far. It takes longer to hear from people across the Guard component because those service members are together less often than those on Active Duty.
"To be able to take off the uniform, so to speak, and have a different conversation with airmen is incredibly empowering," Anderson said. "To try to recreate or develop a new pathway to airmen is really what this is about, right? It's about changing the way we communicate, how we communicate, and then who you communicate with."
Anderson is passionate about helping airmen realize that their survival is more important than what they fear losing as a result of asking for help.
"To that young airman who's feeling like their leadership, maybe, is telling them not to do it, or they feel like maybe there's going to be repercussions, what I try to do with them is change the conversation," Anderson said. "I'm way more interested in your well-being than I am whether or not you have an [Air Force Specialty Code] or carry a gun or have a security clearance. Because if I can't take care of you, you can't stay in my family. You can't be a part of this Air National Guard."
Anderson said that once ANG finishes its temporary ops pauses, it will try to identify data that can help the Guard learn more about suicide and what to do next.
Anderson argues airmen are starting to believe that ANG leaders take suicide seriously. He also said service members are learning that the stand-downs are "an effort to get away from the mission, take a knee," and have candid conversations about their situations and stressors.
The servicewide directive to stop work for a day presents an opportunity for leaders to open up about the pressures they face in their own jobs, but may feel obligated to hide from those they oversee, he added.
"This stand-down really was an effort to switch that around to say, "Hey, you know what, I've got some difficulties in my life, as well, and let me talk to you about what I went through and how I came to the other side,'" Anderson said.
The Defense Department's inaugural Annual Suicide Report—its newest document analyzing self-inflicted deaths—showed that the number of suicides within ANG rose from 12 in 2017 to 17 in 2018.
The Guard also released the findings of its first Suicide Analysis Board earlier this year. ANG's Psychological Health Program is pushing to get more mental health staff for wings whose airmen face a higher risk of suicide, family problems, and other harm, Air Force Magazine previously reported.
The Veterans Crisis Hotline is available 24 hours a day, seven days a week, for veterans, service members, and their family members and friends who need help. Call 800-273-8255 and press 1, text 838255, or visit www.veteranscrisisline.net.