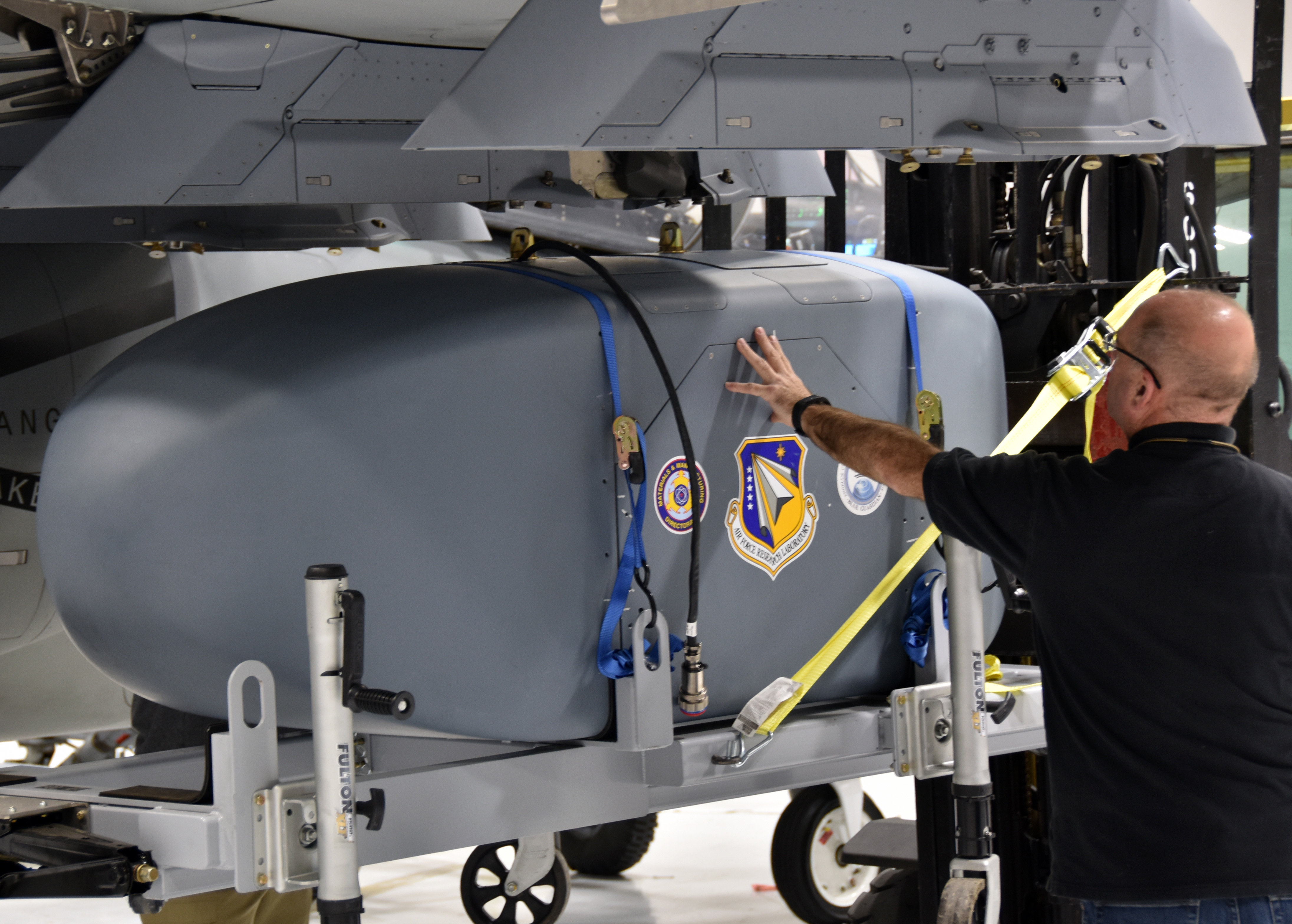 The Air Force Research Laboratory's AgilePod is shown mounted on the wing of the Textron Aviation Defense's Scorpion Light Attack/ISR jet. The AgilePod is an Air Force-trademarked, multi-intelligence reconfigurable pod that enables flight-line operators to customize sensor packages based on specific mission needs. Air Force photo by David Dixon.
The Air Force and Textron Aviation in December looked to prove the future of plug-and-play surveillance and open systems architecture by installing a newly developed pod on an aircraft that is not currently in the service's fleet.
In late 2017, Air Force Research Laboratory officials met with Textron Aviation's Defense Scorpion team and floated the idea of installing AgilePod—an Air Force-developed pod that can host a broad suite of sensors—onto the company's light attack jet. Within a few weeks, a Scorpion sat on the flightline at Wright-Patterson AFB, Ohio, with the pod attached.
"We showed the openness of the pod by taking an aircraft with a standard set of mechanical and electrical interfaces and attaching the pod," said Andrew Soine, an electronics systems engineer in the AFRL Materials and Manufacturing Directorate, in a Wright-Patterson release.
The AgilePod is reconfigurable, allowing flight-line operators to customize it based on individual mission requirements. The pod has multiple compartments, ranging in length from 28 to 60 inches, that fit sensors such as high-definition video, electrical optical sensors, and infrared sensors, according to an AFRL release.
"This really demonstrates what can be done with plug-and-play capability," said Travis Cottrell, the vice president for Scorpion Program Management at Textron, in the release. "Being able to put a lot of capability in a small package provides a value in terms of cost, from both the acquisition and operational perspective."
The Scorpion also was one of four jets tested at Holloman AFB, N.M., last summer for possible quick development for a new close air support aircraft. Following that evaluation, Air Combat Command boss Gen. Mike Holmes said he wanted to use the experiment and those aircraft for another "light" intelligence, surveillance, and reconnaissance evaluation. Holmes specifically said the Scorpion has the payload space and cooling capability to carry sensors currently in use on U-2s and RQ-4s.
"We wouldn't restrict it to that airplane, it would be another experiment, but something like the capability that airplane brings," Holmes said at AFA's Air, Space & Cyber Conference in September 2017.