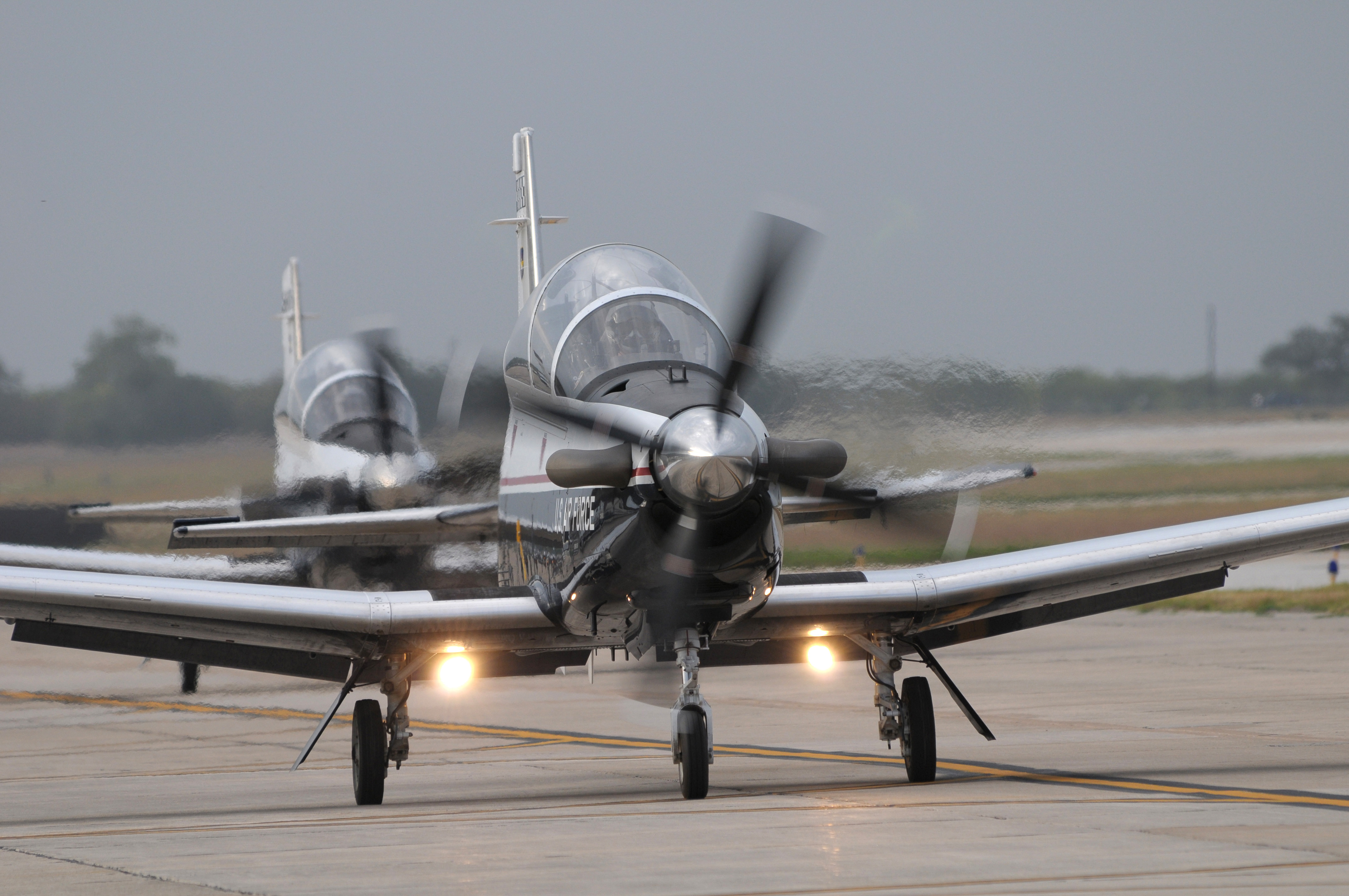 Air Education and Training Command is looking to explore how people learn and making a more efficient path to pilots earning their wings by revolutionizing training through the Pilot Training Next initiative. Here, T-6 aircraft taxi toward the runway at JBSA-Randolph, Texas, May 28, 2010. Air Force photo.
The Air Force has no current plans to train enlisted airmen to fly combat aircraft, Air Education and Training Command clarified on Tuesday.
"The Air Force is not considering expanding enlisted pilot opportunities into manned aircraft at this time," AETC spokesman Capt. Beau Downey told Air Force Magazine in an email.
The possibility was raised by a Dec. 7 Air Force Times story, which reported that "a new pilot training program … will include enlisted airmen—and could eventually lead to them flying combat aircraft."
Downey confirmed that five enlisted airmen will participate, alongside 15 officers, in AETC's Pilot Training Next experimental program. But he said "the intent of the program is to study how different groups of airmen learn," not to prepare the service to accept enlisted combat pilots.
Pilot Training Next will "explore a prototype training environment integrating various technologies to train and educate in an accelerated, cost efficient, learning-focused manner," Downey said. "Our focus is to understand how airmen learn … and to explore technology and how that technology can produce better and faster learning."
The service is currently using "a combination of legacy selection metrics and an interview process" to identify the first 20 participants in the program, which is slated to begin in February 2018, Downey said. Selectees will train for six months at the Reserve Center at the Austin-Bergstrom International Airport, in Austin, Texas.
Ultimately, the service hopes the program can "refine AETC's accessions, training, and education models," Downey said. "We want to explore new recruiting and accession models and are willing to challenge the assumptions of the legacy model. Selecting enlisted members for the first class will allow us to understand more fully what qualities, habits of mind, and patterns of thought lead to success in the training environment."
Upon completion of the Pilot Training Next program, enlisted airmen will have several options, including "returning to technical training, being enrolled in a future RQ-4 enlisted RPA pilot program, or even exploring opportunities for possible commissioning."
The Air Force began training enlisted airmen to fly remotely piloted aircraft this year. In May, the first three enlisted airmen graduated from the service's RQ-4 pilot training program.