On April 3, visitors to the Air Force's unofficial Reddit page were greeted with a photo of a quirky illustration that, despite being 35 years old, still resonated with many Airmen today.
"I would buy a high-res version of this in an instant," wrote one commenter.
"DUDE. Take my money," wrote another.
Titled "The Aviator," the picture is a drawing made with markers on poster board. It depicts a stereotypical pilot wearing aviator sunglasses and a flight jacket recounting a 'There I was' story to a skeptical-looking enlisted Airman. The background tells the story, where the pilot flies an F-16 with fuzzy dice hanging from a rearview mirror, winged gremlins mess with the canopy, a satellite bounces off a UFO, and the moon plays a grand piano in the clouds.
Those are just the start of dozens more details awaiting eagle-eyed viewers. Elsewhere in the illustration can be found a box of "Pre-Flite Chex" cereal; an A-10 dragging a water-skier through a lake; and Snoopy flying his doghouse. One Air Force pilot who served from 1981 to 2001 said the illustration was spot-on.
"Simply amazing the level of detail and even more importantly, the thought that went into creating it," retired Lt. Col. Gregg Montijo, a former A-10 pilot, told Air & Space Forces Magazine. "They must have lived through a good portion of it or been exposed to many of the elements in the picture."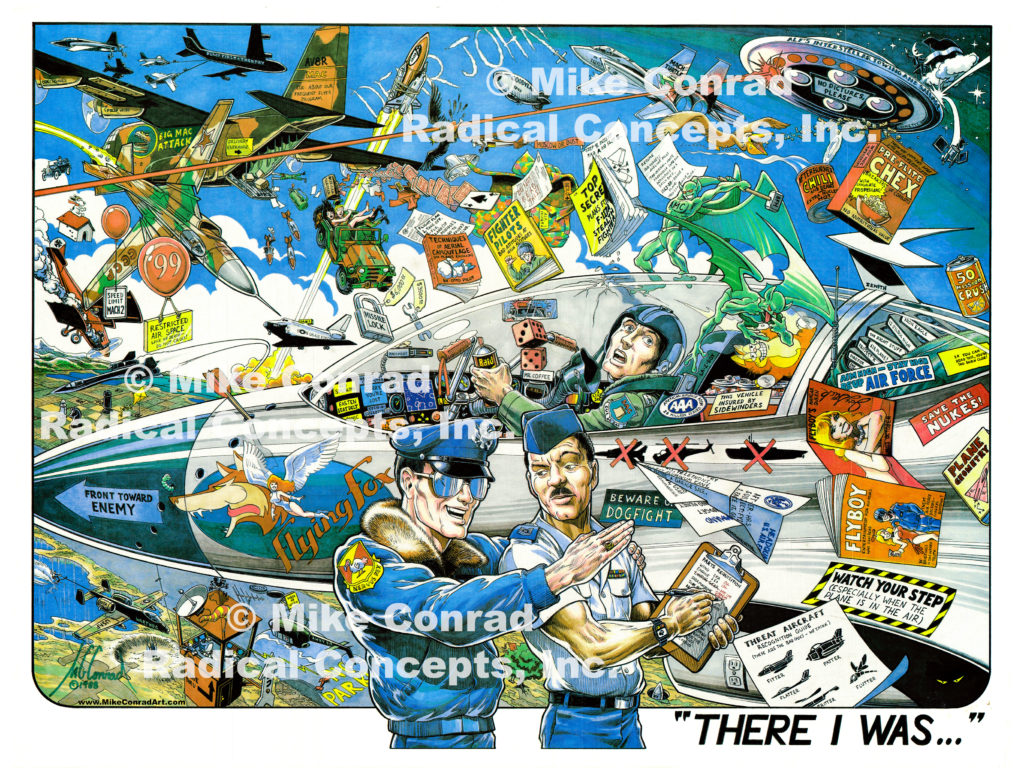 Turns out, the artist who created the illustration never served a day in the Air Force. Mike Conrad is a 1980 West Point graduate who served in the Army Signal Corps. His exposure to Air Force life came from his father, an Air Force veteran, a few months spent at Wright-Patterson Air Force Base, Ohio, and other Airmen he knew.
"A big phrase I always heard was 'There I was,' and then they'd tell you about their whole mission," Conrad said in an interview with Air & Space Forces Magazine. Conrad's nephew was the one who originally shared the piece on social media.
"I thought 'OK cool, I'll do that and then I'll just put everything into it that I can think of that has to do with aviation': every joke, even stupid puns, and everything else I could throw in there that I thought would be funny," Conrad said.
Indeed, "The Aviator" was just the latest in a long line of zany creations that Conrad put to paper. The artist grew up drawing and reading comics, and at West Point, he created a series of comics called Peter Parsec: Space Cadet, which poked fun at Academy life and science fiction tropes. After graduating, he received requests for caricatures of sergeants or commanders as farewell gifts when they would retire or move to another base. For each request, Conrad interviewed people who knew the Soldier so that he could fill the piece with personal touches—and a dash of humor, of course.
"They would frame it and give it to him as a farewell," he said. "I did it because it was fun and they appreciated it."
Eventually, Conrad wondered if he could turn a profit selling pieces that poked fun at aspects of military life. He drew inspiration from George Finley, a fellow West Point graduate with a similar satirical style who himself was inspired by the legendary World War II cartoonist Bill Mauldin. Conrad combined those influences with that of caricaturist Mort Drucker, who had a knack for stuffing humorous details into every corner of a piece.
"I would always do that, put as much stuff in there as I could," Conrad said.
His first work was about military intelligence. "MI" features a Soldier wearing a trench coat over his camouflage uniform, surrounded by an army of other Cold War spy jokes. Conrad was supporting a military intelligence battalion at the time, and his work sold out fast.
The next piece, about the Army's noncommissioned officer corps, didn't sell as well, and neither did "The Aviator"—not at Air Force bases, not at Army-Navy stores, and not even at aviation art stores.
"I thought I might have just missed the boat completely because of the weak reception it got," he said.
Conrad went on to make a career of his art and work with clients ranging from Hollywood to Lockheed Martin to SeaWorld, according to his website. And earlier this month, he discovered the Air Force illustration he made nearly four decades ago was actually right on target.
"It blew me away, because I thought that it was not the thing that Air Force guys liked," he said. "I'm really glad to see that people are saying 'This is just the kind of thing we wanted.'"
The artist was particularly happy that commenters enjoyed his characterization of the enlisted Airman. As a former officer himself, Conrad said he knows NCOs run the show in most military units. There are dozens of other details which are open to the viewer's interpretation. For example, the can of Raid the pilot is carrying could refer to the term "air raid" or it could be a joke about cockpits being infested with bugs. The point of some details is simply to swap out the "right" object, like an F-16 control stick, with something that is not supposed to be there, like the handlebars of a bicycle.
Viewers may also spot a pair of eyes lurking from the shadows somewhere in the illustration. Those eyes were Conrad's signature for many years. Other details, like the red balloons floating in front of the F-16, seem to find new life over the years, especially as the Air Force shot down multiple spy balloons over the U.S. earlier this year. And still other details, like the NCO's bored expression, live forever. That was part of why George Finley's Vietnam-era illustrations inspired Conrad, and what Conrad strives to include in his own work.
"It's eternal, it still plays now," he said. "The uniforms are different, but the rest of it is right there."