Airman 1st Class Reynold Boateng Mireku was sitting in the data center at Andersen Air Force Base, Guam, at around 2:30 a.m. on May 25 when 140-mile per hour winds peeled off parts of the roof, revealing lightning and rain in the early morning darkness overhead.
"That's a memory I have that will always stand out," Mireku told Air & Space Forces Magazine.
Typhoon Mawar had struck Guam, clobbering the Pacific island with heavy rain and hurricane-strength winds. It would be another day before the storm subsided, and until then Mireku and his fellow Airmen at the data center had a job to do: keep the communications systems at Guam intact, even with a force of nature seemingly trying to destroy it.
"It was a very daunting task," said a fellow communications specialist, Airman 1st Class Uzziel Toro, "but we were able to make sure nothing went down."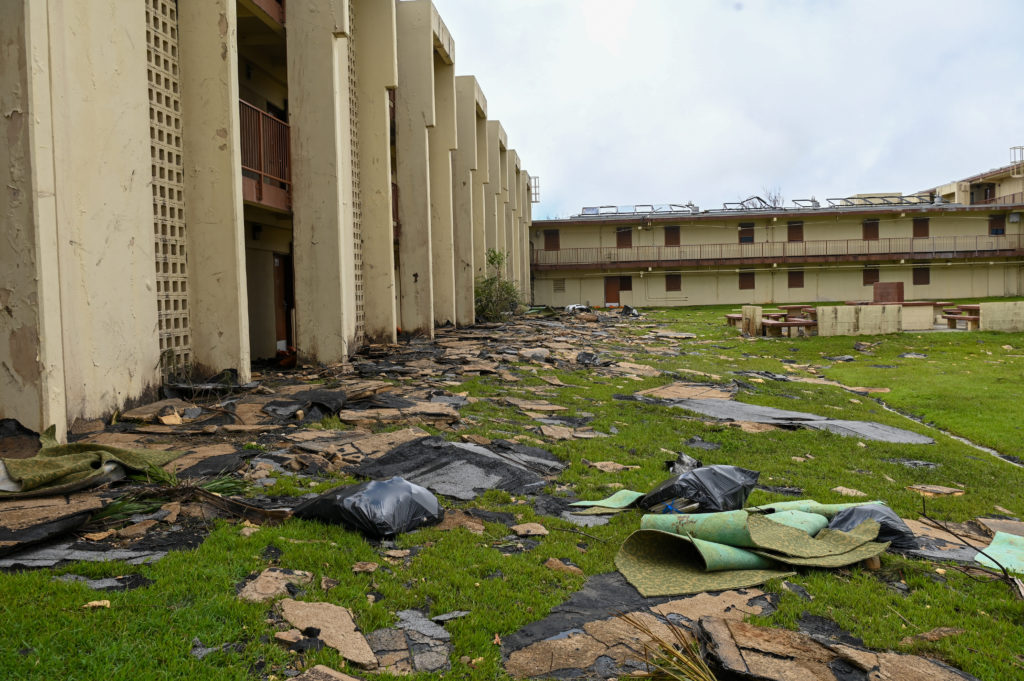 'I was lucky'
Despite the challenge, Mireku, Toro, and six other Airmen chose to be in the data center that day. The building serves as a kind of nerve center for communications both on the island and with bases elsewhere in the Pacific and the continental United States. The center handles classified and non-classified internet networks, a communication line directly to Washington, links to the National Oceanic and Atmospheric Administration, and 157 long-haul circuits, which are fiber paths that connect Andersen to other installations near and far.
The Airmen split up into smaller teams to oversee the circuits, the communications to Washington, and the network control center. Their task was to keep the electronic equipment there cool, dry, and powered up throughout the storm, and to do their best to make sure the building itself did not collapse.
"I was lucky enough to work with my two best friends, and we all kept ourselves level-headed and worked together to figure things out," said Toro. "It wasn't scary, but we were cautious and focused on what we were doing."
With their posts assigned and supplies of food and water at hand, the Airmen settled in and prepared for the storm.
'Literally fighting'
Typhoon Mawar poured more than two feet of rain on Guam, all of which had to be kept out of the sensitive electronic equipment in the data center. As the wind picked up and rain pelted the building, the Airmen used sandbags and several rolls of duct tape to keep the doors from being blown off. When water got inside, they used buckets, mops, and even their own shirts and blankets to pick it up and wring it out in the bathroom sink.
"We looked at every crevice to make sure nothing was leaking, nothing was getting wet," Toro said. "We just fought it the best we could while things were, you know, flying off."
The Airmen mopped the floors and checked the building for leaks or breaches, but they could not hold back the typhoon entirely. When parts of the roof ripped off, sometimes all they could do was inform their leadership and try to limit the damage.
To make matters worse, the building fire alarm kept going off, which the Airmen eventually figured out was caused by the extreme wind. The Airmen turned off the alarm and checked the building every 30 minutes for undetected fires.
"We implemented a plan to not only keep ourselves safe, but also try to save our eardrums as well," Toro said.
Adrenaline kept the Airmen awake for the first two days, but they began catching a few hours of sleep in shifts on the third day. When the storm finally died down, their leadership had to saw through the data center door because there were two or three rolls of duct tape keeping it secure. But the Airmen were successful—throughout the 72 hours, they had removed about 140 gallons of water from the data center and kept communications running, allowing base leadership to stay in contact with higher-ups, NOAA, and anybody else necessary.
"I was thoroughly impressed with what these Airmen and their team went through when they were out there," said Col. Dustin Born, head of the program management office for the Mawar rebuild effort. "They were literally fighting off the storm … I mean you're talking, shirt off your back to soak up water."
The comms Airmen were just a few of many at Andersen who went above and beyond to limit the damage and get the base back up and running as soon as possible, a tall order considering the ferocity of the storm.
"There was debris everywhere, sheet metal awnings were crumpled like a piece of paper, power lines were down, traffic lights were facing every which way, and thick jungles were stripped bare and looked like east Tennessee in winter," Lt Col. David Seeman, commander of the 506th Expeditionary Air Refueling Squadron, said in a press release about the storm.
Even so, Airmen with the 506th and other units managed to clear the airfield of debris the same day the storm subsided, May 26, so that incoming aircraft could land supplies and responders. Service members at Andersen applied the same attitude to helping civilian residents on the island, distributing hundreds of thousands of meals, liters of water, and repairing dozens of roofs.
"The fact that Andersen was able to stay up and running and immediately get to work as soon as the storm ended, I think was a very proud moment for us as Airmen," said Toro. "We saw people from all types of squadrons get together and start working, focusing on the mission."
Rebuilding
Five months later, the base is on the road to recovery. Basic amenities like water and electricity are running on the base, though the greater Guam community still suffers occasional rolling blackouts. Much of the debris has been picked up, but nearly 500 facilities sustained some sort of damage and more than 100 need significant repair.
Base officials are still determining the best approach to make the installation more resilient against future storms, though the reconstruction effort is estimated to cost more than $4 billion. Some of the possibilities include weathertight doors, new roofs that can withstand storms, and underground power lines that will not be torn away by the wind.
"We are still in the planning stage," Born said. "There are a lot of great ideas out there, but all of those have to be quelled with what our budget constraints are."
Andersen is not alone in that regard, as the Air Force writ large seeks to prepare its installations for floods, hurricanes and other extreme weather exacerbated by the effects of climate change.
"We cannot launch or recover aircraft on a flooded runway, nor can we operate from installations devastated by hurricanes and wildfires," wrote Dr. Ravi Chaudhary, assistant secretary of the Air Force for energy, installations and the environment, in the department's Climate Campaign Plan, the roadmap for keeping the service ready to win wars amid severe weather and for achieving net-zero emissions at installations.
"Our bases are our power projection platforms and as those bases are increasingly impacted by the effects of climate change, adapting to these challenges will be critical to meet our national security obligation," he added.
Chaudhary praised Mireku, Toro, and their colleague, Airman 1st Class Nhat K, during a media roundtable at the Air, Space & Cyber Conference in September.
"Throughout the storm, we had complete connectivity of our IT both on the unclassified and classified side," he said. "But that wasn't because of our robust infrastructure. It was because of our Airmen."
The assistant secretary's goal is to make Air Force infrastructure more robust so that future Airmen will not have to show such grit to keep communications running. For example, a new microgrid and underground power lines at Kadena Air Base, Japan kept power intact during a recent typhoon, Chaudhary told Air & Space Forces Magazine.
"We have a whole litany of investments aimed at ruggedizing our installations—everything from microreactor prototypes to wind, geothermal and beyond," he said. "We are doing 'black-start' exercises that test our skill sets in this arena as well. We call them Energy Resilience Readiness Exercises—the more we do, the more we learn, the more adaptable our Air Force gets."
Back on Guam, Mireku learned an important lesson too: by working together, he and his fellow Airmen managed to hold back Mother Nature.
"Teamwork, teamwork, teamwork is what we take away from this," he said. "One person can't build Rome, one person can't make it happen."