HILL AIR FORCE BASE, Utah—The F-35 stealth fighter took more than 10 years and billions of dollars to develop, but three Airmen at Hill Air Force Base found a way to make it even better with just a 3D printer, some tough plastic, and an inventive spirit. In fact, their invention could save the Air Force millions of dollars and many headaches in the long-term upkeep of its newest fighter.
"This has caught a lot of attention here and elsewhere," one of the maintainers, Staff Sgt. Christopher O'Donnell, told Air & Space Forces Magazine. "Every couple days we'll get an email or a phone call [from another F-35 base] asking 'how do we go about doing this?'"
The F-35 has a small cluster of sensors on the side of each nose that collects data on air pressure and other factors that can affect the aircraft in flight. When the jet is on the ground, maintainers keep the sensors safe from dust or moisture by covering them a tool that uses rubber seals and quick-release pins to stay in place. The trouble is that the tool, which costs more than $600, is difficult to use, the pins are easily broken, and the rubber seals often fail in hot weather. Maintainers at Hill's 34th Fighter Generation Squadron wondered if there was a better way to do things, and they knew exactly who to ask for help.
"We're the last line of defense to fix whatever we can and put it back into service so that the military does not have to purchase replacement equipment" said O'Donnell. "In some instances, the equipment is so old that nobody makes it anymore, but it is still needed."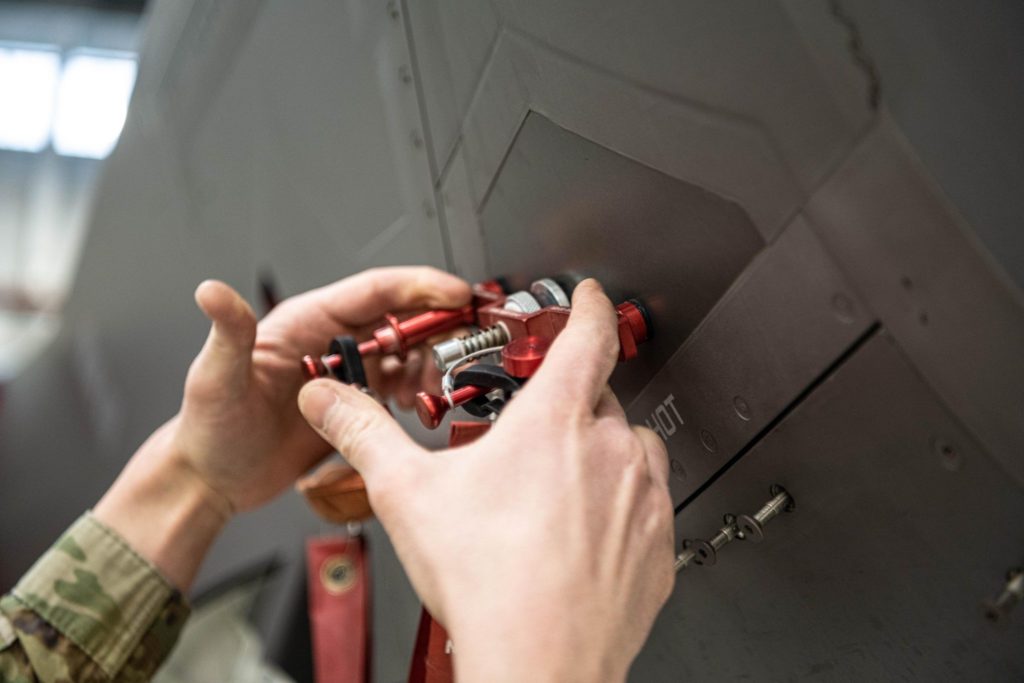 O'Donnell is one of three technicians at Hill's Air Force Repair Enhancement Program shop, where Airmen conduct homemade repairs or design replacement parts. AFREP shops exist across the country and have saved the branch millions of dollars, especially where older aircraft are stationed. For example, the AFREP shop at Davis-Monthan Air Force Base, Ariz. has saved about $86 million since 2001 coming up with fixes for the A-10, C-130 and HH-60.
When the Hill AFREP office heard about the issues with the F-35 data port covers, they got to work creating one that would be stronger, cheaper and simpler than its predecessor.
"We were like 'let's keep it as minimal as possible,'" O'Donnell recalled.
Instead of a complicated device with pins and seals, the AFREP Airmen 3D-printed a slab of rubber-like plastic that fit perfectly over the sensor cluster. Later they installed magnets and an O-ring to keep the cover fixed in place. The new design stuck on the jet through wind, rain, snow, and hail, keeping the sensors beneath it safe and dry.
"No mechanical parts, extremely durable, flexible, and it sticks to the jet," O'Donnell said. "And the way it fits is universal so it can go on either side of the nose."
Unlike the original part, the new covers cost only about $45 and about 22 hours to make in the shop's 3D printers, which have been churning out covers for F-35s at Hill and other F-35 bases over the past few months. AFREP can print the covers in a variety of colors and include the squadron symbol of the unit receiving them. The Air Force is currently looking to patent the design.
"It will be awesome being able to say that I have a patent in my name," O'Donnell said. "The Air Force will own the patent and the rights, but our names are credited for coming up with it."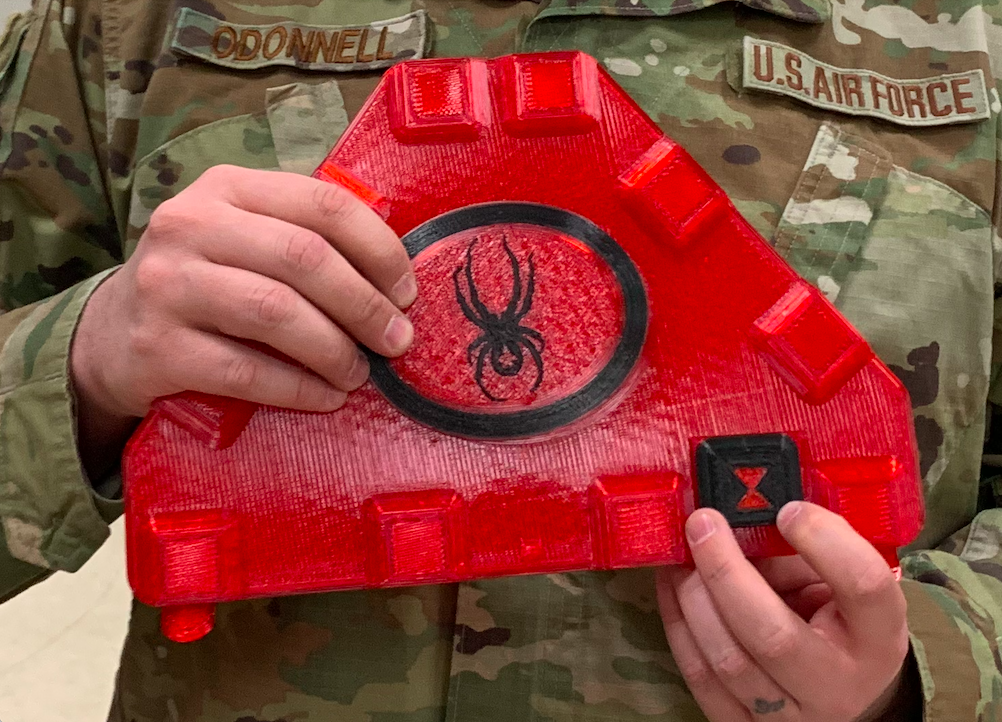 O'Donnell and his AFREP colleagues, Tech Sgts. Justin Platt and James Dover, can see the impact of their work in the form of red data port covers gracing almost every F-35 on the flight line. But that is just one example of the many time- and money-saving fixes the three Airmen have made over the years. Others include a new alarm shutoff switch for Minuteman III launch controls, more durable computer connection boxes for F-22 maintainers, and a homemade device that can detect issues with the diagnostic wires that maintainers plug into F-35s.
AFREP Airmen take a course in miniature and microminiature electronic repair, which allows them to solder the small components that keep circuit boards running.
"If you pass, you get certified to work on the electronic equipment that goes into the jets or other planes," O'Donnell said. 
With those skills, AFREP Airmen can get old equipment like a busted missile control oscilloscope back up and running again.
"We don't want to spend $15,000 on a new oscilloscope," O'Donnell said. "So I spent a week's worth of work cleaning the board, putting new copper down, epoxying, and then soldering things back on very gently, and it worked perfectly."
An extra perk of the AFREP program is that it brings in cash for maintenance groups. Platt explained that when a maintenance group fixes a part through AFREP, it can take the money that would have gone towards a replacement part and instead use it to improve the group through capital improvements or new equipment.
"The Air Force is still spending the money but they are rewarding it back to themselves," Platt said.
Airmen routinely bring questions and broken gadgets to the Hill AFREP shop, and while some fixes come easy, others may sit on the shelf for years before a solution presents itself.
"You never know who's going to walk in the door with something new," O'Donnell said. "One day I'm designing something on the computer to 3D print, that afternoon I might be fixing an electrical board, and then later I'm working on something hydraulics-related."
The variety is part of why O'Donnell and Platt enjoy AFREP work. Before coming to the shop, O'Donnell put together bombs as a munitions systems specialist, while Platt worked as a crew chief. Those are difficult jobs, but AFREP presents a new challenge every day.
"You get proficient doing the same thing over and over again, but at the same time, it can get tedious," O'Donnell said. "I want something different, which was great about this shop. Every day it's something else."