Airmen took a C-17 from the 62nd Airlift Wing on a new mission earlier this year by using the transport jet as a mobile command-and-control station for coordinating simulated air and ground operations at Nellis Air Force Base, Nev. The experiment could pave the way for field commanders to have more options for controlling a battlespace as the Air Force retires its current fleet of aging command and control (C2) platforms.
"Our work offers some additional alternatives or resiliency" as the E-7 Wedgetail comes online to replace the E-3 AWACS, Air Force Maj. Paden Allen told Air & Space Forces Magazine. "You can only make airplanes so fast, so then the question becomes: while we're waiting, what are some other things we can do to build the resiliency of our C2 enterprise?"
As the commander of the C2 division of the 422nd Test and Evaluation Squadron, Allen oversaw the experiment at Nellis, which took place in late February during Black Flag 23-1, an operational test for new capabilities and tactics.
C2 refers to a commander's ability to maneuver forces to accomplish objectives, Allen explained. Battle management is a tactical subcategory of C2 where battle managers give specific directions to specific warfighters, a bit like a stage manager coordinating a theater production, Allen said.
The Air Force relies on multiple platforms both in the air and on the ground to form a theater air control system. These include ground-based Control and Reporting Centers (CRC) and Air Support Operations Centers, alongside airborne E-3 AWACS and E-8 JSTARS platforms. Much of the technology used in these platforms comes from the 1970s or 1980s and is outdated or bulky, Allen explained, which makes moving ground-based elements like the CRC around a dynamic battle zone a time-intensive prospect.
"Our time frames are about one to three days to get everything packed," said Staff Sgt. Hannah Fisk, a weapons director with the 422 TES. "And that's not even the set-up once we get to the location we need to be at."
Those long time frames hurt the Air Force's ability to move quickly, Fisk explained. Mobility is a central tenet of the branch's strategy to disperse operations so that it is more difficult for adversaries to select airfields to target. The good news is that there is plenty of modern technology available that the Air Force can use to perform C2 without the bulk of older equipment, Allen explained.
"We took off-the-shelf equipment, things that the government either already has, or could easily go get today, pieced it all together and with a bit of computer science, bam we were doing more than we could previously and it is a lot lighter, leaner and faster," he said.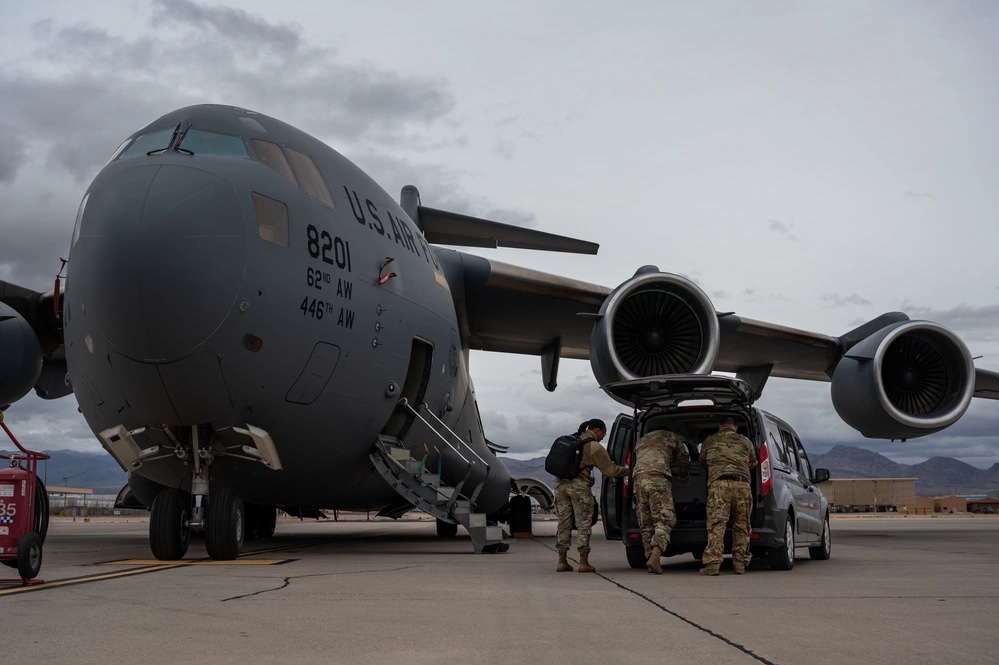 The lighter footprint was evident at Black Flag, where all the equipment necessary for C2 took up just two jump seats in a C-17 or the trunk of an SUV, Allen said, whereas a bulky CRC may take multiple C-17 trips to move to a new location. The Black Flag experiment left plenty of space for the jet to haul troops and cargo if the mission calls for it, he explained.
Integrating that equipment onto the C-17 required coordination with a Joint Communication Support element from U.S. Transportation Command, as well as maintainers from the 62nd Airlift Wing. It was the first time Senior Airman Anthony Vargas, a COMM/Navigation Systems Journeyman with the 62nd Aircraft Maintenance Squadron, helped turn a C-17 into a battle management platform.
"My hands were full prior to takeoff as I had to ensure all the aircraft's radio and navigation systems were operational and I assisted the testing personnel with cables and connectivity," he told Air & Space Forces Magazine. "In flight, I monitored aircraft systems to ensure they were working so the testing could run smoothly."
During the exercise, Fisk and Tech. Sgt. Megan Wolfe, another weapons director aboard the C-17, worked with Allen and ground-based C2 Airmen, who operated from a Mobile Tactical C2 vehicle, an SUV equipped with radios and computers. Allen oversaw a ground team of Pararescuemen and Tactical Air Control Party Airmen working to recover a simulated downed pilot while Fisk coordinated fighter jets flying overhead both in support of the recovery mission and as part of a larger air-to-air fight.
Fisk found that she could still do her job despite working with just a laptop and radios, but there were a few bumps along the way. One of the challenges was that the internet connection which she relied on to stay in contact with Allen would sometimes drop out. Those problems are part of what makes exercises like Black Flag important, Allen said.
"It was one of those situations where you ask somebody 'how strong do you think the internet is going to be? And they'd say 'well I don't know, we haven't really tried it,'" he said. "Just in the course of a couple days we captured a lot of information that goes to Air Mobility Command, Air Combat Command as well as TRANSCOM, so next time we can do it even better and be that much more capable."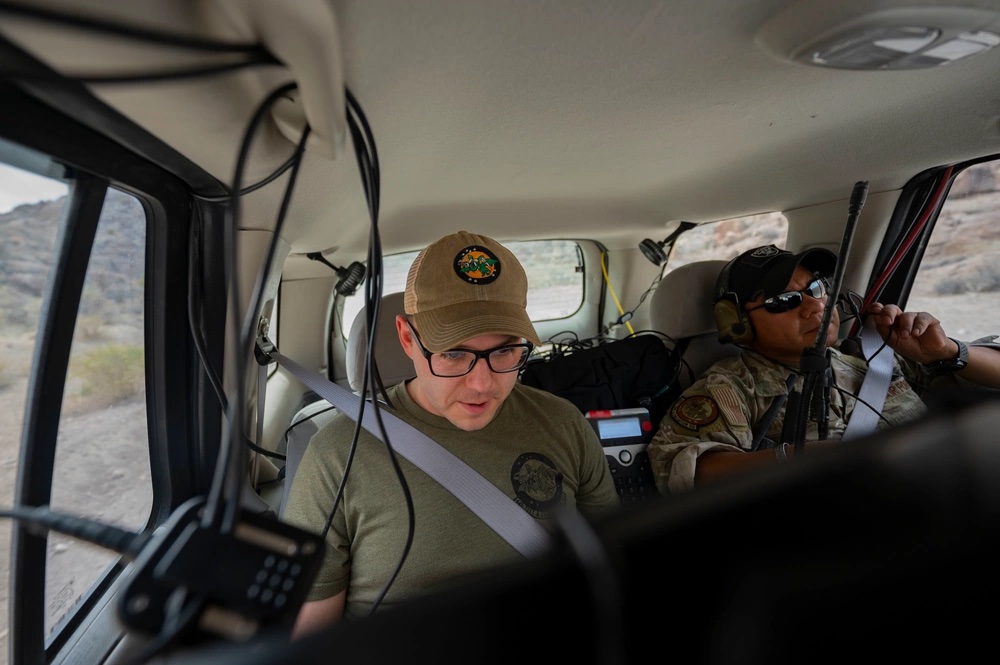 Both Fisk and the C-17 crews learned from each other how to perform C2 aboard a new aircraft. Fisk learned more about how a C-17 crew works by having to share a radio with them, and the C-17 crew learned from Fisk how to fly in certain ways to ensure better connectivity for battle management. Allen said conventional AWACS flight crews and battle managers know how to coordinate those two missions because they have trained that way, but a transport crew like that of a C-17 does not necessarily have the same experience.
"It's kind of like doing something in a car and communicating with the driver while you're doing it," he said. "When a C-17 or a C-130 was created, this was not something that they had in mind necessarily, so there was a lot of very quick learning that had to happen between Hannah and the rest of the mission team and the C-17 crew."
On the maintenance side, Vargas said the experience broadened his perspective on the Air Force mission.
"I am tasked to solely work on communication, navigation, electronic warfare, and mission systems," he said. "Seeing these new capabilities firsthand, I felt much more connected to the mission. Seeing the air battle managers work reminded me to keep being accepting of these changes and upgrades to the C-17."
Allen said this was the first time he was aware of a C-17 being used as a C2 platform, though the Air Force has a history of using the C-130 in the C2 role. For example, during the Vietnam War, the branch used C-130s as Airborne Battle Command and Control Centers platforms, and EC-130Es carried that mission set into the early 2000s. With the rise of Agile Combat Employment, some of those old capabilities have been rediscovered.
"There is a lot of building upon the shoulders of people who fought in World War II and Vietnam, but now that we have new technologies, new capabilities and a lot of very smart Airmen who can integrate these things quickly, we are seeing a lot of this rapid innovation to bring more capabilities to bear and inform commanders," Allen said.
The future of command-and-control may look far different than the Cold War-era AWACs and JSTARs, the major said. In the meantime, you can expect to see C2 Airmen pop up in more unconventional places.
"You can take your phone on an airplane, on a boat, in a car, that's really what we're talking about here with the technology we are trying to solidify," he said. "You take your cell phone anywhere in the world, and we'd like you to take C2 anywhere in the world, anyway you want to get there."