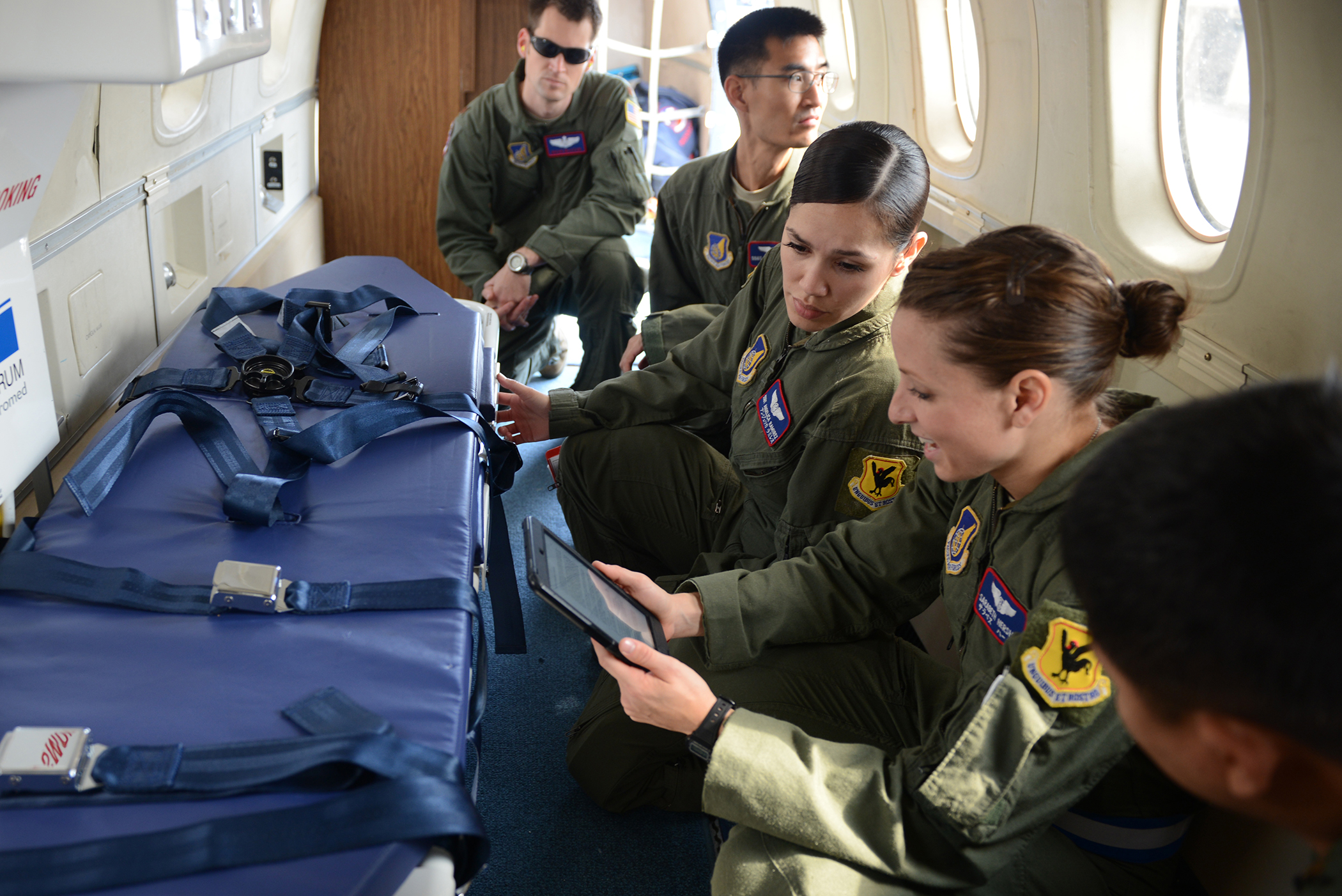 Airmen from the 18th Aeromedical Evacuation Squadron review procedures for the full spectrum hospital bed aboard a C-12 Huron during Exercise Keen Sword 2015 at Kadena AB, Japan, Nov. 12, 2014. USAF photo by A1C David Danford.
YOKOTA AB, Japan—
One of the smallest fleet's in the Air Force has taken on an outsize role, moving from solely escorting VIPs to being the quickest response for medical evacuation across the Pacific.
Three C-12J Hurons based here with the 459th Airlift Squadron within the past two years have become the primary response aircraft for small-scale aeromedical evacuation. There are three of the twin turboprop aircraft at Yokota, representing 75 percent of the Air Force's four aircraft fleet of Hurons. Those three aircraft now fly the majority of aeromedical evacuation requests from Pacific Air Forces, said Col. Kenneth Moss, the commander of the 374th Airlift Wing at Yokota.
"It is the most rewarding mission," said Capt. Matthew Gabreski, a C-12 aircraft commander with the 459th AS. "You really feel like you are putting patients in a better position to make it back to the States safely. It makes you feel like you are doing a good thing."
Previously, Pacific Air Forces relied on KC-135s to be the primary quick response aircraft for aeromedical evacuations. This meant the large, four engine refuelers were taken away from their primary mission to transport one or two patients at a time, a move that involves "burning a whole lot of gas," Gabreski said.
"Most aerovac requests are simply one patient, so they go around and they bring the patients to where they need to be for onward movement back to the States or to higher levels of care if required," Moss said.
The C-12Js, military versions of Raytheon 1900C regional airlifters, are based at Yokota primarily for VIP transportation. Specifically, this has meant Gabreski and the other airmen focused mostly on flying around colonels, generals, Congressional delegations, and other VIPs. In 2013, the Air Force began evaluating new equipment on the C-12s to carry ambulatory patients. This testing included a C-12 flying from Yokota to Texas and back.
Since taking over the role, C-12s have flown out of Yokota about once per week. An aeromedical evacuation nursing team deploys to the base on a two to three week temporary duty assignment to support the mission, Gabreski said.
"Using the C-12 has freed up our traditional air evac platform, which is the KC-135, to do its primary mission," Moss said. "And you know how short on tankers we are. So the 459th Airlift Squadron, [is] a very small squadron, … [but it has a] huge impact on combat capability because of their flexibility."