Floodwaters spread over the flight line and surrounding areas at Offutt AFB, Neb., March 16, leaving tens of millions of dollars in damages. Air Force photo by TSgt. Rachelle Blake.
How Offutt is getting back on its feet after a "500-year flood."
Offutt AFB, Neb.—
The runway again hosts airplanes instead of floodwaters and fish, but Offutt Air Force Base still faces a long slog to normalcy.
Following a historic flood that covered about one-third of the base in March, officials here, just 12 miles south of Omaha, Neb., say it could take five years or more to fully restore damaged assets from the 55th Wing and US Strategic Command. Today's "get-well plan" includes mostly temporary fixes, such as replacing simulators destroyed by floodwaters with an RC-135 withheld from deploying so aircrews and maintainers have something to train with; moving about 3,200 employees into interim workspaces; and adopting around-the-clock maintenance shifts to make up for lost maintenance capacity.
The intelligence, surveillance, and reconnaissance wing lost three aircrew training systems, including one that can simulate all three RC-135 variants—the Rivet Joint, Combat Sent, and Cobra Ball—and two Rivet Joint-specific simulators. A fourth simulator, for sustainment, was damaged but was expected to be back up and running by the end of June. The best case for mission crew trainers would have "Band-Aid fixes" in place by the end of the year.
But these will not replace everything crews had before, said 55th Wing spokesman Ryan Hansen. "The 'Band-Aid' fix refers to the use of old but functioning spare parts to create what unfortunately will have limited capabilities, but meet minimum training requirements. A follow-on [simulator] will restore full capabilities lost in the flood."
Despite the flood damage, the 55th Wing hasn't missed a deployment. Col. Eric Paulson, 55th Operations Group commander, said the wing is meeting continued demand.
Maintainers quickly bounced back, as well. The first day they were able, maintainers moved tools out of the main maintenance complex and salvaged what they could from offices. One top priority was cleaning airplane docks so the airplanes could come inside for shelter and fixes.
"The first thing we did was inventory and relocate assets that were critical to the operation," said 55th Maintenance Group chief Col. Todd Hammond. "We created space in the docks at first, and then all the maintenance backshop capability. Even without power they were in the shops, cleaning, in an effort to get those shops back online."
The workshops support C-135 variants, as well as the Air Force's E-4 nuclear command, control, and communications platform managed by STRATCOM.
"Things aren't perfect by any stretch of the imagination, but the things that we need are operational," Hammond said.
Many groups were forced out of their offices. The 55th Wing headquarters now occupies a low-slung, brown-brick conference center. Other units are sharing previously abandoned buildings, including a former library.
Doubling up employees in crowded buildings stresses the surviving facilities.
More electronics, people, and working hours translates to more power, heating, and cooling. Groups have to vie for limited access to secure spaces.
"We've been trying to put additional resources in there, but we've come to a limitation," said Mo Krishna, a former 55th Operations Group commander who now helps lead flood recovery as a civilian. "Not as many people can do not as much work anymore because of a limitation on [Sensitive Compartmented Information Facilities] space, computers, and the HVAC."
To ease the crowding, some airmen were sent to bases in Japan and the UK that support the RC-135. Others are traveling to depot facilities in Greenville, Texas.
But sending instructors and students away from Offutt isn't sustainable in the long run, Hansen said. The moves separate families and run up costs.
More than 100 mission crew students will spend six weeks away from home for training, then deploy for up to six months, Hansen said. It's worse for the instructors: They face up to six months away from their families in addition to operational deployments.
"You can meet it today, but the question is, are you going to have anybody left in the future to continue meeting this tasking" Krishna said. "This is not even a marathon or an ultramarathon, this is just running for your life. This is what the wing's been doing for a very long time."
Rebuilding Offutt is currently expected to cost more than $650 million. That follows $20 million from a tornado in 2017 and another flood that rose to within 50 feet of the base's runway in 2011.
This time, a heavy winter snowfall quickly melted and joined with additional rainfall to overpower levees and sandbags near the base. No one at Offutt was hurt or killed.
"It was amazing how fast it got wet and warm when we had, what, like 18 inches of snow on the ground," Krishna said. "The ground was solid, frozen, and then all of a sudden, all the water came. The rain came, the heat came, the melt came."
Offutt was the second Air Force base hit by powerful weather events between October 2018 and March 2019, after Category 5 Hurricane Michael plowed through Tyndall AFB, Fla., last fall. Having a counterpart in disaster proved useful to Nebraskans, who looked to Tyndall's experience and proven best practices for storm cleanup, mold prevention and remediation, and setting up a recovery office.
Offutt officials have drawn up blueprints for how they intend to invest its share of $1.7 billion in congressionally approved disaster-relief funds for Air Force bases. A program management office will oversee that effort, partially modeled on its counterpart at Tyndall.

Charles Cswercko moves flood debris at Offutt AFB, Neb., clearing room for a temporary parking lot. Despite massive flood damage, the base hasn't missed a deployment and is meeting continued demands. Photo: Zachary Hada/USAF
AFTER THE FLOOD
The response was swift, but lengthy. Within 72 hours of the flood, the Air Force, along with government services contractor Dyncorp, were already starting recovery efforts. Tyndall offered initial advice: "Cut the drywall, get things opened up, get the fans in there, and move forward and start the assessment process of the 44 [occupied] buildings that were affected down in the southeast quadrant," recalled Offutt Recovery Operations Center Director Lt. Col. Vance Goodfellow.
Officials said the base had everything it needed upfront to handle mold and other potential biohazards.
As with Tyndall, the Air Force's long-term vision for Offutt mirrors the base's plans for a more efficient, user-friendly installation. The Nebraska base wants to consolidate rebuilt facilities into eight campuses: a "nonkinetic effects center of excellence" for cyber and intelligence personnel; campus areas for security forces; bulk fuel storage; aircrews who stay on alert for the E-4 and E-6; another for NC3 operations; a training campus; a recreation area, hangars; and, possibly, a new backup power plant for STRATCOM.
About 50 of 137 above-ground structures need to be demolished and rebuilt in new areas and, in some cases, on higher land. Another 10 can be restored.
Affected facilities are buildings and other structures, such as water pumps.
The flood also expedited the timeline for when the 55th Wing can move into a STRATCOM building as the combatant command transfers into its new, $1.3-billion command and control facility. The two organizations will move into their new homes at the same time, instead of clearing one before the other comes in. Col David Norton, 55th Mission Support Group commander, said NC3 infrastructure can be rebuilt next to the modern STRATCOM building on higher ground.
Other structures will go up in nearly the same locations as before. "Just because it flooded and it was so devastating doesn't mean that we need to just walk away from that portion of the base," Norton said. "We still have to have these operational facilities right around the ramp where all the aircraft park."
Many more decisions about next steps have yet to be made. Hansen said the base is prepared to restore salvageable buildings and begin the demolition and rebuilding process for others. Officials will list their priorities "based on providing global combat airpower and the training required to support that effort," he added. Two top jobs are repairing the simulators and getting maintenance facilities back to 100 percent.
Operations and maintenance money must be obligated by Sept. 30. Military construction dollars would be available until the end of September 2023. The Air Force must send Congress a detailed plan for using the emergency money by the end of August.
"That probably remains to be seen exactly how the higher headquarters will sort through the finances of it," Norton said of the supplemental funding. "Here at the wing, certainly it's a good problem to have. But it's also going to be a lot of work for folks to push through such a large tranche of funding in a relatively short period of time."
Officials hope to restore full mission capability—albeit with temporary facilities and other limitations while the campus plans roll out—by 2022. They recognize that interim solutions will add to the total restoration cost, but say it's necessary to restore combat availability and training capacity, as well as to avoid rushing into hasty construction decisions.
Nearby assets, such as Tinker AFB, Okla., and facilities in Lincoln, Neb., will also lend support for operations while the future Offutt takes shape.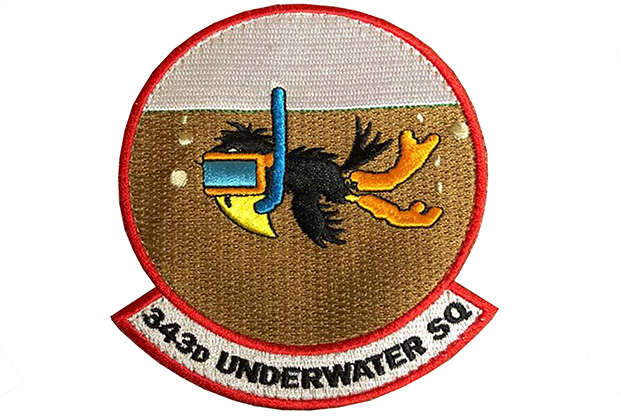 The 343rd Reconnaissance Squadron created a commemorative patch to remember the floods. Photo: 343rd RS/USAF
ADJUSTING TO REALITY
In the future, officials won't install electrical components lower than five feet on a building's first floor. Critical intelligence equipment will stay on the second floor or higher. They'll elevate the foundations by a few feet as an extra buffer against flooding. Local building codes already require preparing for high winds, and officials insist they don't have to alter disaster-response protocols.
"We do exercise all these activities, and we look at lessons learned from other bases," Goodfellow said. "We were postured quite well."
Hard work, local hospitality, and humor have kept Offutt afloat: The 343rd Reconnaissance Squadron updated its patch to give its raven mascot a mask and snorkel, dubbing itself the "343rd Underwater Squadron."
"You almost became a Navy base," Facebook user Brian Skon commented.
The surrounding community stepped in to host the annual base picnic, typically held at Offutt's recreational lake.
A local pizza maker who lost his own home fed Team Offutt just weeks after the storm. More chaplains arrived to comfort residents alongside mental health professionals.
Parts of the base were still under water when Air Force Magazine visited in June, but elsewhere it can be hard to see signs of the storm—unless you know where to look.
Damaged furniture and equipment are piled up inside now-dark office buildings. Sustainment work on a British RC-135 was in full swing even as broad chunks of drywall were removed to save the structure in other areas of the building. A satellite communications building smells like a beach, surrounded by sand and dead cornstalks.
A local project to raise the nearby levees' height, which was supposed to start after the winter snow melted and likely would have saved Offutt from most or all of the water, is slated to take two years to complete—and can't start until the waterlogged ground dries. And though the worst weather has passed, Offutt remains wary of its neighboring river.
As the US Army Corps of Engineers in late May prepared to let out more than twice its early summer average of water from Gavins Point Dam, S.D., then-55th Wing Commander Col. Mike Manion warned the community that water levels could swell to nearly 31 feet in Omaha, Neb.—about four feet below the March 17 crest. At the same time, more snow accumulation than usual threatens further problems as the melt-off flows south from Montana to Nebraska.
The storm soaked signals intelligence data and analysis products—much of them paper—were left inside secure facilities, including the two-story 97th IS building. Those documents must be destroyed, but because SCIF alarms are dead, more than a dozen security forces personnel are posted around the clock to prevent unauthorized access.
To dispose of the data, Offutt hands the files over in barrels to a contractor, then tails them in a chase car to ensure all end up at their intended incinerator or a macerator.
Officials said they weren't sure what information those pages held or whether losing it will impact missions or national security—noting it hadn't so far. But that's just one example illustrating what Offutt has lost, and the ripple effects it may yet feel.
"Long recovery ahead," Manion wrote on Facebook May 29, undaunted by the challenge. "The 55th Wing finds a way to keep the mission going."
Read more stories from the "World" section of the July/August 2019 issue of Air Force Magazine here.