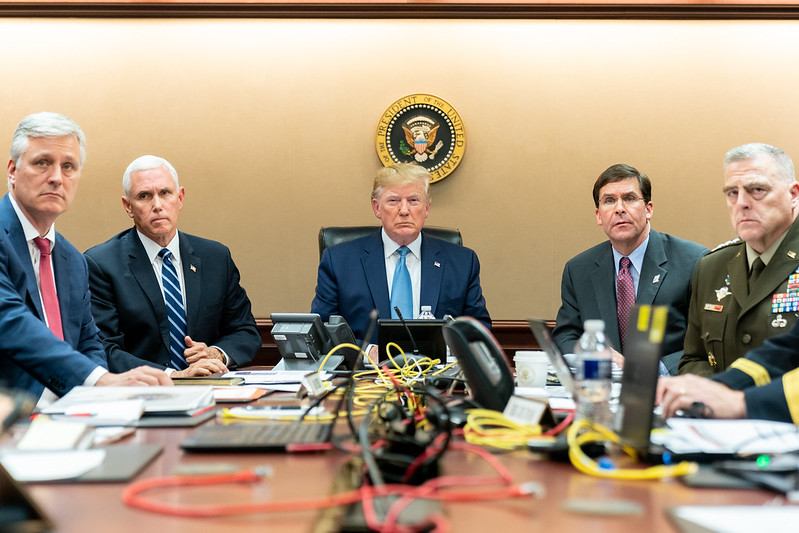 President Donald Trump is joined by Vice President Mike Pence, National Security Advisor Robert O'Brien, left; Secretary of Defense Mark Esper and Chairman of the Joint Chiefs of Staff Gen. Mark Milley, right, Oct. 26, 2019, at the White House, monitoring developments as US Special Operations forces closed in on ISIS leader Abu Bakr al-Baghdadi's compound in Syria. White House photo by Shealah Craighead.
A US special operations raid late Oct. 26 killed Islamic State group leader Abu Bakr al-Baghdadi in northwestern Syria, President Donald Trump announced Oct. 27.
The "dangerous and daring" nighttime raid included special operators flying more than an hour, likely from the US base in Erbil, Iraq, to Idlib Province. During the raid, Baghdadi fled into a tunnel and detonated his own suicide vest, killing himself and three children he took with him.
"The United States has been searching for Baghdadi for many years," Trump said in a weekend address from the White House. "Capturing or killing Baghdadi has been the top national security priority of my administration. US special operations forces executed a dangerous and daring nighttime raid in northwestern Syria and accomplished their mission in grand style."
In an Oct. 27 statement, Defense Secretary Mark Esper called it "a great day for America and a great day for the world," adding that al-Baghdadi "inspired one of the most brutal and misguided terror campaigns in modern history."
"This is a major victory in the enduring defeat-ISIS mission," Esper said.
US forces had watched the location in northern Syria for a "couple of weeks" before the raid, and "we knew a little about where he was going," Trump said. After two or three planned raids were canceled, Trump gave the green light after Baghdadi arrived at a building in Idlib Province that "we knew something about."
Eight helicopters, supported by other ships and aircraft, flew for 1 hour, 10 minutes to the raid. US forces notified Moscow in advance of the flight since helicopters flew over Russian-patrolled airspace. "They were curious, but we said we're coming," Trump said.
"We did say it would be a mission they would like," Trump said, repeatedly thanking Russia for its cooperation.
The helicopters also over flew areas controlled by Turkish and Syrian forces. They took small-arms fire, not specifically from any of those forces but instead likely from "random people who don't like helicopters," Trump said.
US forces, upon arriving at the complex, blew holes in the building instead of entering through "booby-trapped" doors, according to Trump. A firefight ensued, some fighters surrendered, and an undisclosed number of children were taken from the facility. Baghdadi ran into a tunnel, chased by a US military canine, and eventually detonated his vest.
US forces cleared rubble from the collapsed tunnel to positively identify Baghdadi. After about two hours, Americans boarded the helicopters and left to a "friendly port in a friendly country," Trump said.
While the raid killed the leader of IS, the group still maintains a large presence in both Iraq and Syria, bolstered by recent jailbreaks after US forces withdrew from supporting Syrian Kurdish fighters in northeast Syria. Trump said the US has Baghdadi's "successors in our sights."