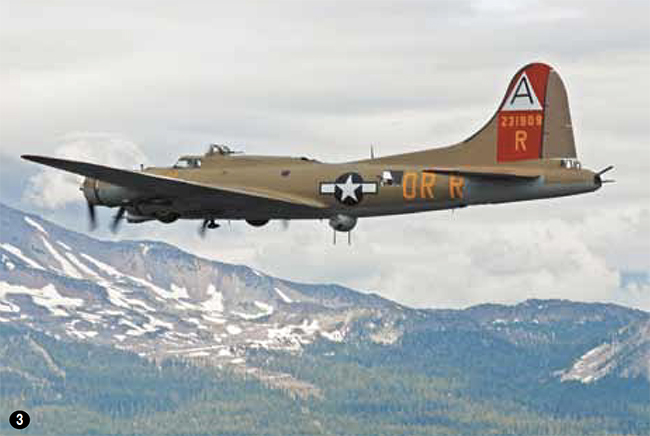 A restored B-17G "Nine O Nine" flies past Mount Shasta in California in this undated photo. This B-17G crashed Oct. 2 at Bradley International Airport near Hartford, Conn. Collings Foundation courtesy photo by Jim Dunn.
A restored B-17G Flying Fortress, nicknamed "Nine-O-Nine," crashed the morning of Oct. 2 at the Bradley International Airport outside Hartford, Conn., killing multiple people.
The World War II-era B-17 was restored and operated by the nonprofit Collings Foundation as part of its educational Wings of Freedom Tour. Thirteen people were aboard—three crew members and 10 passengers—at the time of the crash, Connecticut State Public Safety Commissioner James Rovella said in a press conference the same day.
The Associated Press reported midday Oct. 2 that at least five people died in the incident.
The B-17 took off at 9:45 a.m. from the airport's Runway 6, and five minutes into the flight radioed to air traffic control about "some type of problem," Connecticut Airport Authority Executive Director Kevin Dillon said at a press conference. The aircraft was not gaining altitude, and circled around the airport as it attempted to return to the runway.
The historic bomber tried to land, but lost control and crashed into the airport's de-icing facility at 9:54 a.m. Fire and rescue crews responded, and the airport was shut down until nearly 2 p.m.
Officials said during the afternoon press conference that the crash caused multiple fatalities, but that it was too early to say how many or their identities. Injured people on board were taken to nearby hospitals. In addition to the 13 people on the aircraft, one person in the maintenance facility was involved in the crash.
The airframe was delivered in 1945, but was too late to fly in World War II. It was used for sea rescues before being parked in the Nevada desert to test how a nuclear blast would affect stationary aircraft. It was later purchased by a firefighting company that converted it to help put out blazes, and flew in that role until the mid-1980s.
The Collings Foundation purchased it in 1986 and restored it to its wartime configuration. The foundation painted it as the original "Nine-O-Nine" B-17 of the "Mighty Eighth" Air Force's 91st Bomb Group that flew 140 missions in the war without aborting or losing a crew member, according to the foundation.
The foundation, started in 1979, collects aircraft and tours around the country at airshows. The B-17 averaged between 100 and 120 annual stops, and visited every state except for Hawaii with the overall goal of giving veterans an opportunity to see their aircraft in person, according to the foundation.
In a statement, the foundation said it is "forever grateful to the heroic efforts" of the first responders in Connecticut. Its flight team is cooperating with officials to determine the cause of the crash.