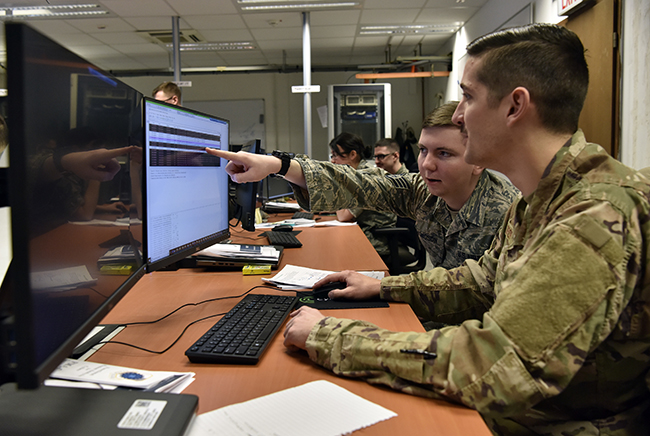 SSgt. Tyler Ellingson (left), 100th Communications Squadron mission defense team supervisor, and SSgt. Stephen Spor, 31st CS noncommissioned officer in charge, mission defense team, analyze information systems for potential malicious activity as part of a training scenario during exercise TACET VENARI, held at the USAFE Regional Training Center at Ramstein AB, Germany, on Mar. 8, 2019. Air Force photo by MSgt. Renae Pittman.
OFFUTT AFB, Neb.—From the floodwaters that covered this base in March could emerge a new opportunity for the 55th Wing: the chance to be a key hub for the Air Force's emerging information dominance organization.
Leaders here say Offutt can be rebuilt with a "Non-Kinetic Effects Center of Excellence" that combines intelligence, surveillance, reconnaissance, cyber, electronic warfare, and other information operations. The service is in the process of merging its 24th and 25th Air Forces, which oversee those issue areas, into a new numbered Air Force focused on "information warfare."
"This right here can really be like a foothold for what that looks like when you merge cyber and intel operations," Col. Dave Norton, 55th Mission Support Group commander, said in a June 4 interview. "We might be able to plant a significant seed here for future growth here for that type of work."
The center of excellence is expected to be one of eight "campuses" Offutt wants to create as it restores and reorganizes its water-damaged buildings. How the base spends its first tranche of flood recovery money, signed into law June 6, will partially depend on Offutt's future mission sets.
Mo Krishna, a former 55th Operations Group commander who is now helping lead the flood recovery effort as a civilian, indicated Offutt is in talks with Air Force leaders about a new numbered air force.
"As this first set of money comes in, it's about recovering to pre-flood [operations]," he said. "But while we're doing that, we're also coordinating with higher headquarters, with what will become [the new numbered air force] and with everyone else, and saying, where is our mission set going, and what should we do smarter as we design these facilities and we design the mission?"
An Air Combat Command spokeswoman said June 12 that officials are tossing around multiple ideas for what to call the joint NAF and haven't settled on a designation.
At Offutt and around the world, the 55th Wing has already built a smaller version of the information warfare ecosystem the Air Force wants to achieve servicewide. It boasts a tactical ISR fleet that collects electronic signals, radioactivity, and ballistic missile launch data, paired with cyber Mission Defense Teams as well as Compass Call, the service's sole airborne electronic-attack aircraft.
"I think that the 55th Wing is literally nearly at the tip of the spear of that whole merger," wing commander Col. Mike Manion said. "I have subject matter experts that understand enemy command and control, enemy radar systems, cyber impacts, cyber defense—how do we protect our own friendly information? How do we measure enemy intent, and then how do we take that enemy intent and … counter that with the airborne electronic attack? We have all that resident here in the 55th Wing."
The merger could mean integrating cyber and intel assets more closely with the 55th Electronic Combat Group's Compass Call jets, Krishna mused: "A lot of the work they do is also kind of in the electronic-warfare realm, but it's kind of cyber effects. … Now when they're actually in the same organization, I think they might have some more power moving forward."
Manion said the nascent numbered Air Force will have an operations center that can direct global electronic warfare. The military might choose different EW effects in US Indo-Pacific Command than it would for US European Command or elsewhere, he said, so the operations center would work with regional commanders to decide what works best for their area.
He also applauded the Air Force's decision to bring a one-star general onto the Air Staff to manage EW, one of the outcomes of last year's enterprise study on the subject. A potentially three-star general chosen to run the new numbered Air Force would help lead the evolution of electromagnetic spectrum ops and decide how best to wield burgeoning cyber forces, Manion said.
"We see an increased role [for tactical cyber personnel], but we really haven't done the blocking and tackling analysis on whether they'll be in the aircraft, off the aircraft," he said. "We'll probably see their role expanding. Right now their main role is to protect our information, to protect our friendly data systems."
The Air Staff is also creating a combined leadership position overseeing offensive and defensive information ops to reflect the broader merger. The commander of 25th Air Force, Maj. Gen. Mary O'Brien, was nominated in May to receive a third star and to serve as deputy chief of staff for ISR and cyber effects operations. If confirmed, she would replace Lt. Gen. VeraLinn Jamieson. The Air Force has not announced where Jamieson is headed next.