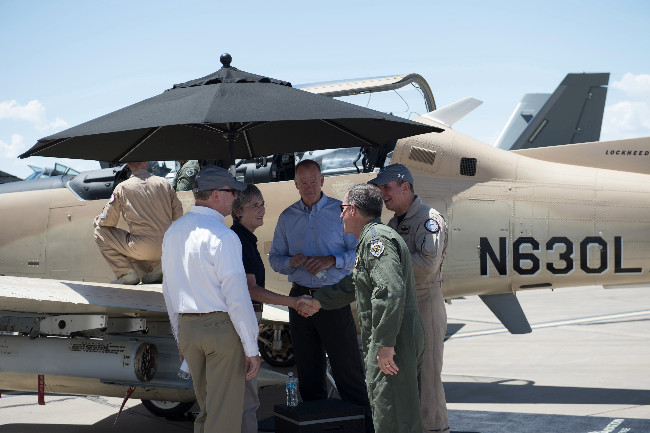 Secretary of the Air Force Heather Wilson and Air Force Chief of Staff Gen. David Goldfein meet with members from the Light Attack Experiment at Holloman AFB, N.M., Aug. 9, 2017. Air Force A1C Alexis Docherty.
The Air Force expects to spend more than $1 billion on light attack aircraft through fiscal 2024, even though it isn't sure which platforms that money might buy.
According to 2020 budget documents released Monday, the service plans to buy 24 aircraft over the next five years: four aircraft for $160 million in 2022, and 10 aircraft in both 2023 and 2024 for $400 million each year.
The documents do not show the Air Force's plan to purchase three Sierra Nevada-Embraer A-29s and three Textron AT-6Bs using fiscal 2018 and 2019 funds, which would bring the total number procured through 2024 to 30 airframes. Air Force Chief of Staff Gen. David Goldfein told Air Force Magazine the initial six turboprop planes will be used to continue its experimentation program, as the service expands its criteria to include jets, drones, helicopters, and others.
Funding projections in the five-year outlook are subject to change as requirements evolve, Air Force spokeswoman Capt. Hope Cronin said. The figures included will be the funding profile if the service decides one of the systems meets its needs.
No procurement money is requested in the 2020 budget for the rapid-acquisition program, which the documents dub the "observation attack replacement," or OA-X. Research and development funding to continue demonstrations and prototyping totals $35 million in 2020 and $105 million over the future years defense program.
"LAA [light attack aircraft] squadrons will provide a deployable and sustainable multirole attack capability, capable of performing a diverse array of attack missions, including but not limited to close air support, armed reconnaissance, strike coordination and reconnaissance, airborne forward air control, and interdiction," according to budget documents.
The new aircraft could also fly combat search-and-rescue, rescue escort, and maritime air support missions, the Air Force said.
"LAA squadrons executing these tasks allows our fourth- and fifth-generation fighter fleets to implement a tailored training regimen to address declining core mission readiness and focus on preparing to deter or prevail in conflicts with peer adversaries," the service said. "LAA will provide a deployable, persistent attack capability that can be employed with low footprint and light logistical support requirements."
Until recently, the service had planned to issue a request for proposals to kick off procurement this year. The decision to extend experimentation and open it up to other types of aircraft that might be better suited to partner nations' needs raised eyebrows on Capitol Hill last week.
Sen. Jerry Moran (R-Kan.) said eyes are on the light attack program to see whether it can prove that congressional authorities, paired with "ample funding," will in fact let the service quickly buy a new fleet.
"I thought that the rapid-acquisition process with industry partners worked for our warfighters and for our allies, and that the light attack was proof that this process could work," he said at a Senate Appropriations defense subcommittee hearing last week. "Why is it that we're now at this point making that market assessment, determining what the market should bear, can bear, as compared to making that determination prior to the beginning of this process?"
Service officials argue they need to gather more information on platforms and from allies to be comfortable taking the plunge into procurement.