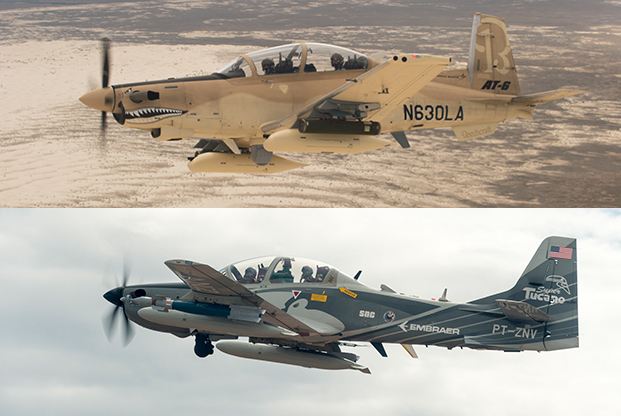 USAF plans to purchase three Textron AT-6B Wolverines (shown at top) and three Sierra Nevada-Embraer A-29 Super Tucanos (shown at bottom) for continuing experiments toward a possible light attack aircraft program, CSAF Gen. David Goldfein said. Air Force photos.
The Air Force plans to buy six light attack aircraft—three Sierra Nevada-Embraer A-29 Super Tucanos and three Textron AT-6B Wolverines—for continuing experiments toward a potential light attack aircraft program, on which the Air Force would partner with other countries, according to Air Force Chief of Staff Gen. David Goldfein.
The AT-6s would be based at Nellis AFB, Nev., and the A-29s would be based at Hurlburt Field, Fla., Goldfein told Air Force Magazine last week. His comments were embargoed until his Capitol Hill testimony Wednesday. Funds to buy the aircraft would come from $60 million remaining in fiscal 2018 RDT&E accounts, and another $100 million would come from fiscal 2019 procurement accounts.
"More important than the airplanes, we are developing a networking system that will allow us to communicate and share information" with partner countries who might use the aircraft for counterinsurgency or anti-violent extremist work, Goldfein said. The aircraft and networks would be useful "for countries like Honduras or Nigeria" who may not be able to afford sophisticated aircraft like F-16s or F-35s, he said.
The Air Force will also evaluate the application of drones, helicopters, or less expensive light jets to the mission; aircraft such as the new Boeing-Saab T-X, Lockheed Martin T-50, or Textron Scorpion, for example. It will also partner with the Marine Corps in the experiments, which are to begin in 2020.
The six light attack airplanes will be purchased outright "so we can modify them anyway we want," without the hassle of altering the companies' property. The light attack experiment will continue at least three more years, and partner countries will participate, Goldfein said.
The Air Force said Wednesday the concept also will include "the ability to improve both intelligence-gathering, sharing, and network interoperability with allies and partners," the service said in a statement.
The network is meant as an "exportable, affordable, and commercially secure tactical datalink that supports line-of-sight/beyond line-of-sight real-time information exchange between the airborne and ground units," the Air Force said.
Basing the aircraft at the two locations will "allow a broader range of environments and training opportunities for the Air Force and partner allies," the service explained.
Nellis is home to the Air Force's combat experimentation community, and is a largely arid environment, while Hurlburt, in a more tropical location, is the central node in USAF's special operations enterprise. The service has said its use of a light attack aircraft could be as small as a few dozen aircraft—in which case they would be operated by Air Force Special Operations Command—or a few hundred, which would put them under Air Combat Command.
In a statement to the press, Goldfein said, "My fellow Air Chiefs tell me they need an affordable weapon system that is interoperable with us to help aggressively and effectively confront violent extremism. We greatly appreciate the authorities given to us by Congress to prototype, experiment, learn, and make more informed decisions about the common capabilities needed to defeat this threat."
But the Air Force's decision to continue exploring what industry could offer the US and its allies raised eyebrows on Capitol Hill this week. Sen. Jerry Moran (R-Kan.) grilled service leadership on its "schizophrenic" strategy at a Senate Appropriations defense subcommittee hearing Wednesday, suggesting the experiment is progressing out of order.
The Pentagon's director of operational test and evaluation's annual report released in January revealed a plan to buy nearly 360 aircraft, Moran said, so why the change of heart
"I thought that the rapid acquisition process with industry partners worked for our warfighters and for our allies, and that the light-attack was proof that this process could work," Moran said. "There is a schizophrenia at the Air Force about light attack. The messages are mixed."
Air Force Secretary Heather Wilson pushed back on the idea that the service isn't taking the needed steps at this point in the process, saying USAF has made a lot of progress, but just wasn't ready to procure.