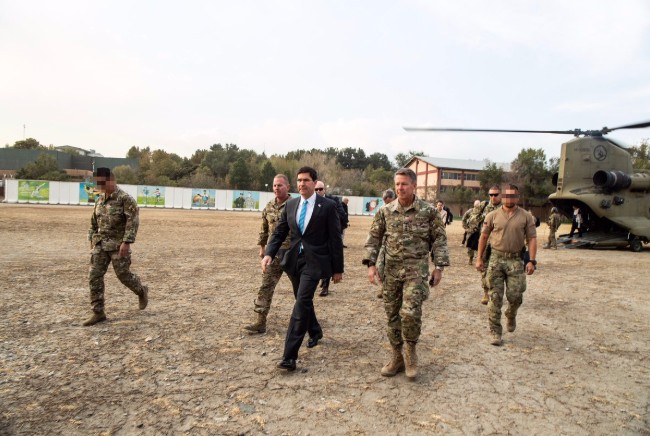 Defense Secretary Mark Esper, on a visit to Afghanistan in October 2019, says the US will "temporarily reposition" forces from northeast Syria to outside of the country "until they return home." DOD photo via Twitter.
As US forces withdraw from northern Syria, Defense Secretary Mark Esper said the Pentagon will maintain a presence in the country and continue sending in airpower-supported missions to fight the Islamic State.
Speaking to reporters at multiple points during a mid-October trip to Afghanistan, Esper said US convoys, helicopters, and fixed-wing aircraft are taking troops outside of Syria and into northern Iraq in a "very deliberate and very safe" way. Videos emerged of US convoys entering Iraqi Kurdistan that show locals throwing food and rocks and shouting slurs at US troops in response to the Americans' withdrawal from Syrian Kurdish areas.
"We're trying to be very deliberate as we go through this," Esper said. "Job No. 1, though, remains protection of our forces."
On Oct. 21, that job included taking US forces out of the area near the Syrian city of Kobani. The city was at the center of intense fighting and heavy air support as US-backed fighters struggled to keep control out of the hands of the Islamic State. Air Force personnel then moved in and built up an airstrip that was heavily used in the siege of Raqqa, Syria.
The plan is for US forces in Iraq to defend that country while carrying out further missions to stem the resurgence of the Islamic State, Esper said.
During an Oct. 21 press conference in Kabul, Afghanistan, Esper said the US may keep a small number of forces behind in Syria to secure oil fields and ensure they are not overrun by the Islamic State, according to the Associated Press. That plan is still in the works and has not yet been presented to the White House for approval, he said.
US forces could mount a lingering air support mission in Syria even though its airspace may become more complicated as Syrian and Russian forces move further into the country's northeast, Esper said.
"If US forces go into Syria to do a counter-[Islamic State of Iraq and Syria] mission, they will have air cover," Esper said. "That's just how we do business."