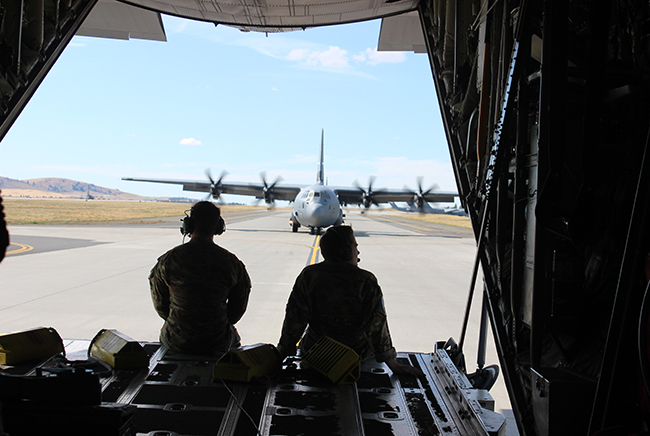 A loadmaster sits on the back of a C-130J after landing at Fairchild AFB, Wash., on Sept. 12, 2019. The aircraft flew in a rehearsal flight before the first main training events of exercise Mobility Guardian 2019's kick off at the base. Staff photo by Brian Everstine.
FAIRCHILD AFB, Wash.—Air Mobility Command's war of the future is playing out right now in the rolling mountains and plains of the Inland Northwest.
The command recently kicked off Mobility Guardian 2019, the second iteration of its premier exercise, on a size and scale the command has not trained before. For three weeks, AMC aircraft, representatives from other services, and 30 international partners are fighting their way through a simulation in which adversaries threaten both aircraft and bases. The command hopes to learn how to be more agile in an era where advanced enemies can stymie USAF operations at all levels.
"We are looking at, from the mobility air forces lens, what can we do to be able to adjust where we operate, to reposition where we operate, and to have a lighter, faster footprint" Lt. Col. Joseph Monaco, Mobility Guardian's director and the deputy division chief for AMC's training directorate, told Air Force Magazine in an interview here.
Airmen from the 92nd Air Refueling Squadron from Fairchild AFB, Wash., air refuel a C-17 III Globmaster from the 437th Airlift Wing out of Charleston AFB, S.C., in support of Exercise Mobility Guardian 2019 at Fairchild. Air Force video by SSgt. Shawn White.
The war kicks off in earnest the night of Sept. 13, featuring dozens of aircraft and about 1,000 personnel fighting to seize an airfield. A constellation of bases across the western US contributes to the fight, with Fairchild serving as the main forward operating location—much like Al Udeid AB, Qatar, hosts the bulk of aircraft for current Middle East operations.
An Air Operations Center at Travis AFB, Calif., organizes and controls the infiltration. Five C-17s are moving to Pope Field, N.C., to pick up 500 members of the 82nd Airborne and deliver them to an "enemy-held" strip at the Yakima Training Center in central Washington. The long, cross-country flight from Pope to Washington state replicates the trek forces would take from the US to a foreign battlefield.
Those aircraft will join up with two more C-17s, loaded with materiel, that take off from Fairchild. Twenty minutes behind them are 10 C-130s—seven from the Air Force, along with two Canadian planes, and one from the US Marine Corps—carrying additional personnel, such as USAF air mobility liaison officers to help stand up airfield operations.
The mobility fleet will meet with an escort of US Navy E/A-18G Growlers from NAS Whidbey Island, Wash., along with A-10s and F-15Es from Mountain Home AFB and the Air National Guard's Gowen Field in Idaho. KC-135s from several locations that launch out of Fairchild are teaming with KC-10s from Travis to provide fuel.
The threat looms largest in the Mountain Home Range Complex, where a "red czar" has organized intense integrated air defense systems. Flying low, the aircraft will maneuver through simulated countermeasures to get their loads of personnel and materiel to the landing zone.
At almost midnight on Sept. 13, the aircraft will open their doors and drop the soldiers and materiel at the Selah Creek Airstrip in the training complex, where an opposing ground force waits. The friendly-force soldiers are tasked with initial seizure of the airfield, as the C-130s follow with the air mobility liaison officers and contingency-response airmen to set up sustained air operations.
Air Force Magazine accompanied the C-130s on a rehearsal flight on Sept. 12. The C-130s flew in a row, dropping low as they moved into the range. The airlifters banked hard and rapidly changed altitude to avoid the simulated IADS before making their way to the drop zone. After the airdrops, the aircraft returned to Fairchild and prepared to bring in equipment to the seized airfield.

A C-17 prepares to land at Fairchild AFB, Wash., circling over C-130s that landed minutes before as part of a Sept. 12, 2019, training flight in the early stages of exercise Mobility Guardian 2019 here. Staff photo by Brian Everstine.
Following that joint forcible entry scenario, the exercise moves into its next stage—practicing aeromedical evacuation on a grand scale. US and international partners, flying on each other's aircraft, will practice loading up the most patients they can in little time.
As the exercise progresses, it will move into strategic operations, as two tankers join up with two bombers from Air Force Global Strike Command for simulated strike missions.
All the while, Fairchild itself will operate under a simulated threat the Air Force hasn't faced in real life.
Flying operations will take place with degraded communications, with airmen at times serving as "runners" to communicate with aircrews instead of using radios. Even the base's security forces are getting involved, practicing warding off small drones and finding ways to be intimidating in order to protect a potentially cut-off base that is unable to bring in reinforcements, said Col. Derek Salmi, the commander of the 92nd Air Refueling Wing at Fairchild. Salmi is also serving as the commander of the 621st Air Exercise Wing for Mobility Guardian.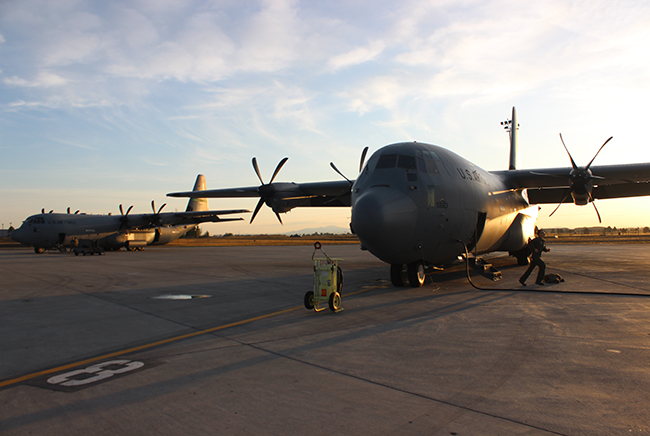 Two C-130Js sit on the Fairchild AFB, Wash., flight line early in the morning of Sept. 12, 2019, before taking off in one of the first flights of Mobility Guardian 2019, Air Mobility Command's premier exercise. Staff photo by Brian Everstine.
To make space for the exercise, Fairchild had to change how it handles its regular missions, which includes having tankers standing alert around-the-clock for homeland defense and strategic support. The base sent two tankers to nearby Spokane International Airport to stay on alert, with more personnel and aircraft sent to March ARB, Calif.
While the wing is supporting the exercise, it also has crews deployed around the world: to Afghanistan and Incirlik AB, Turkey, as well as sending a recent deployment to take over support for Operation Juniper Micron, the refueling mission out of Spain to support French operations in Africa.
The 92nd at Fairchild has about 2,900 personnel and 44 aircraft. At the peak of the exercise, it will bring in an additional 2,500 personnel and 43 aircraft, effectively doubling the overall force structure of the base. Tents make up the bulk of the offices, clustered in an area dubbed "Ops Town" that is supported by a short line of local food trucks offering burritos, barbecued ribs, and macaroni and cheese instead of military field rations. The exercise's headquarters, which connects via video teleconference to the AOC at Travis, is in the basement of the base's post office.
From top to bottom, Mobility Guardian's goal is to make Air Mobility Command more ready to fight in a world where the US doesn't have assured dominance in combat zones and at bases. AMC will need to be more agile and flexible, for example, by taking a location that usually only flies one mission set—tankers, in Fairchild's case—and make it the main operating location supporting everything a commander needs.
For example, a map of US installations in Europe shows a heavy airlift presence at one location—Ramstein AB, Germany—and tankers at another, such as RAF Mildenhall, England. In a conflict with another top-tier military, bases will need to be able to support more than their regular operations, and do so facing possible jamming, cut-off communications, and other problems.
"We've basically erased that map," said Lt. Col. Brett Fish, the lead planner for the Mobility Guardian office at Fairchild. "Anywhere you see US presence, we've proven flexibility and adaptability, and we can be whatever the commanders want us to be."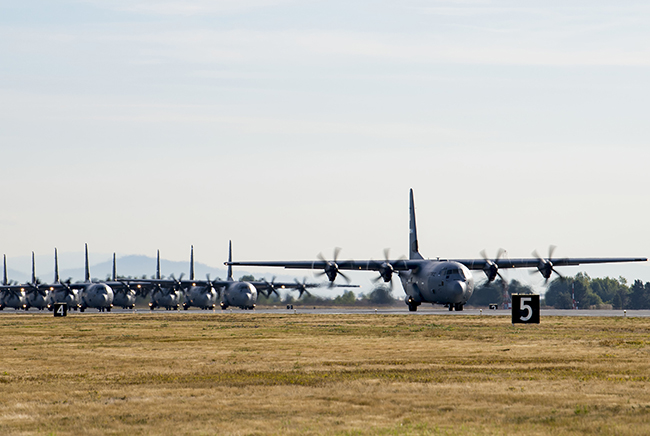 Multiple US Air Force, joint and coalition C-130Js and KC-130Js prepare to take off during exercise Mobility Guardian 2019 at Fairchild AFB, Wash., on Sept. 12, 2019. Air Force photo by A1C

Lawrence Sena.
AMC needs to be able to surge to a new location and "be able to sustain not only the mobility air forces, but the combat air forces," Monaco said. The Air Force calls the concept "agile combat employment," and Mobility Guardian is framed so the command can practice handling the fuels, munitions, and other materiel that would be needed in a fight. Because, in the real world, "Who's going to be moving that stuff around? It's us," Monaco said.
The Air Force won't always have permissive, safe operations at locations like Ramstein or Al Udeid that historically have made planning easier.
"Adversaries are going to try to disrupt our joint force employment and force flow to posture for major combat operations. How are they going to do that? They are going to deny, disrupt, degrade our intermediate staging bases and main operating bases. We know that," Monaco said. "Especially the higher-end (adversaries) that have cruise missiles and all that type of stuff that can reach out and touch us."
AMC is learning how to send personnel to a bare-bones location, get fuel to aircraft, and move cargo in and out. "That's something we never exercise," he said.
"We always just assume we're going to be able to go into a permissive, big base," Monaco said. "Those days are over."