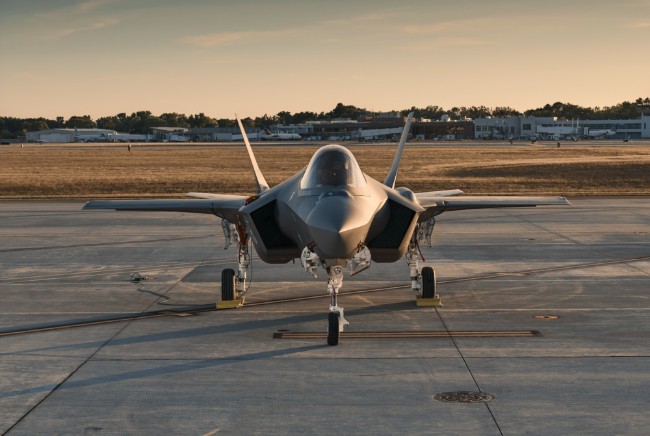 An F-35 Lightning II sits at a Vermont Air National Guard event in South Burlington, Vt., Sept. 19, 2019. Air National Guard photo by TSgt. Ryan Campbell.
Lockheed Martin on Oct. 28 received an approximately $7 billion award to build another 114 F-35 Joint Strike Fighters, including aircraft under the program's 13th lot. The deal, which updates an earlier procurement contract, covers aircraft and other considerations for the Defense Department as well as F-35 partner nations and other foreign customers.
The contract announcement reflected fewer than the 148 aircraft that were expected to be part of an award for Lots 12-14. Pentagon acquisition and sustainment chief Ellen Lord forecasted the contract earlier in October, noting Lockheed and the DOD had reached a "handshake deal" on a so-called "block buy."
DOD and Lockheed "have made tremendous progress and now have an agreement regarding the production of Lots 12-14," Pentagon spokesman Col. Mike Andrews said. "This agreement represents our continued commitment to reduce F-35 costs aggressively, incentivize industry to meet required performance, and deliver advanced capabilities to our warfighters at the best value to our taxpayers."
Of the 114 aircraft in the agreement, 48 are F-35As for the Air Force; 20 are Marine Corps F-35Bs; and nine are Navy F-35Cs. The US will receive 77 total aircraft, while 15 F-35As will go to Australia, 12 F-35As will go to Norway, and eight F-35As and two F-35Bs will go to Italy.
The contract also covers funds to supply parts that have become harder to find, as well as software data, safety items, engineering services, and more. Lockheed will partner with Northrop Grumman and BAE Systems on the bulk of the work.
Lord and F-35 Program Executive Officer Air Force Lt. Gen. Eric Fick plan to offer more details on the new contract Oct. 29.
Lord revealed Oct. 18 that she expects to keep the F-35 program from advancing to full-rate production for as long as a year, as the Pentagon tries to integrate the aircraft with its wargaming systems that determine the numbers of military assets needed in various scenarios. The jet must also complete operational test and evaluation, which officials had expected to finish by the end of 2019.