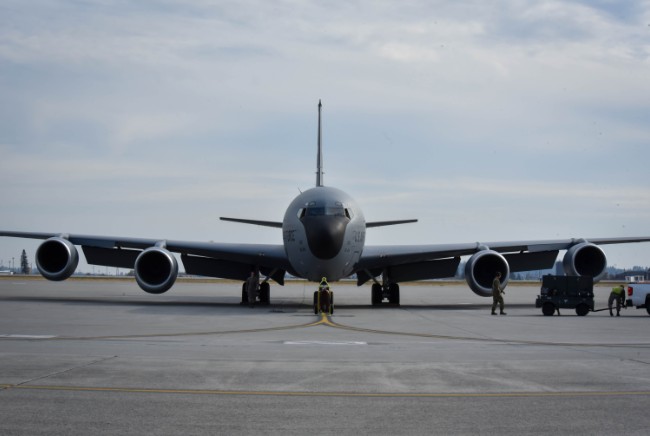 Airmen from the 92nd Maintenance Group prepare a KC-135 Stratotanker from the 916th Air Refueling Wing at Seymour Johnson AFB, N.C., for aircrew to disembark at Fairchild AFB, Wash., Oct. 16, 2019. Air Force photo by Amn. Kiaundra Miller.
The 92nd Air Refueling Wing at Fairchild AFB, Wash., is again a "super" tanker wing after officially standing up its fourth squadron and receiving the first of 12 new KC-135s.
The Oct. 18 ceremony officially reactivated the 97th Refueling Squadron at Fairchild—which was in use at the base from 1994 to 2004—adding to Fairchild's existing 92nd, 93rd, and 384th Refueling Squadrons. "Super" tanker wings are those that encompass four squadrons. Fairchild already owned 44 KC-135s and expects to grow to around 60 Stratotankers by the end of February 2020.
That increase means Fairchild will have the second-largest refueling fleet in the world, behind only the broader Air Force. It beats out Russia, China, and Great Britain's tanker fleets, Fairchild Commander Col. Derek Salmi said in a recent interview.
"We really value our role here," Salmi, also the 92nd ARW boss, said. "We are all things KC-135. We do every mission here at Fairchild. We're excited as we continue to grow to be able to keep pushing the KC-135 community and enterprise forward."
The first of Fairchild's 12 additional KC-135s came from Seymour Johnson AFB, N.C., on Oct. 16, according to a service release. Related to that growth, the base will receive about 400 personnel, largely for operations and maintenance. When including dependents and families, the new squadron will bring about 1,000 more people to Fairchild, Salmi said.