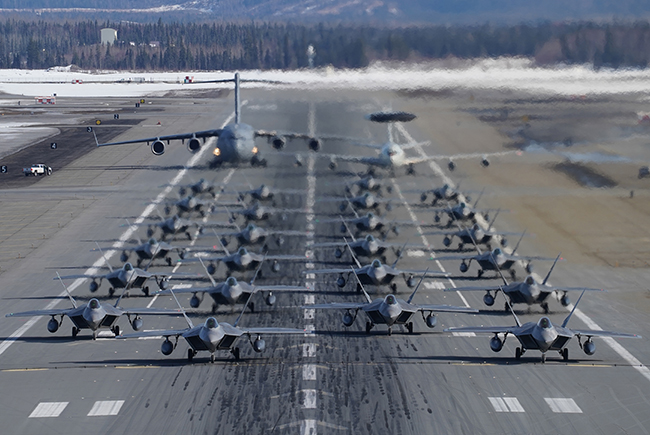 F-22 Raptors from the 3rd Wing and 477th Fighter Group participate in a close formation taxi with an E-3 Sentry and a C-17 Globemaster III, known as an elephant walk, on March 26, 2019, during a Polar Force exercise at JB Elmendorf-Richardson, Alaska. Air Force photo by Justin Connaher.
Twenty-four F-22 Raptors recently plodded down the runway at JB Elmendorf-Richardson, Alaska, in the fleet's largest-ever elephant walk, which was accompanied by an E-3 Airborne Warning and Control System and a C-17 cargo plane.
The launch en masse occurred March 26 during the joint base's biannual Polar Force Exercise, the Air Force said.
"This two-week exercise gives squadrons an opportunity to demonstrate their abilities to forward deploy and deliver overwhelming combat power," the base said March 27.
Polar Force will run through April 5.
Elephant walks show off the Defense Department's ability to quickly deploy large numbers of aircraft at once, in the hope that displaying military might will dissuade others from challenging the US.
Fighter jets based at JBER are tasked with intercepting foreign aircraft that fly too close to American assets, and are one piece of the Air Force's attempt to assert dominance over Russia and China.
As the base practices its combat skills, the Air Force's F-22s are trying to reach an 80 percent mission-capability rate by the end of September.