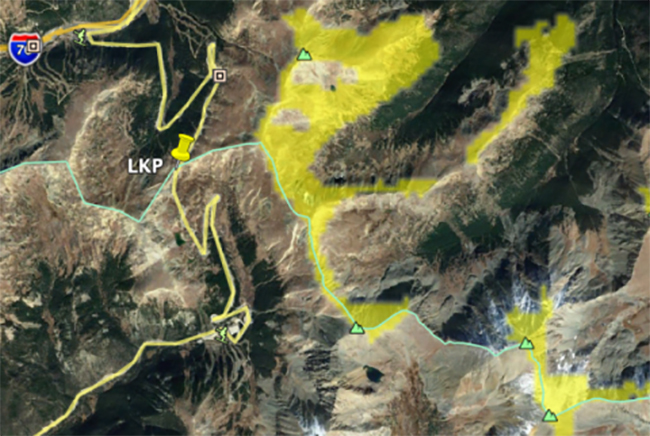 This map, produced by Civil Air Patrol's National Cell Phone Forensics Team, helped guide searchers to a missing Colorado hiker on Sept. 30, 2019. Map image courtesy of CAP.
The Air Force Rescue Coordination Center credited Civil Air Patrol search and rescue efforts with saving 117 lives in fiscal 2019, according to a CAP release.
While the tally fell short of the previous fiscal year's total of 158 saves, it marked CAP's third-consecutive fiscal year of triple-digit rescues, according to the group.
This trend demonstrates the organization's "continuous advances in technology and training in one of the Air Force auxiliary's primary missions — emergency services," the release stated.
Technology has revolutionized CAP-supported search and rescue by reducing the amount of time, resources, manpower, and aircraft use these kinds of missions require, CAP Director of Operations John Desmarais said in the release.
"Most of the time we are finding those who are lost over the course of a few hours or less," he said. "Rarely do we see search missions last more than a day or two anymore."
CAP's National Cell Phone Forensics Team played a role in 105 of CAP's fiscal 2019 recoveries, the release said. CAP has provided cell phone forensics support to the AFRCC since 2006, according to an Aug. 9 CAP presentation about the team. The support began "as a last-resort tool for locating missing persons and overdue aircraft, but is now a primary resource," it explained.
CAP, the Air Force's official auxiliary, took part in 869 search and rescue missions in fiscal 2019, including assistance with domestic search and rescue following Hurricane Dorian.