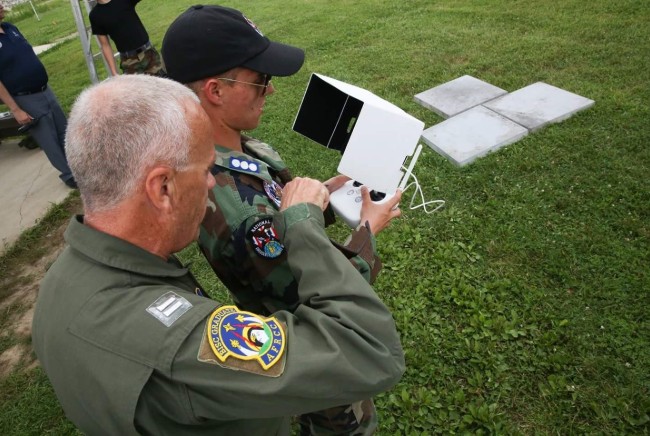 Capt. John Webber (l) of Civil Air Patrol's Indiana Wing provides instruction to Cadet Capt. Linus McFarland at CAP's National Emergency Services Academy. Civil Air Patrol photo.
Civil Air Patrol is now using small drones to aid in search and rescue missions, according to an Oct. 10 release.
Unmanned aerial systems already capture images to support local, state, and federal emergency management agencies, but a recent search in South Dakota marked the first time the drones were used in a "real-world SAR mission," Austin Worcester, CAP's senior program manager for sUAS, told Air Force Magazine Oct. 11.
CAP's South Dakota Wing in late September deployed sUAS to help track down a lost hiker, according to the release. CAP used small drones again in October when searching for a missing hunter. Over the course of four days, drone flights produced more than 2,500 photographs that analysts then scoured for evidence of the hunter, CAP said.
"Last spring, the South Dakota Legislature approved a one-time appropriation to acquire several sUAS units to use in search-and-rescue efforts," the release said. "Trained wing members have developed techniques for pattern searches and detecting targets [at] oblique angles and in challenging areas."
The organization's foray into using sUAS started with a pilot program in 2015. CAP, the Federal Emergency Management Agency, and the Department of Homeland Security launched the joint venture after a tornado ravaged Moore, Okla., in May 2013, Worcester said.
"We started with eight pilot wings and began acquiring equipment," Worcester wrote in an email to Air Force Magazine. "It became a full CAP-wide program in all 52 wings in 2018, when a full-time sUAS program manager was hired by CAP. Currently, every CAP wing has access to mission-capable sUAS."
CAP now owns and operates about 1,500 sUAS stations across the US and Puerto Rico, Worcester said, making the organization "the largest civilian owner of [Federal Aviation Administration]-registered sUAS in the country."
It has also incorporated drone training for SAR and disaster-response operations into its annual National Emergency Services Academy, the organization said in July.
The Air Force Rescue Coordination Center recently credited Civil Air Patrol's SAR efforts with saving 117 lives in fiscal 2019—its third-straight fiscal year of triple-digit rescues—Air Force Magazine previously reported.
CAP is a civilian arm of the Air Force used for homeland defense and emergency services. The service overall is eyeing ways to incorporate small drones into everyday operations as well as to protect its bases from them.