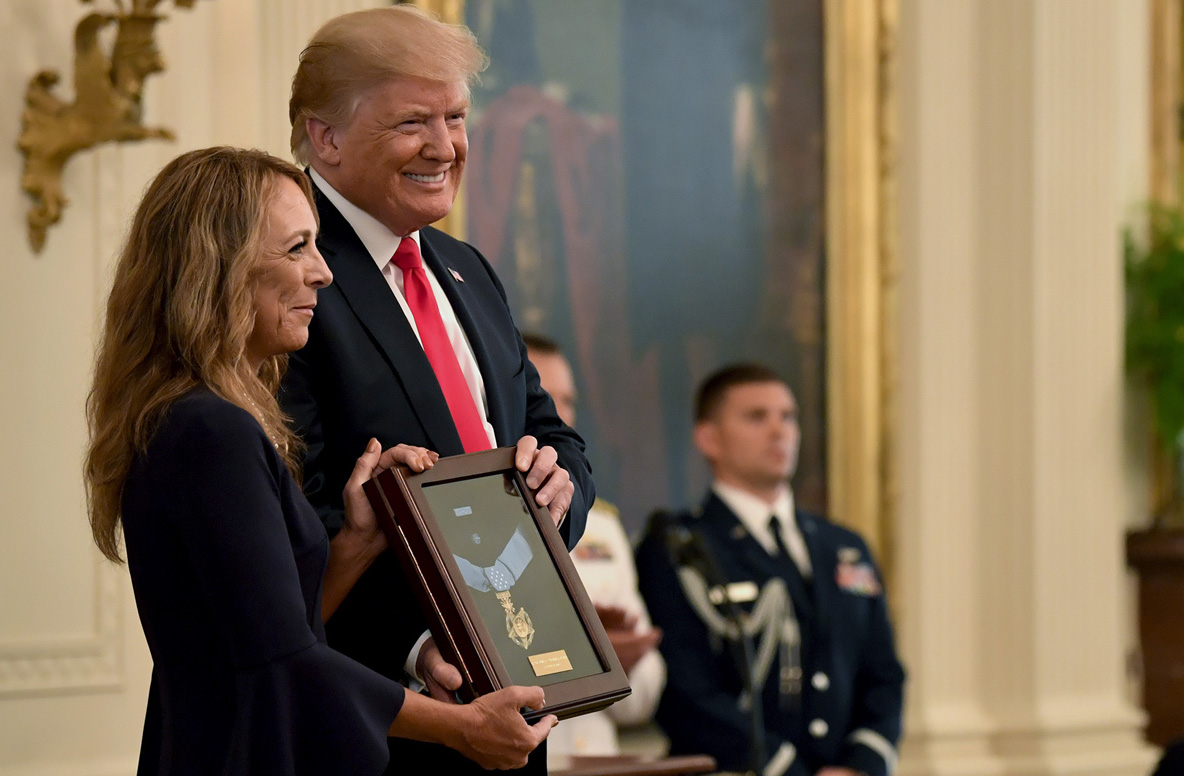 President Donald Trump posthumously awarded? the Medal of Honor to TSgt. John Chapman at an Aug. 22 ceremony at the White House. USAF photo by SSgt. Rusty Frank.
The Medal of Honor presentation was a long time coming for TSgt. John Chapman, for his family, and for the Air Force.
President Trump on Wednesday posthumously awarded the nation's highest honor for valor in combat to Chapman in a crowded White House ceremony. It is the first Medal of Honor awarded to an airman for actions in the Global War on Terror and the first since the Vietnam War. It is also the first Medal of Honor for a special tactics airman, the 19th total for the Air Force.
The honor comes more than 16 years after the battle on the Afghan mountaintop, where Chapman fought, alone, until his last breath to save his team, and more than 30 months since an Air Force investigation into his award determined exactly how valiantly Chapman fought.
Trump presented the blue ribboned medal, resting in a brown wooden box, to Chapman's widow, Valerie Nessel, on what would have been their 26th wedding anniversary.
"Our nation is rich with blessings, but our greatest blessings are the patriots like John … who carry our freedom on their shoulders, march into the face of evil, and fight to their very last breath so we that can live in freedom and safety and peace," Trump said.
THE BATTLE
The air atop the 11,000-foot mountain of Takur Ghar was frigid, snow was piling up to beyond knee deep on March 4, 2002. It was the early days of the War in Afghanistan, and US special operations were already deeply engaged in Operation Anaconda—an effort to find and clear al Qaeda operatives in the Shah-i-Kot Valley, in the east of the country.
Chapman's team, going by Mako 30 that night, pi­led in an MH-47E Chinook, call sign Razor 3, which had its sights on Objective Ginger, a ridgeline on the mountain with a landing zone it expected to be clear. At about 4:27 am local time, the lumbering Night Stalkers-flown Chinook approached the landing zone and Al Qaeda fighters opened up on it with everything they had. Machine gun fire erupted on the helicopter, RPGs exploded destroying the aircraft's hydraulic lines. The pilots veered off course and tried to regain control. In the explosions and chaos of the approach, one SEAL—Petty Officer 1st Class Neil C. Roberts—was knocked out of the helicopter and fell to the ground, surrounded by insurgents.
Razor 3 crash landed almost five miles away from its original landing zone, and Roberts, and the team had a decision to make. The original landing zone was teaming with al Qaeda, and their teammate was left behind. The team piled into another Chinook and flew back. Chapman's Air Force Cross citation, which he was originally awarded in 2003, and the supporting documents for upgrade to the Medal of Honor, described this decision to fly directly into sure enemy contact to retrieve a teammate, calling it a measure of Chapman's heroism that night.
The team piled into the second Chinook, call sign Razor 04, and flew back to retrieve their teammate. This time, the helicopter was able to land and its back door slowly opened. Insurgents were firing directly on them, and two of Chapman's teammates were immediately killed upon exiting the helicopter. Chapman, according to a video feed from a circling MQ-1 Predator, stormed out and directly engaged an enemy machine gun position—known as Bunker 01. He burst into the enemy's pillbox, and killed the insurgents in close-quarters combat. He then focused his fire on a second enemy position—Bunker 02—suppressing their fire and allowing his team to advance. That's when Chapman was shot the first of nine times.
SEALs, in cover nearby, could see Chapman's gunsight coming out of the bunker. It rose and fell with each breath he took, slowing as time ticked by. Eventually, at about 4:42 a.m., the sight no longer moved. The SEAL team thought Chapman was killed in the bunker. The SEALs kept taking fire, and eventually moved down the mountain. The SEAL team credited Chapman for saving their lives.
"If John hadn't engaged the first enemy position, it would have surely killed us all before we reached cover," one SEAL said in an after-action report.
The official version of his actions that night focused on everything that happened up until this point. An Air Force board at the time reviewed its evidence and voted in favor of awarding Chapman the Air Force Cross, though some added that his actions were deserving of the higher honor. One board member wrote if Chapman's actions here did not merit the award, "what would?"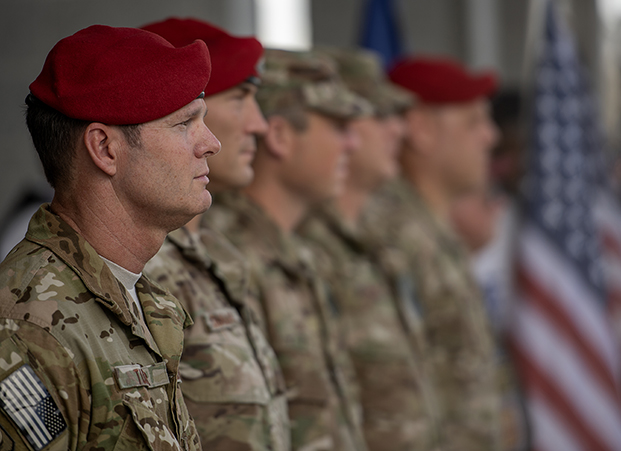 USAF Col. Claude Tudor, commander of the 24th Special Operations Wing, waits alongside Hurlburt Field leadership for the arrival of TSgt. John Chapman's family. USAF photo by SSgt. Peter Thompson.
MAKO 30 CHARLIE STILL TRANSMITTING
Chapman was still alive. The doctor who later conducted his autopsy determined that the wounds he had received up until that point could have rendered him unconscious, but did not kill him. Minutes later, after Chapman's team had left, he came to and continued to fight, trading fire with the enemy in Bunker 02 just meters away.
A friendly team in another position about three miles away heard fuzzy, interrupted radio calls, and could make out an American voice saying Chapman's call sign—MAKO 30C.
"I distinctly heard MAKO 30C transmitting," another combat controller on the mission said in an after-action report. "This occurred over a 40-min period. I am absolutely positive that [it] was John's voice. I have no doubt whatsoever. This is based on working with him for several years at the same unit."
Friendly forces and a translator could hear the al Qaeda fighters talking about an American who was still fighting. The circling Predator, and two AC-130 gunships going by Grim 32 and Grim 33, could see infrared patches and glint tape moving in the bunker.
A quick reaction force had piled into another Chinook, call sign Razor 01, and was approaching the ridge as Chapman was firing on the insurgents. By now, the sun had risen.
Chapman, already wounded by several gunshots, emerged from the bunker and engaged an al Qaeda RPG team on a ridgeline to his right. The al Qaeda fighters in Bunker 02 remained in their position behind him. Chapman's continued firing on the RPG team, limiting their effectiveness and allowing the QRF land. But in this final fight, an al Qaeda fighter shot Chapman in the back with a large-caliber machine gun.
Seventeen hours after the battle began, Chapman died on the mountain top.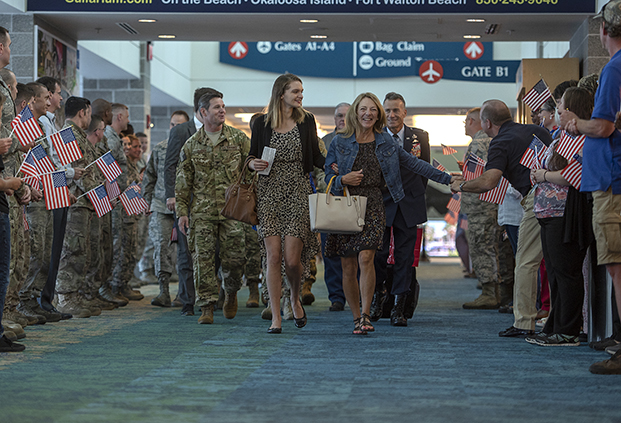 Valerie Nessel, right, Chapman's widow, walks alongside her daughter Brianna, center at the Destin-Fort Walton Beach Airport, Fla., Aug. 20, 2018. USAF photo by SSgt. Peter Thompson
THE FIGHT TO UPGRADE
Because of the classification of the mission, the Air Force medal board at the time was only able to focus on the initial actions and, until Wednesday, Chapman's award would stay the Air Force Cross.
In 2015, the Defense Department directed each service to identify awards cases that could merit elevation and Chapman's case was immediately picked. New technology greatly improved the ability to track what happened on that mountaintop. Using pixel-tracking software, investigators were able to identify Chapman as a blurry mess of pixels and specifically track where he moved, and how he fought. The Air Force later released some of these videos, showing Chapman move and fight. While viewing his action, "heroism jumps right off the page at you," and shows "the incredible sacrifice" Chapman made, said a special tactics officer who was a part of the investigation.
The team re-interviewed dozens of people involved in the initial fight. They reviewed the video feed from not only the Predator, but also video and radio traffic from the AC-130s. They reviewed Chapman's autopsy, which showed that only two of Chapman's nine total gunshot wounds could have been fatal, and the direction of the bullet proved he had to have been shot in his back from a position below him. All together, these sources told a story of an airman who survived to fight alone, and gave his life to protect the team on the Chinook.
"In this final act of supreme courage, John gave his life for his fellow warriors," Trump said. "Through his extraordinary sacrifice John helped save over 20 American service members."
The review focused on one main finding, the Air Force Cross submission was incomplete and didn't account for everything Chapman did that day. The team determined Chapman took four heroic actions that merited a Medal of Honor.
One, in the initial infiltration, he charged into the enemy-occupied mountain and seized the bunker. Two, he moved from cover in order to assault a machine gun emplacement. Three, he engaged the enemy from the bunker. And finally, he exposed himself to an enemy machine gun less than 10 meters away to engage the lethal threat of the RPG team.
Chapman's awards package rose from his wing, to Air Force Special Operations Command, to the top-level Air Force leaders, and to then-acting Defense Secretary Bob Work. Each level required additional review, and eventually was approved and sent to the White House by Defense Secretary Jim Mattis earlier this year. In the final approval, Mattis determined that two actions, beyond a reasonable doubt, satisfied the Medal of Honor criteria: Chapman volunteered for the mission, where he charged into fire, seized the bunker, and moved from cover to assault the machine gun. Two, with complete disregard for his own safety, Chapman exposed himself to accurate machine gun fire to protect the quick reaction force.
ALWAYS SELFLESS
For Chapman's family and friends, the fact that he would receive the nation's highest honor for military selflessness isn't a big surprise, it's who he was.
"His whole life he was a Medal of Honor winner, because he always put others before himself," his mother Terry Chapman said Wednesday.
When Chapman graduated high school in his home town of Windsor Locks, Conn., he picked an anonymous quote for his yearbook: "Give up yourself before taking of others," Terry Chapman said.
Chapman enlisted in the Air Force two years out of high school. He had the original plan to become a combat controller, but she talked him out of it because of the dangers, Terry Chapman said. After four years working in a computer job, focusing on satellite communications, John told his mother he could not take desk work anymore and decided to cross train into combat control.
"He made it, and he loved it," she said. "He said, 'This is me.' He was good at it."
The award is "validation" for what John Chapman did on the mountain. While "it doesn't change anything," it proves how heroic he was, said his widow.
"He was there by himself, he fought til the end protecting his teammates," she said.
Chapman trained and fought hard, and lived for his teammates on that mission, said CMSgt. Michael West, Chapman's best friend and a former teammate. He knew the risks, and fought hard, and given the chance to say no and avoid danger, he volunteered to get back on to the helicopter and fight to retrieve Roberts.
"To them, he was a teammate. To John, they were his teammates," West said "… There was no question. He could have said no, this isn't for me. But no, he was part of that team, he volunteered to go back up there."
Chapman's former squadron commander, retired Col. Ken Rodriguez said Chapman knew the "immediate danger" he was in, but that the mission, and his team's lives, were more important.
"John would never say 'I knew for a fact I'd never get through this.' John was very much, 'I'd do whatever I can to get through this,'" Rodriguez said. "But he knew in his heart of hearts, I'm convinced. He knew what kind of danger he was exposing himself to. The enormous risk he put himself in when he stuck out to defend that quick reaction force helicopter and all the men on board."