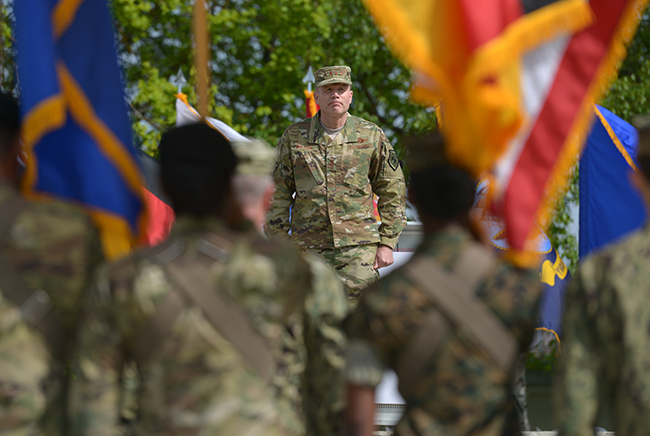 Air Force Gen. Tod Wolters, the incoming US European Command boss, gazes out over the crowd during the EUCOM change of command ceremony, held on Patch Barracks, Germany on May 2, 2019. Army photo by Jason D. Johnston.
USAF Gen. Tod Wolters took over command of US European Command and became NATO's Supreme Allied Commander Europe during a Thursday ceremony.
Wolters, formerly the head of US Air Forces in Europe-Air Forces Africa, took over for retiring Army Gen. Curtis Scaparrotti, who had led EUCOM since 2016. During a ceremony at EUCOM's Stuttgart, Germany, headquarters, Wolters said his goal with the command is to continue the mission to "deter and generate peace," the "solemn perpetual goal."
"We'll continue to fortify our stance and speed and push our competitive advantage as high as humanly possible," he said.
The ceremony was presided over by Army Secretary Mark Esper.
Acting Defense Secretary Patrick Shanahan was expected to lead the ceremony, but he remained in Washington, D.C., to coordinate with other government agencies as clashes continue in Venezuela.