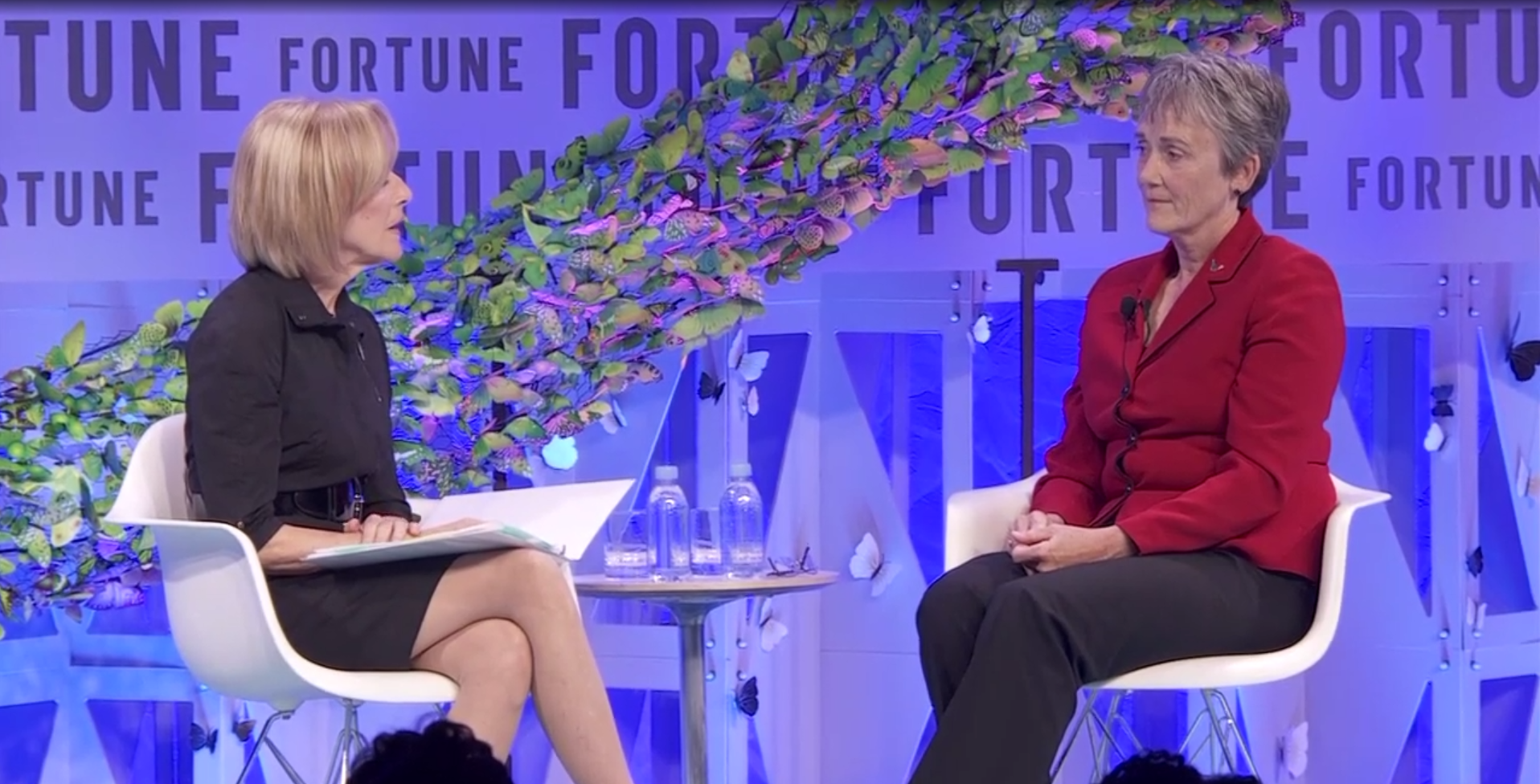 Air Force Secretary Heather Wilson, right, speaks with moderator Judy Woodruff on Tuesday at Fortune's "Most Powerful Women" summit in Washington, D.C. Screenshot photo.
Congress needs to "turn off autopilot" and take responsibility on budgetary planning because the US military's readiness continues to decline and the need for stable funding is becoming ever more critical, Air Force Secretary Heather Wilson said Tuesday.
The military's declining readiness, seen in the Air Force's worsening pilot shortage and across the other services in areas such the safety of US Navy ships, is not a "one-year fix," Wilson said Tuesday at Fortune's "Most Powerful Women" summit in Washington, D.C. The Pentagon, she noted, needs years of stability.
Her Tuesday comments were the latest in a series in intensifying warnings about the Pentagon's budget, which Defense Secretary Jim Mattis said last month is risking the safety of America itself.
The Air Force has continually been at war since 1991, with pilots currently stressed to the point where those flying tankers are spending six months deployed for every six months home, Wilson said. Surge is normal, and "we're wearing out our people," she added.
Congress has passed 31 continuing resolutions over nine of the past 10 years, and is on the verge of passing another long-term one. This could limit the Air Force's ability to start new acquisition programs and build up its ranks.
One area where modernization funding is important is in the Air Force's nuclear force structure, Wilson said Tuesday. Specifically, in acquiring the Long Range Stand-Off missile to replace the Air-Launched Cruise Missile, and in building the Ground-Based Strategic Deterrent to replace the aging Minuteman III intercontinental ballistic missiles. While it is very difficult to maintain the aging systems, the Air Force can still complete the deterrent mission and make sure the "worst day never comes," said Wilson. However, it is "more costly to maintain than to modernize these capabilities."