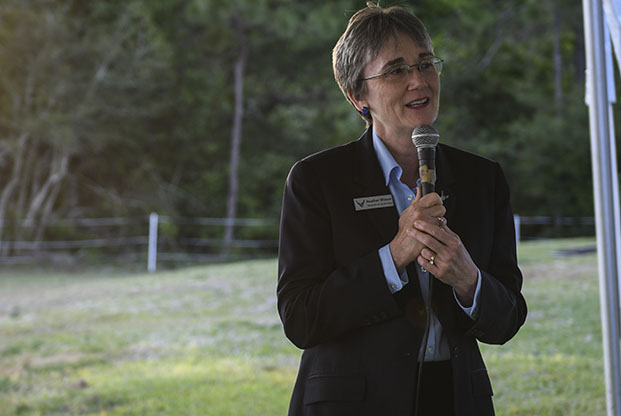 Air Force Secretary Heather Wilson (shown here at Hurlburt Field, Fla., in May 2018) told a Washington audience that although the US Air Force is the best in the world, it must be bigger to deal with the challenges the country now faces. Air Force photo by Airman 1st Class Rachel Yates.
While the United States has the best Air Force in the world, it needs to be bigger to deal with the challenges the country now faces, Air Force Secretary Heather Wilson said in Washington Thursday.
Speaking to an audience at the Center for a New American Security, Wilson said that "to remain the global leader and meet the threats we face, America needs more from its Air Force, and the Air Force is too small for what the nation is asking us to do."
The Trump administration's National Defense Strategy, she said, recognizes that there are US adversaries who are "innovating very rapidly" and "seeking to influence their own regions … to shape the world towards their interests, which in some ways are contrary to our own and to those of our allies."
The unit that matters most when it comes to right-sizing the Air Force, she said, is the squadron, particularly the operational squadron, of which there are now 312.
Those squadrons, she said, are "the fist and the heart of the United States Air Force." They "are the ones that create physical effects, like bomber squadrons, and fighter squadrons, and cyber operation squadrons," though she also acknolwedged "a fist without the body behind it doesn't make a real impact."
Echoing comments she had made the day before, she added that during this month's AFA Air, Space & Cyber Conference, she would be "talking more about this and laying out what it is we think is the size and composition of the Air Force we need to implement the National Defense Strategy at moderate to low levels of risk."
Meanwhile, Wilson also voiced full support for the Trump administration's effort to establish a new Space Force.
"I believe that we can't do half measures. We should put this forward in the right way to make sure that what goes to the Congress can work, and that means that you have a full department with all of the authorities necessary for that to be functional for the long term."
"I think this debate will be a good one, and there will be a greater understanding of what the military does in space, and why all of our missions are dependent on it and why we must dominate in space in order to be successful as a nation," she said.