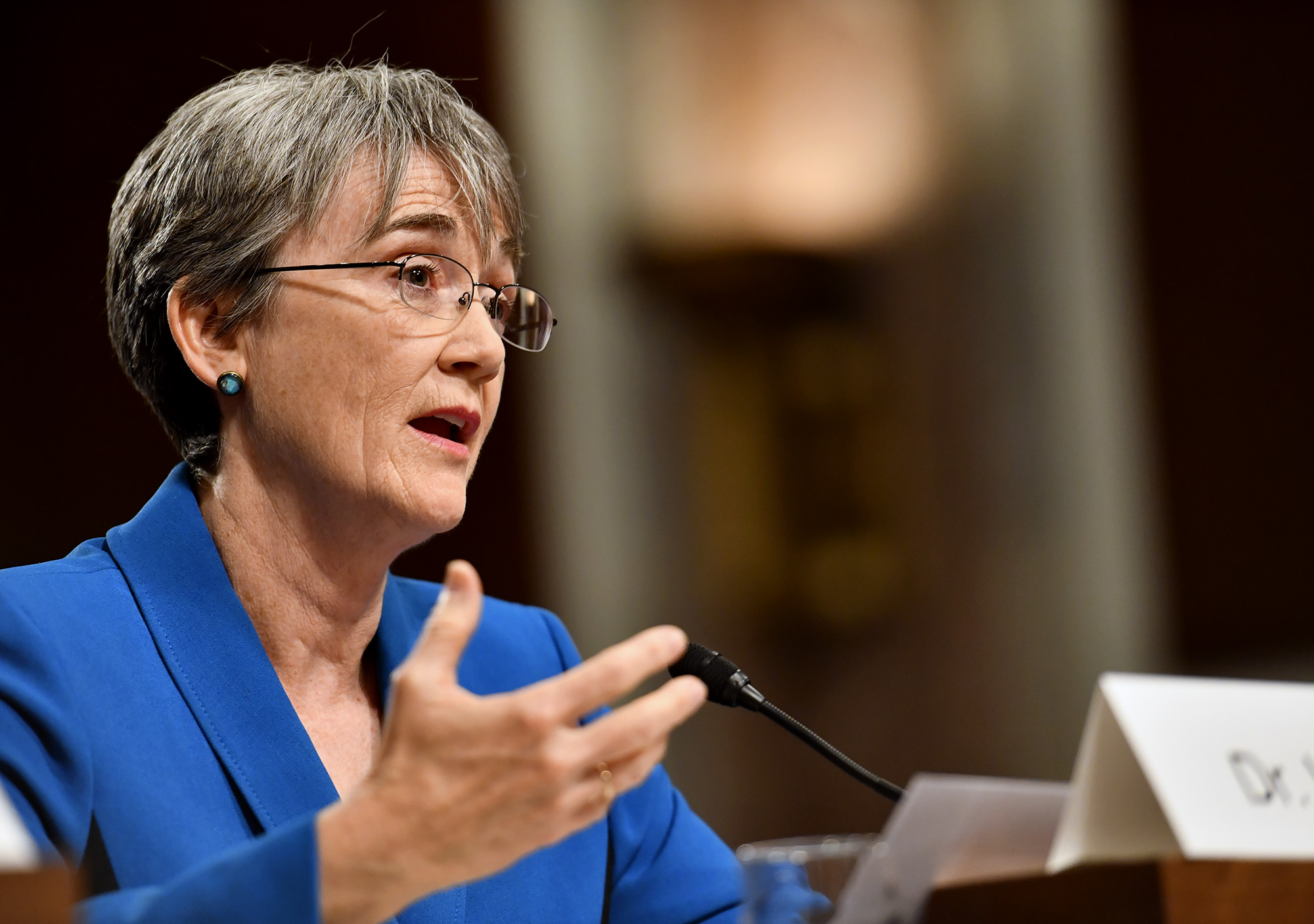 Secretary of the Air Force nominee Heather Wilson testifies before the Senate Armed Services Committee, as a part of the confirmation process March 30, 2017, in Washington, D.C. Air Force photo by Scott M. Ash.
Brian Everstine
Heather Wilson, President Trump's nominee for Secretary of the Air Force, promised to work with contractors and get the best deals for the Air Force's litany of new acquisition programs during her confirmation hearing on Thursday, but Democrats questioned Wilson's ethics.
Wilson—who previously served as a congresswoman from New Mexico, the president of the South Dakota School of Mines and Technology, and is a 1982 Air Force Academy graduate—urged lawmakers to repeal the Budget Control Act and avoid the threat of sequester as the Air Force moves forward on several programs, including the F-35, KC-46A, B-21, Ground Based Strategic Deterrent, Long Range Stand Off missile, UH-1N replacement, and others.
The sequester "needs to be repealed, and there's a variety of ways Congress might do that," Wilson said. "It's hurting the Air Force and the ability to defend ourselves."
The Air Force also needs budget certainty to rebuild its own ranks as it faces a growing pilot shortage. Fully funding readiness will be the only way to keep airman flying as the service tries to stave off increased pressure by the private airline industry to hire away pilots and maintainers.
"The Air Force is too small for what the nation expects of it," Wilson said. "… We are short over 900 fighter pilots—900 fighter pilots short of the missions that we need to fly and fight. The Air Force is not currently ready to fight against a near-peer competitor and that should concern all of us. And our equipment is aging … The average airplane in the Air Force is 27 years old and the next Secretary of the Air Force will modernize fighters, tankers, bombers, intelligence platforms, the nuclear deterrent, munitions, space capabilities."
Wilson's hearing before the Senate Armed Services Committee on Thursday got testy early, as Democratic senators used Wilson's past as a consultant to question her ethics on future contracts.
Sen. Richard Blumenthal (D-Conn.) referenced invoices from Wilson's work as a consultant, where she billed Sandia National Laboratories for work but left the invoice blank other than stating the cost and referencing "consulting services." Blumenthal, pressing Wilson, said contractors need strong oversight for government work. Wilson said she fulfilled her contract and, "They deserved my best work, and that's what they got." Wilson avoided answering if she kept records of her work, and said she "fully complied with the contract."
Lawmakers from both parties pressed Wilson to push for strong oversight and better cost effectiveness in contracting. Committee chairman Sen. John McCain (R-Ariz.) said the committee had grown tired long ago with extensive cost overruns of Pentagon programs, and companies testifying that they are "doing such a great job."
Wilson said she is open to different acquisition approaches to save money, including the recently announced program to reach out to industry for off-the-shelf aircraft that could quickly be developed into a low-end fighter.
Wilson avoided endorsing reported Air Force plans, including the possible effort to retire F-15C/Ds and replace them with F-16s. The plan is a "what if" and "the Air Force, as it should, is always doing out-year planning," said Wilson. She also said she expects the Air Force, as part of the review of the F-35 program, to evaluate the possibility of restarting the F-22 production line, even though former Air Combat Command commander retired Gen. Hawk Carlisle said last year at AFA's Air, Space & Cyber conference that the cost of restarting the line outweighed the benefits.
AFA President Larry Spencer spoke with Wilson before the hearing and urged Congress to quickly fill the Secretary job.
"I had the opportunity to discuss how the Air Force Association is advocating for a dominant Air Force," said Spencer. "Since this is a pivotal year in the history of the Air Force, it is important to get the next Secretary of the Air Force in place as soon as possible."