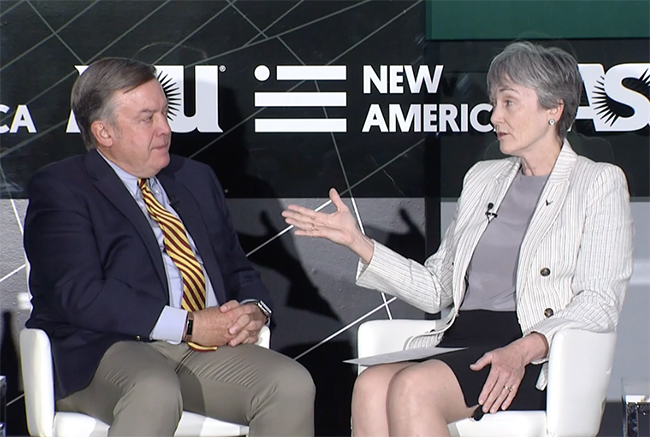 Air Force Secretary Heather Wilson, right, speaks with Arizona State University President Michael Crow on Monday at the New America Foundation's Future of War event in Washington, D.C. YouTube screenshot.
The US military and allies, particularly in Europe, need to strengthen their relationships through steps that don't really make news, such as increasing training opportunities and the interoperability of common equipment, Air Force Secretary Heather Wilson said Monday.
Wilson spoke at the New America Foundation's Future Security Forum in Washington, D.C., shortly after a visit to Poland. Wilson said she saw improvements in the relationship between the US and Poland through "taking the long view" of emphasizing that training and working together on similar mission sets.
"We are stronger together than any of us are along, and that's true for a great power as well as for any other nation," she said.
For the Air Force, improving these alliances can be done through connecting US Air National Guard units with other countries through state partnership programs. "These relationships can be deep and long-lasting," she said. For example, Poland and the Illinois National Guard both fly F-16s, and have both trained and deployed for combat together, which creates a "depth of connection" that lasts a long time, she said.
The US military also has increased its presence in Poland to about 4,500 forces, including two Air Force rotational detachments of alternating airlift and fighters, as well as remotely piloted aircraft.
Improving the strength of these alliances goes both ways. "Anything that Europe does to increase the percentage of GDP that goes to defense is a good thing," said Wilson, who noted that five countries are on track to meet goal of spending 2 percent of GDP on defense. Increasing these contributions is important for interoperability of forces and collective defense.
"The most important thing for Europe to consider, and NATO has always thought this way, is that it is vital for the security of Europe to maintain the close connection with Canada and the United States," she said. "There's common values. And if a European force appears to be disconnected from the security responsibilities and the umbrella of a connection to Canada and the United States, … that will weaken us all."