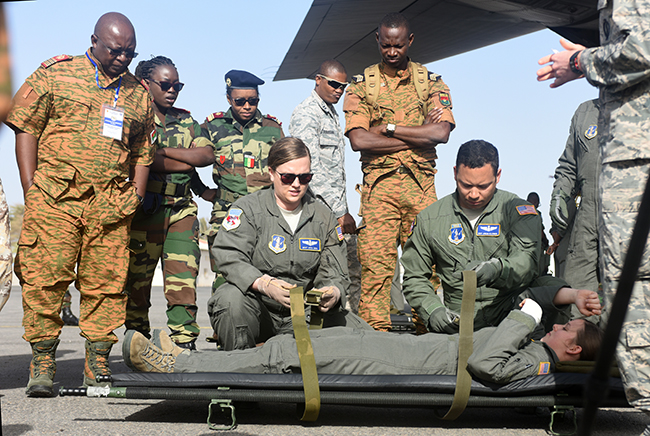 West Virginia Air National Guard medical technicians, assigned to the 167th Aeromedical Evacuation Squadron, demonstrate how to load a patient onto a litter at Captain Andalla Cissé AB, Senegal, on March 22, 2018, as part of African Partnership Flight Senegal. Air Force photo by A1C Eli Chevalier.
US Air Forces in Europe-Air Forces Africa this week kicked off a five-day African Partnership Flight at Laikipia AB, Kenya.
This iteration of the command's premier training and engagement program, headquartered at Laikipia, includes participation from Burundi, Tanzania, and Uganda, in addition to the US and Kenya.
The APF program aims to strengthen American partnerships across Africa, with APF Kenya specifically focusing on combat search and rescue, wilderness survival, and operational and tactical personnel recovery preparation, according to a USAFE release.
The APF program began in 2012, with previous iterations taking place across the continent.
Last year's APF Senegal included personnel from the West Virginia Air National Guard and USAFE training alongside more than 70 pilots from Benin, Burkina Faso, Cote d'Ivoire, Gabon, Ghana, Mali, Mauritania, Senegal, and Togo. The first APF in Kenya took place in 2016.