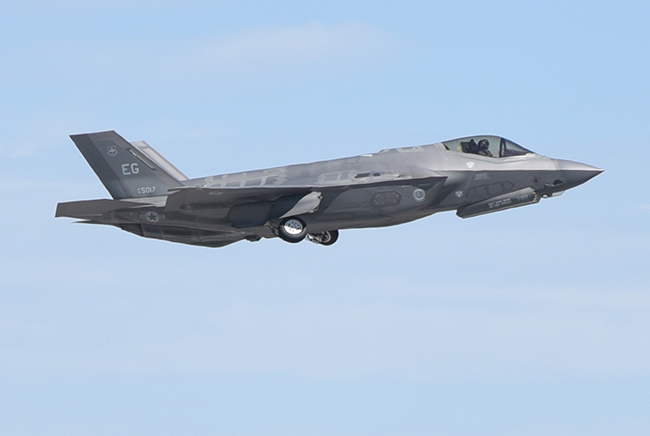 An F-35A from the 33rd Fighter Wing at Eglin AFB, Fla., flies over the base on Feb. 27, 2018. The Air Force announced nine F-35As from Eglin will move to Nellis AFB, Nev., as part of the reactivation of the 65th Aggressor Squadron. Air Force photo by A1C Emily Smallwood.
The Air Force announced May 9 it is reactivating the 65th Aggressor Squadron with F-35As to provide improved training for fifth-generation fighter aircraft.
Air Combat Command approved the reactivation of the squadron and movement of the aircraft to address a shortfall in the quality of training fifth-generation aircraft receive. Nine non-combat capable F-35As from Eglin AFB, Fla., will move to Nellis once newly produced aircraft can backfill them beginning in early 2022.
Two more F-35s will move from Edwards AFB, Calif., to Nellis to join the 24th Tactical Air Support Squadron, which now flies F-16s to conduct close air support training. The two strike fighters will allow for additional CAS training with F-35s.
"Aggressor squadrons have been honing the skills of Air Force pilots since the early 1970s," USAF Chief of Staff Gen. David Goldfein said in a release. "They provide a dose of realism in air exercises and their training value is crucial. These F-35 aggressor aircraft will keep us ahead of adversaries for years to come."
The reactivation will bring 194 more military personnel and 37 contractors to Nellis, according to the release.
The 65th Aggressor Squadron flew F-15s for nine years as mock adversaries for pilots in the US Air Force Weapons School and at exercises such as Red Flag before it was inactivated in 2014 due to budget cuts. Since then, the Air Force has only had two organic aggressor squadrons, the 64th Aggressor Squadron at Nellis and the 18th Aggressor Squadron at Eielson AFB, Alaska, both of which fly F-16s.
Draken International also has been flying Red Air in support of the Weapons School and Red Flag since December 2015, and the Air Force is looking to significantly increase the amount of contractor-owned and operated aircraft that fly as aggressors. An indefinite delivery, indefinite quantity contract is expected to drop in October, which will open the door for companies to bid on as many as 12 different locations. The service has said Klamath Falls Arpt/Kingsley Field, Ore., and Holloman AFB, N.M., will be the first funded in fiscal 2020.
Scott Poteet, Draken's director of Air Force programs, told Air Force Magazine the addition of F-35 Aggressors at Nellis will provide full spectrum training.
"There's threats the Air Force needs to train against that can only be fulfilled by a fifth-generation platform, the F-35 or F-22," Poteet said. "There's going to be plenty of work to go around based on the adversary demand, and we'll play our part and continue to increase our size as well to support the bottom portion of the pyramid, if they want to take that top capacity. It's going to be a win-win for everyone."
However, Poteet acknowledged the ramp already gets pretty crowded during major exercises like Red Flag, saying the company has had several conversations about how the service intends to accommodate the influx of aircraft. Draken, whose A-4 Skyhawks and L-159 Honey Badgers currently occupy two rows on the ramp, is expected to double the number of aircraft at Nellis within the next six months as its supersonic Mirage F1s and Atlas Cheetahs come online.
Poteet said Nellis leadership is expected to let the company know soon what kind of footprint it needs at the base.
"The driving factors are how much space we're going to have because there's only so much real estate," Poteet said. "In the end, there will be a top-tier F-35 squadron supporting high-end adversary requirements, then you'll have the next layer of very capable supersonic F1s and Cheetahs, and then a lot of iron on the ramp with A-4s and L-159s, so it's a comprehensive, integrated solution of government as well as contract."
Also on May 9, the Air Force announced a new squadron of F-35s for Eglin. The additional strike fighters are expected to begin arriving in the fall of 2021, with full operational capability by 2023. The Air Force hasn't announced a name for the squadron.
"By basing the next F-35A training squadron at Eglin Air Force Base, we are taking advantage of existing facilities and training air space," Air Force Secretary Heather Wilson said in a release.