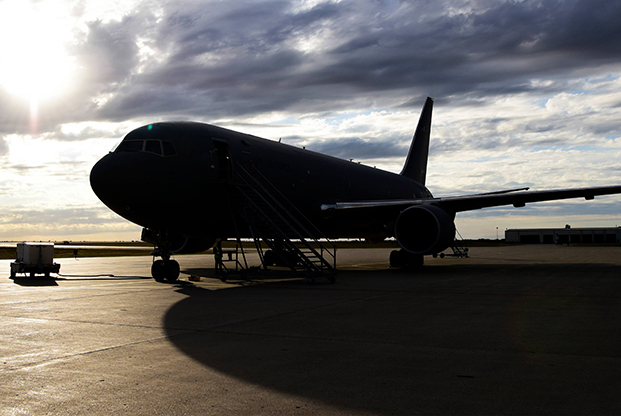 A KC-46A is parked on the flightline at Minot AFB, N.D., on Sept. 17, 2018. Air Force photo by SSgt. Steven M. Adkins.
The Air Force will not accept any more KC-46 tankers "until further notice," the service's acquisition chief told Air Force Magazine on Friday.
The Air Force began finding foreign object debris, such as tools and trash, on tankers it had already accepted on Feb. 20, said Will Roper, assistant secretary of the Air Force for acquisition, technology, and logistics. Roper is planning to visit the production line in Washington state along with Air Mobility Command boss Gen. Maryanne Miller in the near future so the service can better understand the scope of the problem.
He said the Air Force needs to "further review Boeing's corrected action plans" and learn how the company plans to "address the root cause on the line," which he noted was "indicative of a deeper culture" issue. However, he also emphasized that issues with FOD tend to be localized and do not necessarily indicate a larger systemic issue across other Boeing programs.
"I have no reason to suspect there are any FOD issues with any of Boeing's other lines," Roper said in an interview at AFA's Air Warfare Symposium.
Boeing has delivered six jets to the Air Force since late January: four to McConnell AFB, Kan., and two to Altus AFB, Okla. At least one, possibly two, other jets were slated to be delivered to Altus this week, but that delivery is now on hold. Boeing has agreed to send a team to inspect all six aircraft, at its own expense, Roper said.
"Safety and quality are the highest priority at Boeing," company spokesman Chick Ramey said. He added, "There is no change to the current tanker delivery plan."