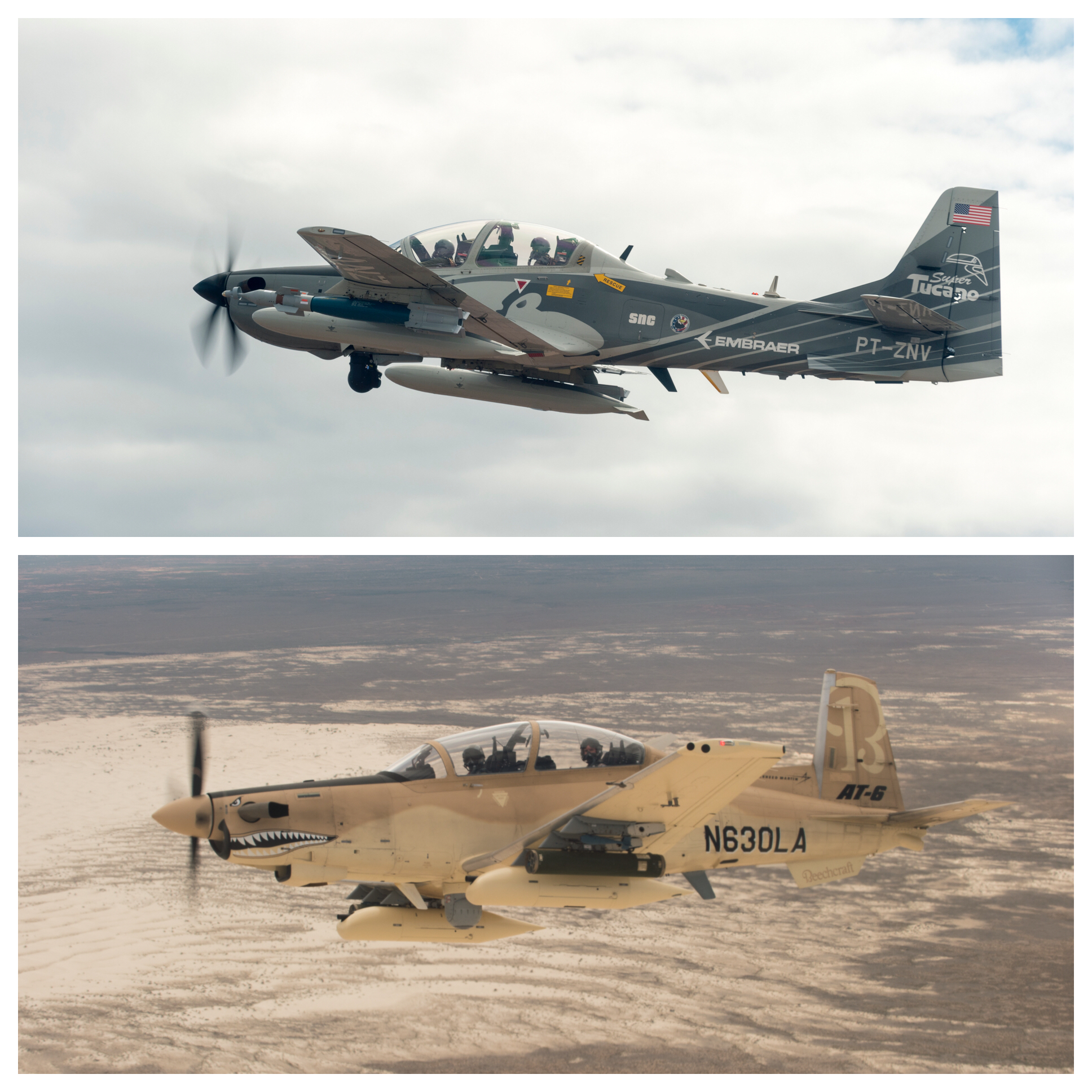 The Air Force has down selected the Sierra Nevada/Embraer A-29 Super Tucano (top) and Textron Aviation AT-6B Wolverine (bottom) for its new light attack program. USAF photos; Air Force Magazine illustration.
The Air Force on Friday took the next step in its light attack experiment, down selecting to two possible entrants and paving the way forward for an actual acquisition program to begin.
On Friday, Air Force Materiel Command released a presolicitation notice for light attack aircraft, stating that a formal solicitation will come in December and an award in the fourth quarter of 2019. Three companies participated in the first phase of the experiment at Holloman AFB, N.M.,—Textron, Sierra Nevada, and Air Tractor. Textron and Sierra Nevada moved on to the next round. Since then, other companies such as Aero Vodochody and the Paramount Group have expressed interest, however, the presolicitation notice states only Textron and Sierra Nevada are qualified to continue.
"Sierra Nevada Corporation [SNC] and Textron Aviation are the only firms that appear to possess the capability necessary to meet the requirement within the Air Force's time frame without causing an unacceptable delay in meeting the needs of the warfighter," the notice states.
Sierra Nevada entered its A-29 Super Tucano, and Textron is offering its AT-6.
The program wrapped up its second experiment with these two aircraft earlier than expected this summer, after a Super Tucano crashed on June 22, killing its pilot, Navy Lt. Christopher Carey Short, and injuring a copilot.
The Air Force originally planned to send the finalists to US Central Command for a real-world combat demonstration, but that decision was scrapped after the Air Force determined it had gathered enough information.
The goal of the experiment has been to determine if the Air Force could quickly and cheaply buy an aircraft that could immediately begin flying close air support missions in uncontested environments. In addition, the Air Force wants the aircraft to be cheap and easy to operate, so partner nations also will be able to buy them.
"This effort to find a lower-cost and exportable aircraft for permissive environments is directly in line with the National Defense Strategy," said Chief of Staff Gen. David Goldfein in a release earlier this year. "A light attack aircraft would not only provide relief to our fourth- and fifth-generation aircraft, but also bolster our interoperability, so we can more effectively employ airpower as an international team."