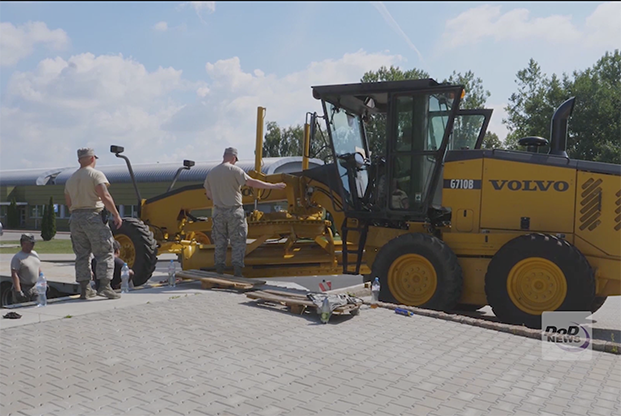 USAF airmen take part in a USAFE Deployable Airbase System? proof-of-concept exercise in Poland in ?July 2018. Defense Media Activity – Europe Africa screenshot.
The Air Force failed to create an "achievable plan" to preposition base supplies and materiel in the European theater and it lacks a single program manager to oversee efforts from multiple organizations, both of which are causing delays, according to a Dec. 27 Defense Department Inspector General report.
US Air Forces in Europe was authorized $797 million in fiscal years 2018 and 2019 for storage facility construction and procurement of the Deployable Air Base Kits, otherwise known as a "base in a box." The massive kits include everything from riot-control gear for security forces to fuel trucks to mess tents. Basically, everything necessary to rapidly generate sorties and establish air superiority in a crisis.
"The program involves … multiple organizations that are responsible for construction, management, and procurement; however, without a designated manager responsible for periodically updating the overall plan, [US European Command] and USAFE will not know when each of the 24 Deployable Air Base Kits will be available," states the report. "As a result, USEUCOM and USAFE will have fewer options for airlift capability when rapidly responding to a contingency" within the theater, states the report.
USAFE held a proof-o?f-concept exercise for the Deployable Air Base Kit? in Poland in July 2018. Video by Army Sgt. Edward Salcedo/Defense Media Activity – Europe Africa
The IG faulted the Air Force for failing to provide a date by which all 24 kits will be procured, noting the overall plan states that enough equipment should have been procured for the first five kits in fiscal 2018, but officials in USAFE's logistics division told auditors "they do not expect to have the equipment procured to fulfill the first complete Deployable Air Base Kit until FY2020 or 2021," according to the report.
During a visit to Germany this summer, officials declined to tell Air Force Magazine how many kits it planned to procure or how many would be based at each location, citing operational security concerns, but Maj. Benjamin Murfin, USAFE-AFAFRICA's European Deterrence Initiative international logistics planner, said the goal was to have all the kits in place by 2024.
"When you look at EDI, the main purpose of it is to back our allies and strengthen our posture in response to enemy aggression," Murfin said at the time. "We've come up with requirements to form each DABS kit based on what different functional areas we need to set up an airfield."
The IG recommended the service designate a program manager "at least at the director level" for the Deployable Air Base Kits program, "so that a single organization maintains responsibility for tracking overall program execution." That program manager should review and update the overall plan "at least semi-annually," states the report.
Air Force officials agreed with the IG's recommendations. Supporting organizations met in October 2018 and agreed on the need for an overall program manager, but they have not yet decided what organization should fill that role. They plan to "continue their discussion" at the next meeting in February, according to the report. In addition, the Air Force said it will update Air Force Instruction 25-101 "to include a requirement to designate a program manager for US Air Force pre-positioned equipment."
The IG said it now considers the recommendations resolved, though they will remain open until it receives the updated AFI.
For more about the Air Force's "Base in a Box" concept and how it's using EDI finds in the European theater read "Deterrence in Europe" from the December 2018 issue of Air Force Magazine.