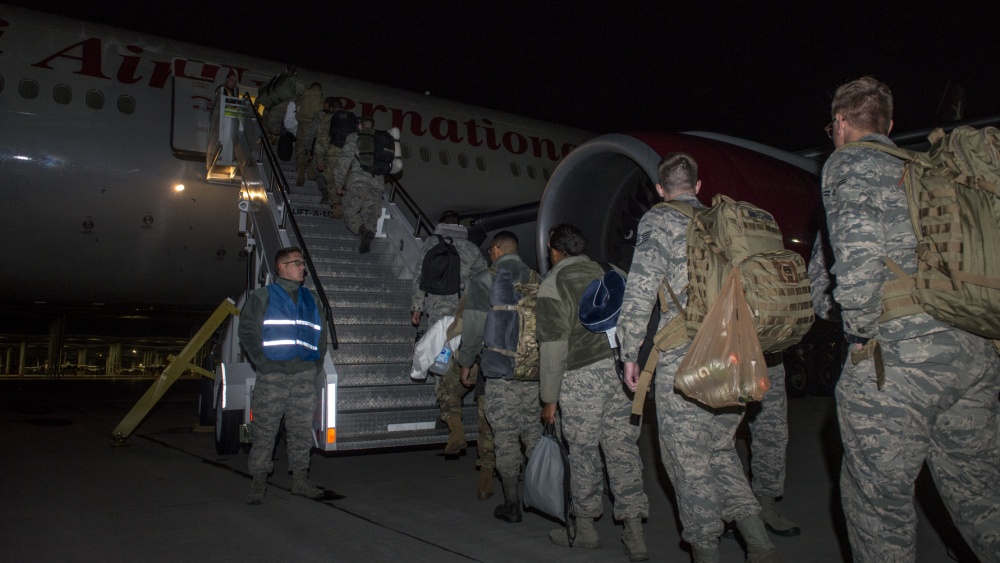 Members of the 391st Fighter Squadron deploy to Southwest Asia during October 2018 at Mountain Home AFB, Idaho. Air Force photo by A1C Janae Capuno
The Air Force officially updated its stance on retaining non-deployable airmen in a Feb. 19 memo, which dictates all airmen must be "fit for duty and maintain a wartime mission-capable status," according to a Tuesday release.
That means airmen must:
Meet medical readiness standards
Be capable of carrying out wartime mission requirements for their Air Force Specialty Code
Have a current fitness assessment
If they're Air National Guard or Reservists, they must "be considered a satisfactory participant" in those duties.
If an airman hasn't been deployable for more than 12 months, their chain of command will determine whether they should stay in the service either "through referral to the Disability Evaluation System or consideration for administrative separation," states the release. Pregnant or postpartum airmen are exempt, as are those "in a training or transient status," airmen who can be deployed "with limitations," and those whose jobs are exempted by the Defense Secretary.
"Additionally, the new Air Force policy lists adoption, humanitarian assignment, legal action, sole survivor/surviving family member/deferred from hostile force zone, conscientious objector, absent without leave, or pending administrative separation as categories that are also exempt from this policy," according to the release.
The memo, which was signed by Air Force Secretary Heather Wilson, Chief of Staff Gen. David Goldfein, and CMSAF Kaleth Wright, puts the onus on airmen to do whatever it takes to ensure readiness, the release said.
Wright told House legislators earlier this month the goal was to slash its nondeployable rate to five percent or lower.