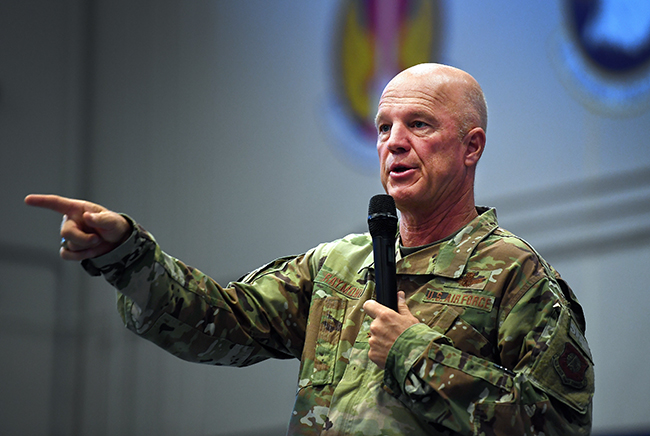 Air Force Space Command chief Gen. Jay Raymond briefs airmen during an all-call at Schriever AFB, Colo., on July 29, 2019. Air Force photo by Dennis Rogers.
The Pentagon will officially re-establish US Space Command on Aug. 29, according to Gen. Joseph Dunford, chairman of the Joint Chiefs of Staff.
"When the vice president presides over the ceremony, we will immediately assign 87 units under a single combatant commander," Dunford said at an Aug. 20 National Space Council meeting.
SPACECOM intends to oversee daily space systems operations and spearhead offensive and defensive space maneuvers as global militaries become more involved in the domain. Air Force Space Command boss Gen. Jay Raymond, who is currently based at Peterson AFB, Colo., will lead the combatant command.
The Trump administration has yet to settle on a permanent location for SPACECOM headquarters, which will work closely with US Strategic Command, Colorado-based AFSPC, and a potential new Space Force. Its two major components will be located at Vandenberg AFB, Calif., and Schriever AFB, Colo.
Congress is still deciding how to move forward with the administration's proposal for a new military service dedicated to space. Both chambers have approved plans for a new organization—a Space Corps in the House and a Space Force in the Senate—but have not agreed on a final plan.