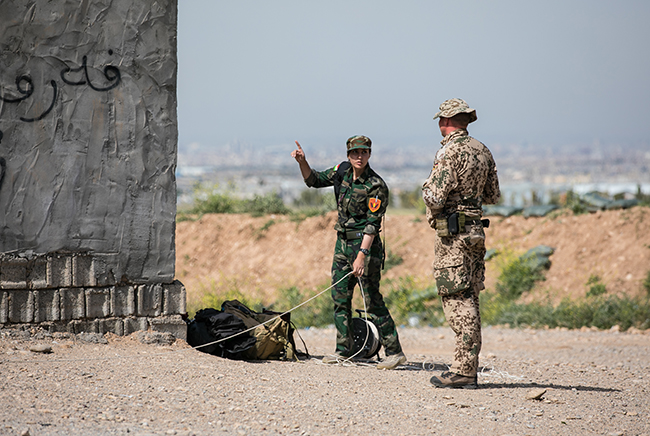 A German soldier observes as an Iraqi security force member prepares to detonate a simulated improvised explosive device while taking part in counter IED training near Erbil, Iraq, on April 18, 2018. Army photo by Sgt. Jason A. Young.
The State Department on May 15 pulled non-emergency US personnel from its embassy in Baghdad and the consulate in Erbil, while allied training of US-backed forces inside Iraq also was canceled as tensions with Iran continue to rise.
The State Department ordered the personnel to leave Iraq by commercial transportation "as soon as possible," and to avoid US facilities inside the country, according to a security alert. Senior US officials, including those in the Pentagon, have said there are "very, very credible" threats from Iran. In statement released May 14, US Central Command said an attack is "possibly imminent."
Also on May 15, Germany and the Netherlands paused all training operations of Iraqi security forces in the country because of an "unspecified threat," according to Reuters.
The Trump administration on May 16 will brief the top leaders of the House and Senate along with leaders of both intelligence committees on Iranian threats to US personnel and facilities in the Middle East, two Democratic sources told Politico.
CENTCOM has said it increased its security posture due to the threats, walking back claims made by the No. 2 leader of Combined Joint Task Force-Inherent Resolve hours earlier that there were no worrying threats. The UK Ministry of Defense on Wednesday said British Army Maj. Gen. Christopher Ghika's comments are based on "day to day military operations" in the fight against ISIS, and that there are a "range of threats" to US and coalition forces in the region.
The US military recently deployed four B-52s, along with the USS Abraham Lincoln Strike Group and other naval vessels to the region, and announced a Patriot missile battery will also deploy.