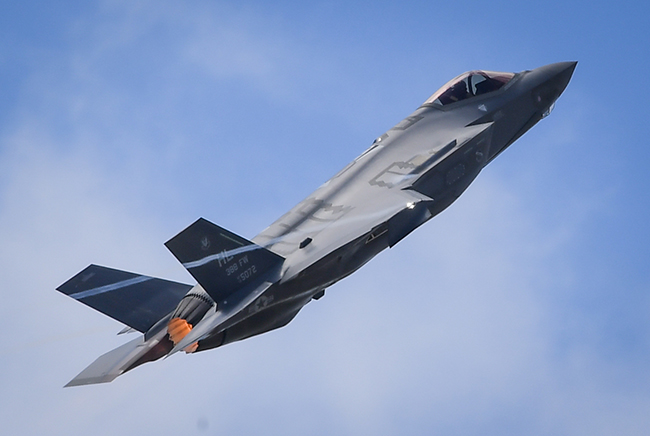 A U.S. F-35A Lightning II from Hill Air Force Base, Utah, performs for a crowd of nearly 100,000 people at Le Bourget Airport, France, during the Paris Air Show, June 23, 2017. Air Force photo by TSgt. Ryan Crane.
Defense Department leaders are heading to Paris later this month with the goal to tout US aerospace industry, aiming to increase interoperability with American-made products around the world and strengthen American businesses, the Pentagon's head of acquisition said June 6.
Ellen Lord, undersecretary of defense for acquisition, said the US emphasis at these international air shows is "typically trying to advocate for US industry. Those foreign military sales programs are what we will talk about."
A major focus of this year's show will be on space, as the US space industry is going through a "reawakening," Secretary of Commerce Wilbur Ross said.
"The US space industry is being transformed. In the tradition that has defined this industry, … the new generation of entrepreneurs now dominates space activity," Ross said.
The Paris Air Show begins June 16, and will include displays of USAF aircraft such as F-35s, a KC-46, C-130s, and F-15s, among others.