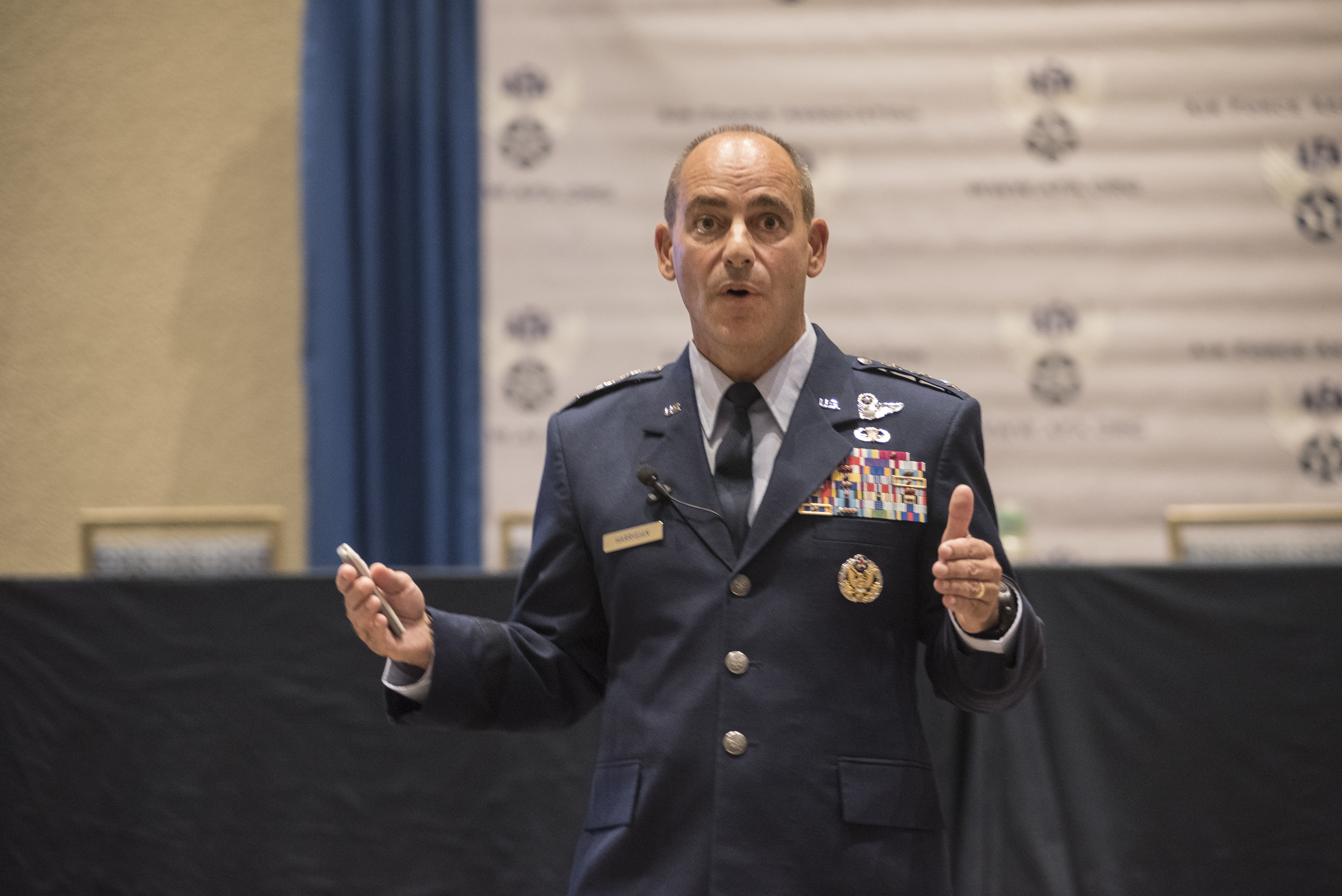 Lt. Gen. Jeffrey Harrigian, commander of Air Forces Central Command, said, during ASC17, airmen are facing a "contested and congested" air space over Syria, forcing them into tough decisions. Staff photo by Mike Tsukamoto.
The air war over Syria is "contested and congested," pressing airmen to be ready to make tough decisions in dynamic situations to protect friendly forces, the head of the air war said Monday.
Lt. Gen. Jeffrey Harrigian, commander of Air Forces Central Command, said at ASC17 there is "zero doubt in my mind our airmen will be ready" to take every possible step to protect US and friendly forces. This situation played out multiple times earlier this summer, when F-15Es twice shot down remotely piloted aircraft flying in support of the Syrian regime, and when a US Navy F/A-18 shot down a Syrian Air Force Su-22.
For the first time, Harrigian showed video of the shoot down Monday. The brief clip showed the Su-22 flying armed near US-backed forces at At Tanf. An air-to-air missile quickly closes in and destroys the aircraft.
"If we have to protect our force, we'll protect our force," Harrigian said.
Airmen flying over Syria face complications with the Syrian Air Force, Russian aircraft, RPAs from multiple countries, and civilian airliners all in the same airspace. Despite these complications, airmen are making "fantastic decisions," he said.
Harrigian, during his presentation, showed a simple picture of the much-hyped "deconfliction line" with Russia. The plain, office phone is a daily connection to help keep the skies over Syria safe and is used regularly to try to de-escalate situations. The line was used during the shoot downs in an attempt to get the other aircraft to leave the area, but the message wasn't followed.
While Russian aircraft have largely been professional when they encounter US and coalition aircraft, there is "inappropriate behavior" that prompts the US to use the deconfliction line. The coalition has noticed a pattern in this behavior, with inappropriate events largely happening as new Russian units rotate into the area. "We're keen to (that) now and we try to get out in front of that," Harrigian said.
With most of the ISIS-held areas of Iraq freed and US-backed Syrian Democratic Forces pushing the group out of the city of Raqqa, AFCENT is now looking at its posture in the future. There will be a large need for intelligence, surveillance, and reconnaissance aircraft to help watch liberated areas and identify any ISIS contingents that resurface. Also, as the Iraqi Air Force gains in capability, there will still be a need for US and coalition strike aircraft to target ISIS as needed.
Right now, US and coalition aircraft are dropping between 150 and 175 weapons per day. In August, the coalition recorded its highest monthly total of bombs dropped since the war began in 2014.
The US and coalition focus is still on "crushing ISIS," Harrigian said. "Let there be no doubt in anybody's mind that's what we're doing."