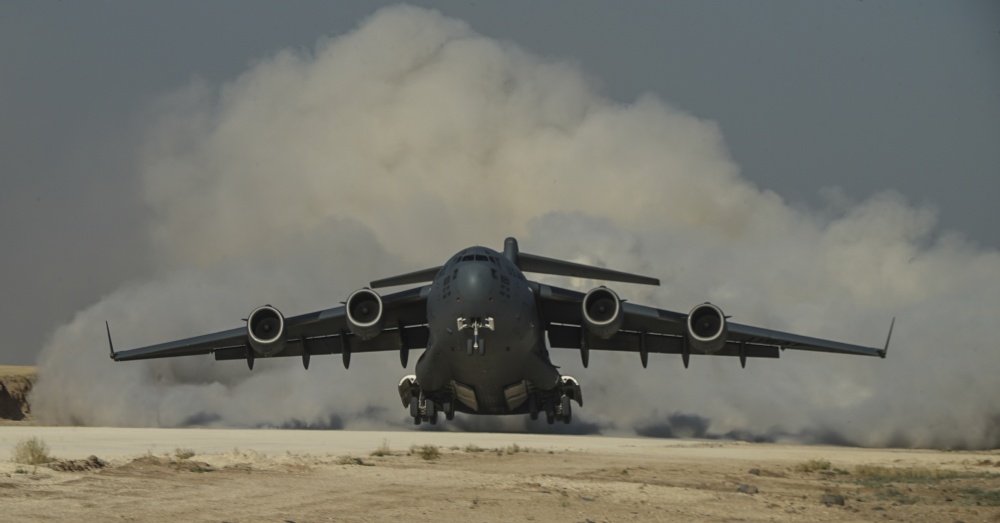 A U.S. Air Force C-17 Globemaster departs from a Coalition airfield in Northeast Syria, June 26, 2018. Air Force photo by SrA Izabella Sullivan.
The US-backed forces leading the fight against ISIS on Saturday announced the terror group's last holdout had been defeated, finishing off the physical caliphate of a group that once held vast swaths of land in Iraq and Syria.
The Syrian Democratic Forces announced it had defeated ISIS in the Syrian town of Baghuz, where the group had made its last stand in a fierce fight.
"Syrian Democratic Forces declare total elimination of so-called caliphate and %100 territorial defeat of ISIS," SDF spokesman Mustafa Bali said on Twitter. "On this unique day, we commemorate thousands of martyrs whose efforts made the victory possible."
The announcement brings to a close the major US-led combat effort started in August 2014. As of the end of January, US and allied aircraft had dropped more than 116,000 bombs on ISIS targets in Iraq and Syria, according to statistics from Air Forces Central Command.
The end of the physical presence is "a historic military accomplishment" for the US-led coalition, though the fight against ISIS is still "far from over," US Army Let. Gen. Paul LaCamera, commander of Combined Joint Task Force-Operation Inherent Resolve, said in a release. There are still sleeper cells and other lingering presences both in the region and globally.
"Make no mistake, Daesh is preserving their force" LaCamera said, using another term for the terror group. "They have made calculated decisions to preserve what is left of their dwindling personnel and capabilities by taking their chances in camps for internally displaced persons and going to ground in remote areas. They are waiting for the right time to reemerge."
Acting Defense Secretary Patrick Shanahan in a statement said Saturday's announcement means that more than 20,000 square miles in both Iraq and Syria have been cleared of ISIS since January 2017, and the group does not control any populated areas. While it is a "critical milestone" in the fight against ISIS, there is still work to be completed.
"As the D-ISIS campaign in northeast Syria transitions from liberating territory to enabling local security and preventing resurgent ISIS networks, we will continue to work by, with, and through our partners and allies to enable stabilization efforts," Shanahan said. 'We will continue our work with the Global Coalition to deny ISIS safe haven anywhere in the world. We remain committed to ISIS's enduring defeat and we are confident that we will prevail."
US Army Gen. Joseph Votel, commander of US Central Command, said the final battle was a result of a multi-year effort led by Iraqi and Syrian partners, supported by the US and allies.
"While our collective efforts liberated more than seven million civilians from Daesh's brutality, we recognize the fight is not over," Votel said in a statement. "We remain committed to continuing our efforts to pursue and destroy remnants of Daesh, which are attempting to live on as an insurgency. We will continue our collective fight to bring about the enduring defeat of ISIS."