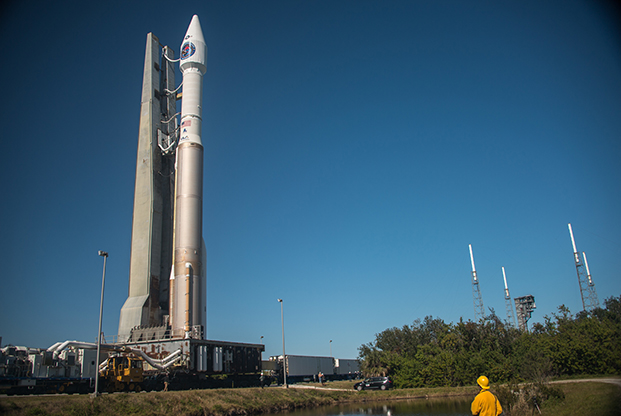 SBIRS GEO Flight 4 payload mated with its Atlas V-411 rocket completed a roll out at Space Launch Complex-41, Cape Canaveral AFB, Fla., on Jan. 17, 2018. Space and Missile Systems Center photo by Van Ha
The Air Force on Tuesday tapped United Launch Services and SpaceX to provide launch services for six National Security Space missions, together worth nearly $740 million, under the Evolved Expendable Launch Vehicle program.
ULS, the Colorado-based subsidiary of United Launch Alliance, won a larger share of funding at $441.8 million for up to three missions: the secretive "Silent Barker" space situational awareness program, Lockheed Martin's fifth Space-Based Infrared Surveillance Geosynchronous Earth Orbit satellite, as well as an option to launch SBIRS GEO-6.
California-based SpaceX received $297 million to launch two classified National Reconnaissance Office payloads known as NROL-85 and NROL-87, as well as AFSPC-44, an Air Force Space Command satellite.
"This launch service contract will include launch vehicle production, mission integration, mission launch operations/spaceflight worthiness, and mission-unique activities," a Defense Department contract announcement said of the awards.
EELV, which starting in March will be known as the National Security Space Launch program thanks to a recent legislative tweak, aims to increase competition among US launch providers to drive down the cost of putting defense and intelligence systems on orbit. The Air Force's Space and Missile Systems Center received two offers for each set of contracts it awarded.
The missions are expected to launch from Cape Canaveral AFS, Fla. and Vandenberg AFB, Calif., between February 2021 and March 2022.
"The Atlas V has delivered sensitive and essential missions including classified defense systems, planetary exploration spacecraft, and key commercial assets with precise orbital accuracy," ULA President and Chief Executive Officer Tory Bruno said in a Feb. 19 release. "We draw on that experience as we transition to our next-generation Vulcan Centaur launch vehicle, designed to meet or exceed the needs of our Air Force customer so we can continue to provide reliable, on-time, assured access to space well into the future."
AFSPC-44 should be ready to launch by February 2021, while NROL-85 and -87 are expected to enter space by December 2021. Silent Barker is slated for launch by March 2022. SBIRS GEO-5 launch is planned for March 2021, ULA said, and SMC noted SBIRS GEO-6 may launch in fiscal 2022.
This is the sixth competition held under Phase 1A of the EELV program.
"The competitive award of these EELV launch service contracts directly supports SMC's mission of delivering resilient and affordable space capabilities to our nation while maintaining assured access to space," SMC commander Lt. Gen. John Thompson, who also serves as program executive officer for space, said in the Feb. 19 release. "Phase 1A continues to enable the space enterprise to respond to the rapidly evolving operating environment."