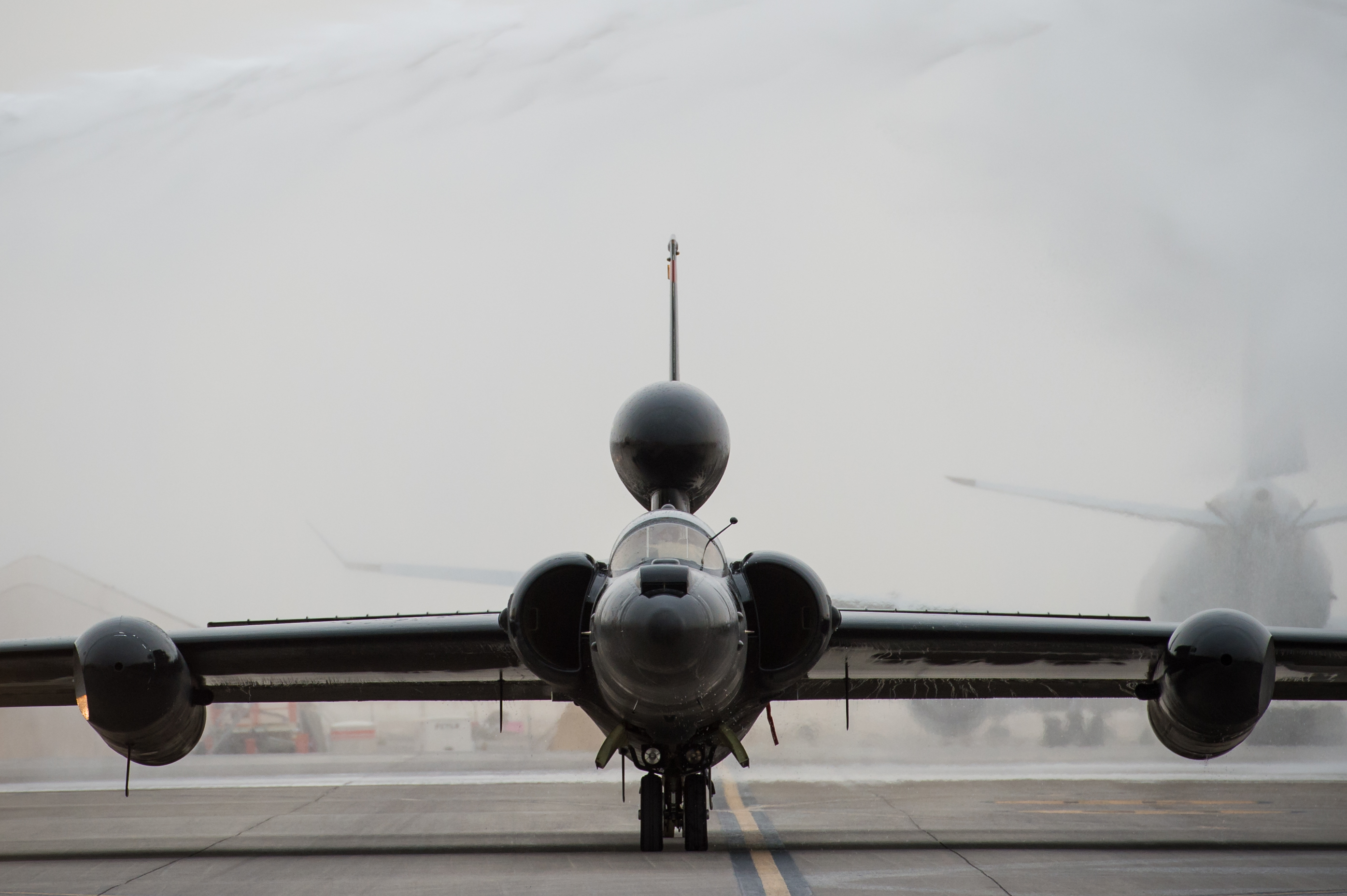 A U-2 taxis through a ceremonial shower after completing 30,000 flight hours at an undisclosed location in Southwest Asia, Feb. 2, 2017. Air Force photo by SrA. Tyler Woodward.
July in the Middle East means triple-digit temperatures and extreme humidity that makes the outside air feel more like a solid than a gas. It's a challenge for everyone in the region, but the heat really takes a toll on the U-2, a pilot told Air Force Magazine.
"It's hot, super hot. And the U-2 does great flying at altitude, it handles great, it cools down the cockpit great, but once you start getting down to the ground, it's not happy," Maj. J.J. said in a phone interview from an undisclosed location in Southwest Asia (the Air Force does not release the full names of pilots operating downrange).
J.J., a U-2 pilot with the 99th Expeditionary Reconnaissance Squadron, said the aircraft "doesn't like the heat," but the pilots know that.
"We know there's going to be thermals when we get close to the runway because it's super hot out, we know we have to be careful when we taxi because the tail wheel likes to melt all the time," he said.
However, supply issues are not a mission stopper because of the maintainers' hard work, J.J. said.
They "do a great job of keeping the planes flying, keeping the jets good to go, and they're out here working [in] sweltering conditions," he said.
The ISR planes are in high demand, supporting Operation Inherent Resolve, the anti-ISIS campaign, as well as Operation Freedom's Sentinel, the train, advise, and assist mission in Afghanistan.
"We're pretty busy," J.J. said, noting that the aircraft fly every day. "There's always going to be more demand for ISR than there is supply."
Still, flying in high temperatures can also be a challenge for the pilots, who wear full pressure suits for their 10-hour missions. The altitude alone takes a significant toll on their bodies, making it critical that they spend at least a day recovering—which J.J. described as "not doing anything"—but also that they stay well hydrated and as cool as possible.
The goal this time of year, another U-2 pilot said, is to keep the pilot inside and out of the heat as long as possible.
Yet J.J. said they still have it easier than the maintainers, who work outside every day in the blazing heat.
"When we get down here, it's hot and miserable for a little bit, but then we go back in the air conditioning. But they're out there fixing the broken jets constantly," he said.